Bharatiya Janata Party (BJP) and Aam Aadmi Party (AAP) held simultaneous press conferences on Friday, May 22, where the former talked about its achievements in the one year of the Modi-led BJP government, while the latter drew blood with Delhi Chief Minister accusing the Prime Minister of 'back-stabbing' people of Delhi.
Twitter, yet again, was up in arms as #ModiMurdersDemocracy took the top trend spot on the social media site.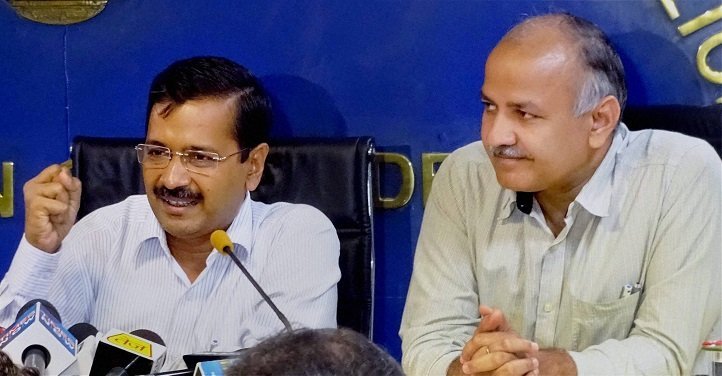 Hitting out at the Centre after it issued a notification specifying the role and powers of Delhi Lt Governor, Chief Minister Arvind Kejriwal said it showed BJP's nervousness about the anti-corruption efforts of his government.
BJP first lost Del elections. Today's notification shows BJP's nervousness abt our anti-corruption efforts. BJP again lost today

— Arvind Kejriwal (@ArvindKejriwal) May 22, 2015
Amid the escalating LG-CM feud , the Centre on Friday backed Delhi Lieutenant Governor Najeeb Jung making it clear that it was not mandatory for him to consult Kejriwal on matters like appointment of bureaucrats.
In a gazette notification issued on Friday, May 22, the Union Home Ministry said that the LG will have jurisdiction over matters connected with services, public order, police and land and he may consult with the Chief Minister whenever he thinks necessary in issues of services using his own "discretion".
BJP's year in power
Union Minister for Finance, Corporate Affairs and Information & Broadcasting, Arun Jaitley addressing the media on one year of Prime Minister Narendra Modi's government, in New Delhi. Source: PTI
Finance Minister Arun Jaitley said addressing the media, "Not only in India, but in the entire world, the respect for India and the PM Modi has increased. PM Modi has visited 18 nations and India has occupied a pre-eminent place in the global arena."
Jaitley struck a conciliatory tone towards investors on Friday, promising to tax corporate profits at competitive rates and saying the government would do all in its power to implement a new goods and services tax (GST) on time.
Modi's Bharatiya Janata Party had accused the previous Congress-led government of "tax terrorism". But having pledged to overhaul the tax regime, Modi's pro-business government was caught flat-footed in a row with foreign portfolio investors over demands they pay minimum alternate tax, for which they had not previously been liable.
(With inputs from Reuters, PTI)