A 35-year-old woman in Kerala has alleged shocking callousness on the part of policemen when she went to lodge a complaint against the men who raped her. The gang rape survivor has alleged that a cop asked her, "Which one of them gave you the greatest pleasure?"
In a statement to the press, she also said that she was forced by the police and the accused to withdraw her complaint. She addressed the media on Thursday, with her husband and prominent dubbing artist Bhagyalakshmi who had first shared her story on Facebook.
The woman was allegedly gang raped by four men, including a politician. She identified CPM leader and Vadakkanchery Municipal Councillor, Jayanthan as one of them, and also named Bineesh, Jineesh, and Shibu as the other accused. Jayanthan has denied all the allegations and says that the woman is lying.
Speaking to the press she said, "They threatened to kill my children if I spoke out the truth. When the magistrate asked me if there was any pressure on me, I cried."
"I don't want a police case because we have been humiliated by the police. Far more than rape, it was the police threats and humiliation that was unbearable," the woman told the media.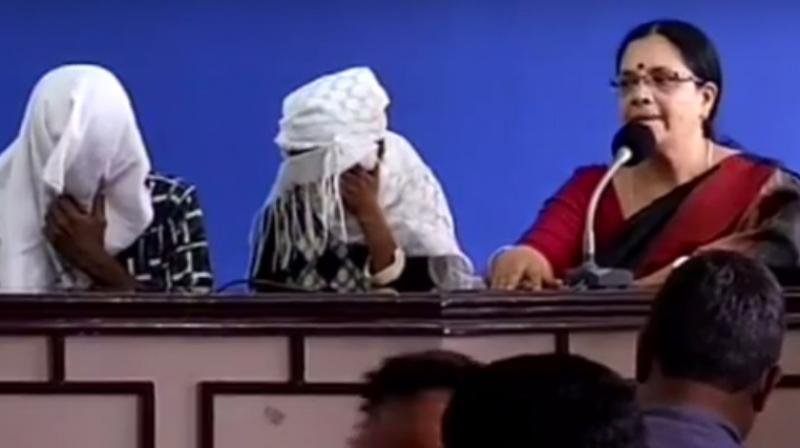 Earlier this year, the rape survivor had contacted Bhagyalakshmi and told her the entire story. The men had come to the woman's house in Thissur, and had allegedly duped her by telling her that her husband, who was then an alcoholic, had met with an accident and was hospitalised. As they were her husband's friends, the woman agreed to go with them to the hospital but, on the way, she was taken to a secluded place and raped.
The powerful Facebook post, written by Bhagyalakshmi, was widely shared and instantly evoked numerous responses. The attention on this case also forced Chief Minister Pinarayi Vijayan's office to take note and promise immediate action.
H/T: Manorama