Zlatan Ibrahimovic celebrated his last game at the Parc des Princes with Paris St Germain by breaking the club's goal record in a top flight season in the French champions' 4-0 win against Nantes in the final round of Ligue 1 on Saturday.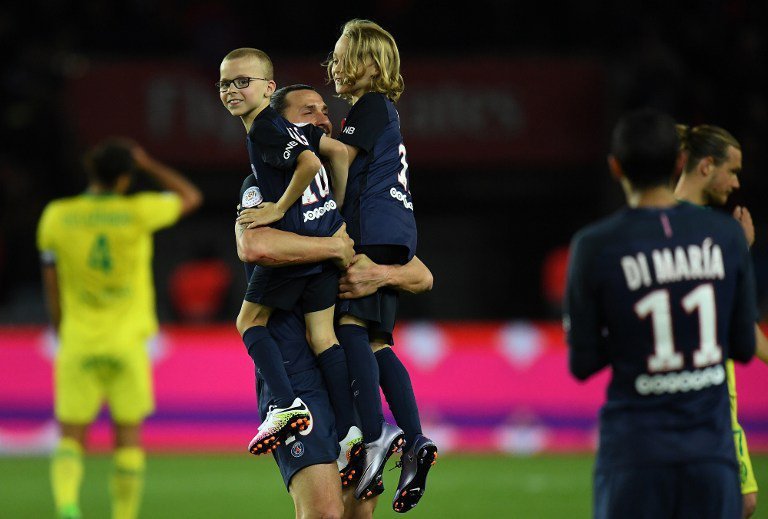 The Sweden striker, whose contract with PSG has not been renewed, scored a double to take his tally to 38 goals, one more than Carlos Bianchi's tally in the 1977-78 season.
But that's the boring part of what happened on Sunday night. You know Zlatan doesn't do boring, right?
Of course you do.
So, as only Zlatan can do, he scored the record-breaking goal, lapped up all the adulation, and with a few minutes still left to play, calls his kids over to the pitch, picks them up, kisses them and walks off to a standing ovation. 
What makes it so Zlatan? The fact that PSG had made all three substitutions by then! Zlatan decided he has done enough, so Zlatan walked away. The referees, opponents, all waited as this was unfolding. 
Of course his last touch at the PSG Home ground had to be a goal!
BONUS ZLATAN-ness: The kids were wearing jerseys that said 'King' and 'Legend'. Remember his tweet?
The game was briefly interrupted in the 10th minute as the crowd gave Ibrahimovic a standing ovation.
He will play his last game with PSG when they take on Olympique de Marseille in the French Cup final on May 21. PSG finish the season with 96 points.
Watch it all unfold here:
After the match Zlatan, in his message saying he will miss the club, wished PSG the best for the future, saying:
Without Ibra, it'll be difficult but it is possible
Featured image source: AFP