A Kuwaiti woman has landed herself in trouble with authorities after she posted a video she filmed of her domestic help hanging from the ledge of a seventh floor apartment. 
Human rights groups have called for an investigation into the employer who did not help out the hanging maid, in what might have been an attempted suicide. 
Here is the video that immediately went viral: 
A "House Maid" in #Kuwait falls from a SEVEN story building, while her employer just films & calls her crazy pic.twitter.com/FwKmylUTKd

— فاطمة🥀 (@ShiaAndproud1) April 1, 2017
In the 12-second video posted by the Kuwaiti woman, the domestic helper is seen crying for help while the employer is heard saying 'Oh, come back, crazy', even though she does not stop filming the video. 
After this, the maid, whose loses her grip , is seen falling down onto an awning. Thankfully the awning saved the woman's life. 
Paramedics later took the woman to a hospital, where she survived after receiving treatment for minor injuries. 
The human rights group Kuwait Society for Human Rights called upon authorities to investigate the matter and the woman is currently facing two charges including that of filming the maid without the latter's consent and then publishing the video without her consent, CNN reported. 
According to a report in Independent, the Kuwaiti woman has claimed she made the video so that she would not be accused of murder or foul play in case her maid died. She said the video was proof that she was not involved in the incident. 
However, some reports claim that the domestic worker, an Ethiopean national, was a victim of abuse and was not trying to commit suicide, but to escape from her abusive employers.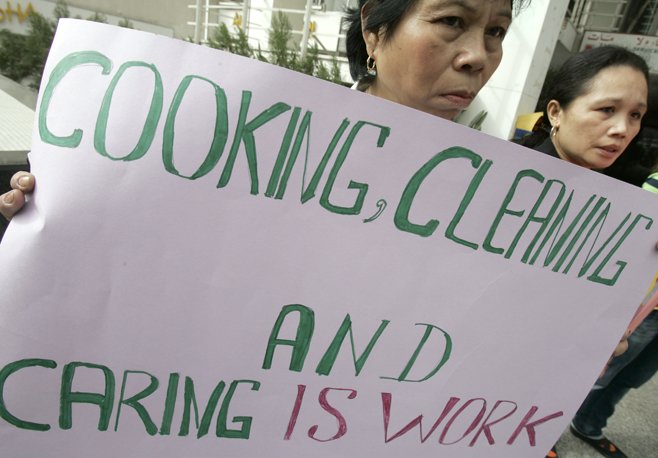 600,000 domestic helpers in Kuwait
This is not the first time Kuwait has been in news due to alleged neglect or abuse of domestic workers. 
There are over 600,000 domestic workers and helpers in Kuwait, most of whom are Asian immigrants, The Guardian reported. Every year, several cases of abuse of domestic help – including non-payment of wages, ill-treatment, verbal/sexual assault etc are reported in Kuwait. 
In 2016, amid widespread protests and international scrutiny, Kuwait set a minimum wage (60 dinars) which is mandatory for all domestic workers. It is the first nation in the region to have such a law. 
Feature Image Source: Twitter/Reuters