A top Hindu priest was decapitated by attackers in northern Bangladesh Sunday and two worshippers wounded, police said, in the latest assault targeting minorities in the Muslim-majority nation.
Two assailants armed with pistols and cleavers attacked Jogeswar Roy, 45, the head priest of Sri Sri Sant Gourio Math, at his home in the temple on Sunday morning, officials said.
"The priest was preparing for morning prayers when they pounced on him and slit his head from the body at the verandah of his home inside the temple," said Shafiqul Islam, a government administrator in the sub-district Debiganj where the temple is located.
"We recovered a blood-stained cleaver from the spot," he said.
Two devotees were wounded in the attack including one who was shot as he tried to save the priest, he added.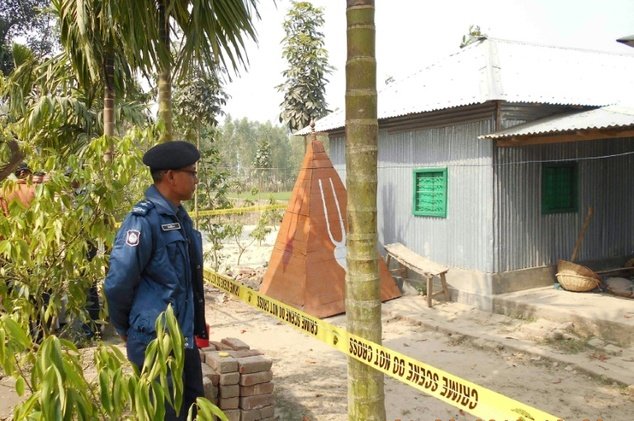 The motive for the murder was not clear but police said Islamist militants were among those suspected as being behind the killing.
District police chief Gias Uddin Ahmed said police had launched a hunt for the attackers and security checkposts had been set up across the district.
"The Jamayetul Mujahideen Bangladesh (JMB) is also in our list of suspects," Ahmed told AFP.
The banned group is believed to have been behind an attack on an Italian Catholic priest in the neighbouring district of Dinajpur late last year.
Bangladesh has seen an upsurge in attacks on minorities including Shiites, Sufis, Christians and Ahmadis by Islamist militant groups.
The government rejects the Islamic State's claims of responsibility for several recent attacks, including the shootings of two foreigners.
Prime Minister Sheikh Hasina's secular government instead accuses the JMB, other local militant groups as well as the Islamist-allied political opposition of trying to destabilise the country.
Hindus, the country's largest minority, make up nearly 10 percent of Bangladesh's 160 million people. 
Feature image source: Reuters/Representational Image