Who says prohibition needs to lower the spirits of the people? At least, it doesn't happen in the case of Malayalis. 
In the 21 months since the Congress-led UDF government implemented its new liquor policy, Kerala recorded a 24.92 per cent slide in sale of Indian Made Foreign Liquor (IMFL). However, it registered an impressive 63.65 per cent increase in the sale of beer and a whopping 260.02 per cent rise in the sale of wine.
However, overall liquor sales declined by 24.87 per cent in the state despite a surge in demand for wine and beer. This was primarily because IMFL, whose sales declined by 5.4 crore litres compared to 21 months ago, has a massive share in the total alcohol market.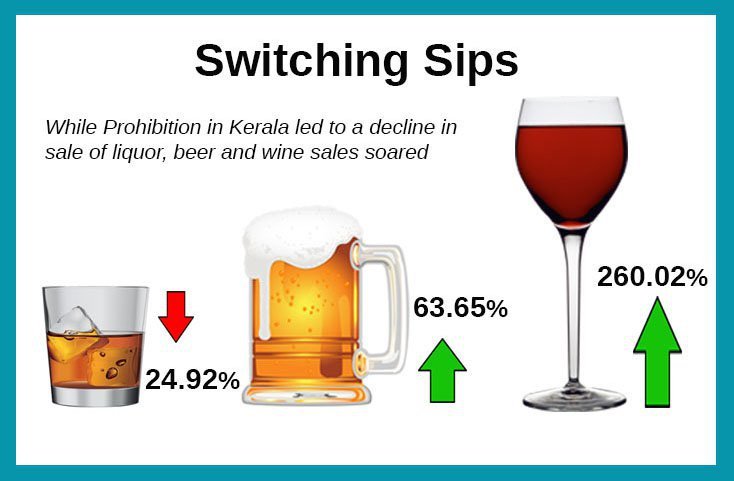 These figures were presented in a report compiled by the Kerala State Beverages Corporation, at the International Conference on Effective Strategies for the Prevention of Alcohol and Substance Abuse (I-CON 2016). 
The event was organised by Subodham, a State government initiative to completely eradicate the menace of substance abuse in Kerala. It aims to make the state liquor-free by 2023.
The Kerala government's new liquor policy allows the sale of foreign liquor only through five-star hotels. It had closed down 700-odd bars and turned them into beer and wine parlours.
Here's a look at the share of various drinks in the liquor market in Kerala during 2014-15.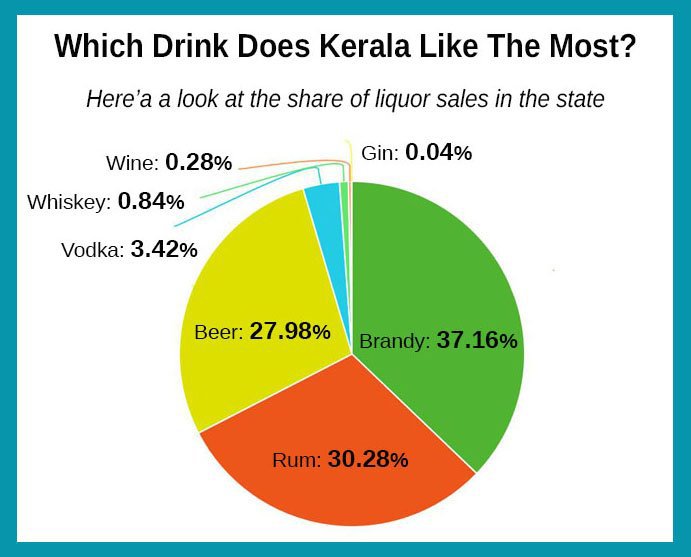 Findings show that around 32.9 lakh people of the state's 3.34 crore population consume liquor. This comprises 29.8 lakh men and 3.1 lakh women. Around 5 lakh people consume liquor on a daily basis. Of this, around 83,851 people, including 1,043 women, are addicted to alcohol.
The high consumption of alcohol was often blamed for the steep rate of crime in the state. Alcohol-related crime amounted to 59 per cent of the loss incurred by the state, while accidents constituted 40 per cent. 
Commenting on the report, Subodham Director K. Ampady said,
"If we look at the socio-economic impact of Kerala's love for liquor, the state has incurred a loss of around Rs 15,800 crore by way of criminal acts, road accidents, and problems faced by families."
After the new liquor policy came into existence, Kerala has quit its position as the State with highest per capita consumption of foreign liquor in the country.
With inputs from PTI
(Feature image source: Flickr)