In an embarrassing goof up, local newspapers in Madhya Pradesh posted a full-page ad sponsored by BJP supporters announcing the visit of Prime Minister Narendra Modi to Bhabhara.
The occasion was the "World Tribal Day". The ads, however, called the ad as "Adivasi Unmoolan Divas" or "Tribal Eradication Day".
The advertisement was rolled out by the Sanstha Saadgi Kapil Chaudhary Mitra Mandal on the eve of former Indore legislator Jitu Jirati's birthday. The ad got published in many local Hindi newspapers, reports Hindustan Times.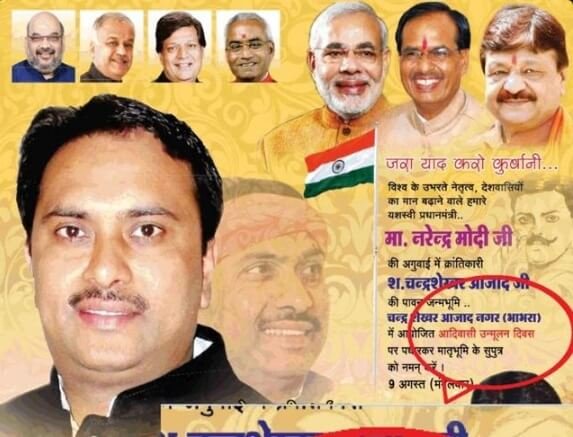 The ads carried the pictures of PM Modi, MP Chief Minister Shivraj Singh Chouhan, BJP president Amit Shah, senior party leader Kailash Vijavargiya and birthday boy Jirati.
Alok Dubey, who is the local BJP unit spokesperson called it a "mistake in proof reading" that replaced the word "unnayan" (development) with "unmoolon"(eradication).