This article will NOT load disturbing images without your permission. Other websites linked in the text below might be unsafe for sensitive viewers.
---
Dear world, please stop and contemplate the ways in which we are collectively fucking up. You don't have to think too hard about our misadventures. You don't even have to look beyond the front page of every newspaper/site. If you've been online this past week, you would have heard of China's grotesque dog-eating festival. That's barely the tip of this shitty iceberg. I'm so, so sorry; but I'm about to give you some insights into our horrible track record -
Dog Eating Festival
Where: China
When: 21 June, 2015 | Since: 2009
What: Every year, tens of thousands of dogs are rounded up. They are beaten, skinned, starved, dehydrated, and crammed into cages. These cages are transported to Yulin - the Chinese city where this annual massacre unfolds. On the journey, some dogs succumb to their injuries. The dogs that are still alive, and emotionally scarred, are left to share the crammed cages with corpses of their deceased kind. Often there's barely any room to move a limb. Many suffocate, choke, and howl for help with their last breaths.
These animals are released on the streets of Yulin in what can only be described as a barbaric, gut-wrenching celebration of sickness. They are run over with cars, smashed with hammers, shredded, and boiled alive. Their intestines and carcasses are strung up, in full view - much to the crowd's delight.
Here's the clincher. Most of the dogs are not strays. They are abducted pets. There have also been reports of the same ill-treatment dealt out to cats.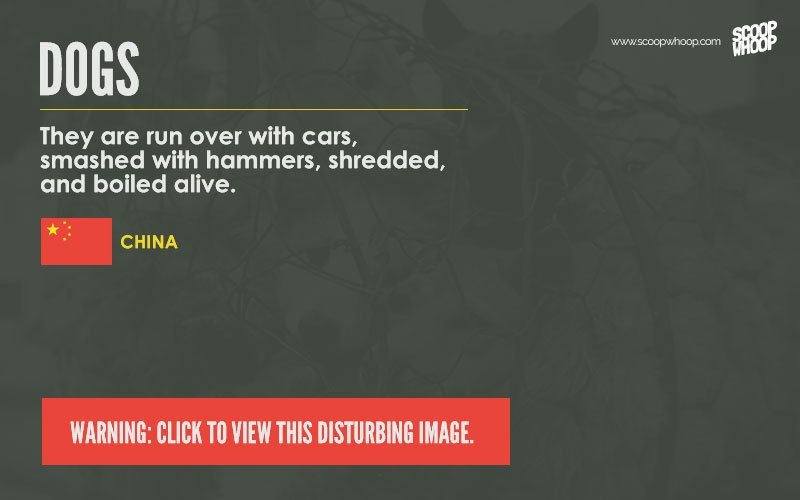 Source: animalsaustralia.org
Gadhimai Festival
Where: Nepal (with 80% participation from U.P. & Bihar)
When: Every five years | Since: 1750s
What: This one's hard to swallow. It's the world's largest animal sacrifice ritual and it happens right in our backyard. Nepal is host to this festival with 80% of its attendees from the Indian states of Uttar Pradesh and Bihar. People brutally slaughter animals because it's said that the ritual will bring them prosperity. However, one out of three people in these states are below the poverty line, according to this 2013 study . Surprise, surprise. Some of these participants have to spend as much as two months of their salary to buy and sacrifice these animals.
To be fair, the Supreme Court of India ordered a ban on the movement of animals to Nepal, last year. But that did not stop millions of 'pilgrims' from smuggling animals across the border. Reportedly, border officials were bribed to look the other way. The issue was politicised when a Government official commented that they would not "interfere in the centuries-old tradition of the Madhesi people." The organizers even received a fat cheque of 45 Lakh Rupees from the local Government. Vote-bank politics fucked us up again.
How bad is the ritual, you ask? In 2009, five lakh animals (half a million) were killed by 200 men. True to tradition, their throats are slowly slit with a knife. They are left to die a sluggish, extremely brutal death. The 'priest' would then sprinkle blood from these dying animals across the temple's idols. What a bastardly thing to do!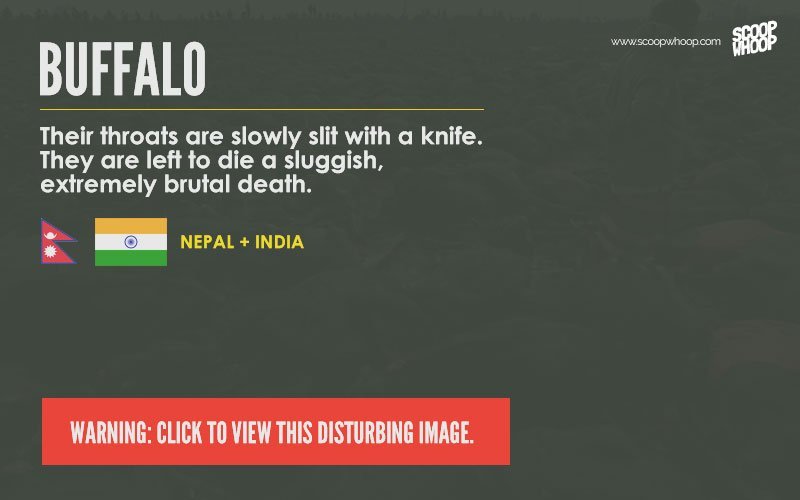 Source: stkittsthegreat.com
The Elephant 'Crushing' Ritual
Where: Thailand
When: All year round | Since centuries
What: The 'crushing' in this ritual's name refers to crushing the animal's spirit. The villagers of the remote highlands of northern Thailand use this ritual to 'tame' elephants.
Once captured, they are immobilised in a small wooden cage. According to this NatGeo report , the handlers use sleep-deprivation, hunger, and thirst to 'break' the elephants' spirit. They drive nails into the elephants' ears and feet to immobilise them, and make them submissive.
"If the elephant doesn't go through this, elephant can't be tamed (sic.)" said Saehai, a 91-year-old local 'spiritual leader' defending the ritual. The gullible villagers believe that he uses black magic to tame the elephant.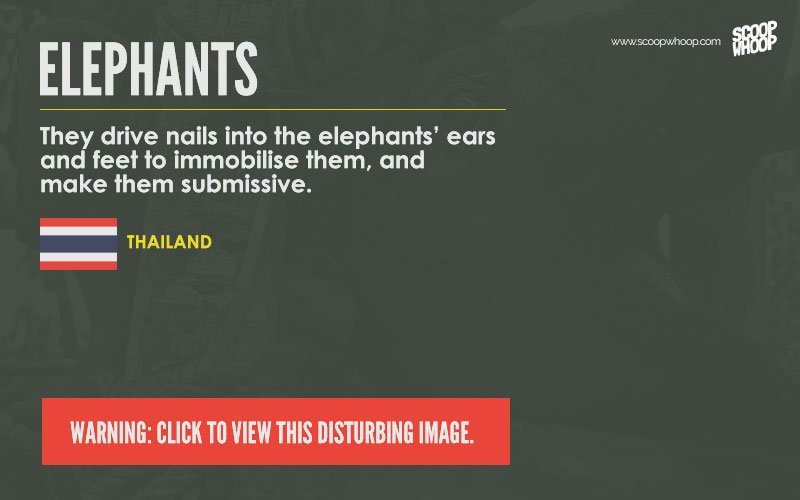 Source: Lek Chailert via mojonews.com.au
Kots Kaal Pato - The Animal Piñata Festival
Where: Mexico
When: Annually | Since: Unknown origin
What: The night before the festivities, children from the Mexican town of Citilcum round up kittens, possums, birds, and iguanas. These live animals are put into piñatas.
They beat the piñata with sticks until it breaks and corpses of the shattered animals fall to the ground. If that doesn't kill them, the townsfolk just grab the animals, throw them in the air, kick, or trample them to death.
That's not all, the people of this town then tie a goose/duck to an elevated makeshift wooden structure. They take turns trying to jump and grab the bird by the neck and rip its head off. The severed bird is awarded to the barbaric human being who kills it with his bare hands, while the crowd applauds and laughs.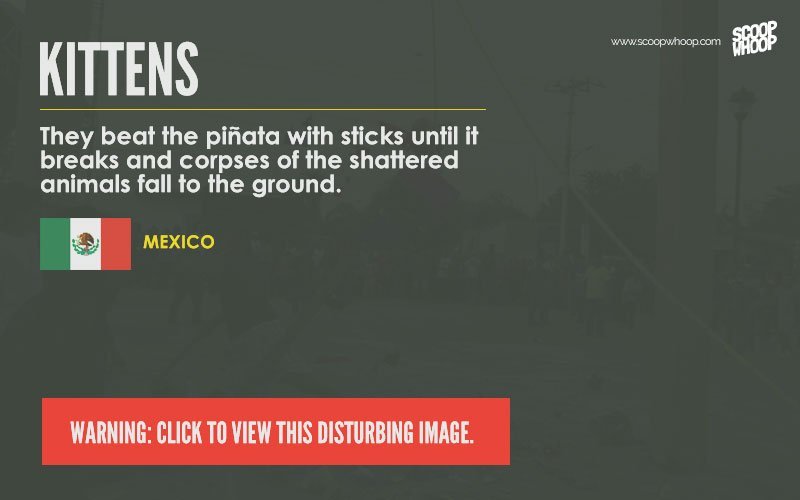 Source: vice.com
The Fire Bull Festival
Where: Spain
When: November | Since: It's an ancient tradition .
What: Every year, Spain goes full retard and loses any semblance of regard for the welfare of its bulls. If you think what you saw in Zindagi Na Milegi Dobara was dangerous, let me introduce you to its hardcore cousin - Toro Embolado.
Here's the drill. At midnight, the locals put mud on the faces and backs of bulls. They attach flaming balls of tar to their horns and release them into the streets. The revelers dodge them until the flames burn out. Fireworks explode. The crowd goes wild. Insensitive idiots.
Source: theatlantic.com
Before we pat ourselves on the back for humanity's great achievements, let's spare a thought for these sick, unempathetic cultures. Fuck everything about these horrible, horrible humans. I hope they change soon.
Mankind needs more kind men.
---
Follow Ashwin Gurbuxani on Twitter:
@scenest3r
---
PS: I know this is the internet and I can not tell you what to do. But please, in the interest of keeping things clean, do not post disturbing images in the comments. Thank you for your sensitivity towards the subject.
Feature Image courtesy Joey King on Twitter .