Hundreds of people gathered at the home of Lt Colonel Niranjan in Kerala's Palakkad on Tuesday morning to bid their final farewells to the National Security Guard officer. The officer died on Sunday while defusing a grenade following the attack by six terrorists on the Pathankot air base.
Maj General M Chandy, an NSG Inspector General told NDTV about how well the officer trained his men and how he always led from the front.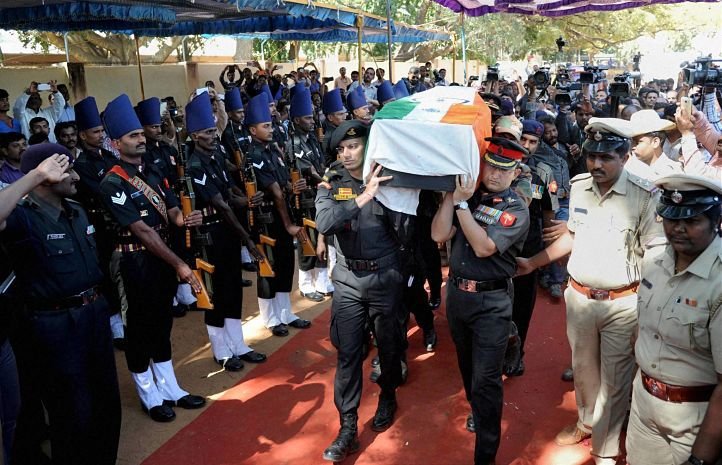 "He was a man who knew no fear and was exceptionally brave. He topped his bomb disposal course in NSG and was selected for training in the US He was a brilliant mind and always led by example," Maj General M Chandy told NDTV.
But perhaps the most touching tribute to the 34-year-old martyr came to light thanks to a Facebook post by a coursemate:
R.I.P Lt Col Niranjan Ek. My Coursemate, my Sutta Pal, Barrack-Type and Punishment-Type.
Wish I could turn back the clock for you, Moron! I would have ensured that instead of CDSE you would have cleared your Civil Services Exam.
Your daughter would have had a father to watch her grow up. Your wife would have had a husband to grow old with. And you would never had had to fight to get a decent pension (Not that you would have needed one – everyone knows the price of a Babu's signature).
I wish that you had not been a warrior, a leader of men and a guardian of an ungrateful nation. I wish you had been a pen-pushing Babu who charged you just for doing his job. I wish that you had not been an Officer And A Gentleman earning a hardship allowance of Rs.32000 in Siachen.
Instead you should have been a blood-sucking Babu earning Rs.72000 HARDSHIP ALLOWANCE for enjoying the salubrious climes of Shillong or Guwahati. Or I wish that you had been a Corporate Honcho, who earns thrice your salary for doing one-fourth of what you do.
I wish that you had been an AAM AADMI for whom nothing matters beyond the next increment,the next mobile phone or the next vehicle that he is going to buy.
I wish that you had been anything except what you chose to become – A Real Man, A Professional Soldier, A Leader Of Men, A True Son Of This Ungrateful Nation, Sworn to protect it at all cost.
I Wish…I Wish… But You Are No Longer There…. So I can only pray that in your next life, you decide to do something worthwhile. Something… Anything…. Just Don't Repeat The Mistakes You Made In This One..
R.I.P Brother… We'll Meet In The Afterlife