Early on Saturday morning, the Mumbai-Kolhapur Mahalaxmi Express was stranded in between stations with 1,000 passengers which warranted a multi-pronged rescue mission involving the NDRF and defence forces. 
The Maharashtra government requested defence officials to arrange airlift of the stranded passengers of the 17412 Mahalaxmi Express.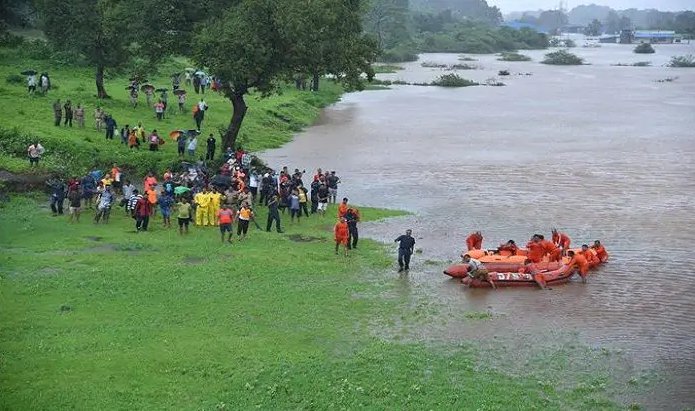 Two military helicopters and six boats of the National Disaster Relief Fund rescued almost 700 passengers from the train stranded between Badlapur and Wangani stations, 60 km out of Mumbai. 
NDRF spokesperson Sachidanand Gawde said, 
Of the total 1,000 passengers, we have so far rescued over 500. They are being taken to a safe place about 1.5 kms from the site. Food, water and medical facilities have been arranged for the stranded passengers.
Passengers shared that they had no drinking water or food in over 15 hours that they were stranded, and there was no way to leave the train as there was 5-6 feet of water on all sides. The passengers were warned by the railways to not step out of the stranded train because of the water levels outside and requested them to wait for help, reported news agency IANS
The Indian Navy tweeted, 
Among the passengers rescued, there 9 pregnant women, one of which even went into labour during the time the train was stranded. 
Maharashtra government spokesperson Brajesh Singh has said that 8 NDRF boats have been deployed. Central Railway's senior spokesperson A. K. Jain said, 
NDRF teams will rescue the stranded passengers and they will be brought to Badlapur station. We have planned a special relief train to send the passengers to their destination. Food packets have been delivered to the passengers by the local police and the Railway Protection Force (RPF).