In yet another incident that shows we take safety in private cabs for granted, a woman in Mumbai was allegedly subject to harassment and abuse by a cab driver. The incident happened last week when Sheetal Shetty who was travelling with her friend in an Ola share cab, was allegedly verbally abused and forced to step out of the vehicle by the driver. However, little did she know that her ordeal wouldn't end even after leaving the cab midway. Because a week later, the driver called her up on her number and harassed her over the phone. 
And the reason behind the harassment – she had mistakenly addressed him as 'uncle' when she was travelling in his cab. 
After the incident, Sheetal put a post on Facebook narrating about her ordeal. In her post, she slammed Ola for not taking appropriate action against the driver due to which he harassed her later on the phone.
Here is her Facebook post:
What actually happened?
On October 26, Sheetal booked an Ola share cab from One Indiabulls Centre, Lower Parel, along with her friend. At first, the driver named Mohd Nazim got into an altercation with the two over the incorrect location shown by the map. But later, when she mistakenly referred him as an 'uncle', the driver got extremely furious and began abusing them. He also threatened them and made a few calls to someone and shared their details, as per Sheetal. When he stopped the cab at Dadar, the duo stepped out of the vehicle and left.
Sheetal says despite calling Ola support to register a complaint, Ola cabs neither took any action against the driver on that day nor tried to contact her.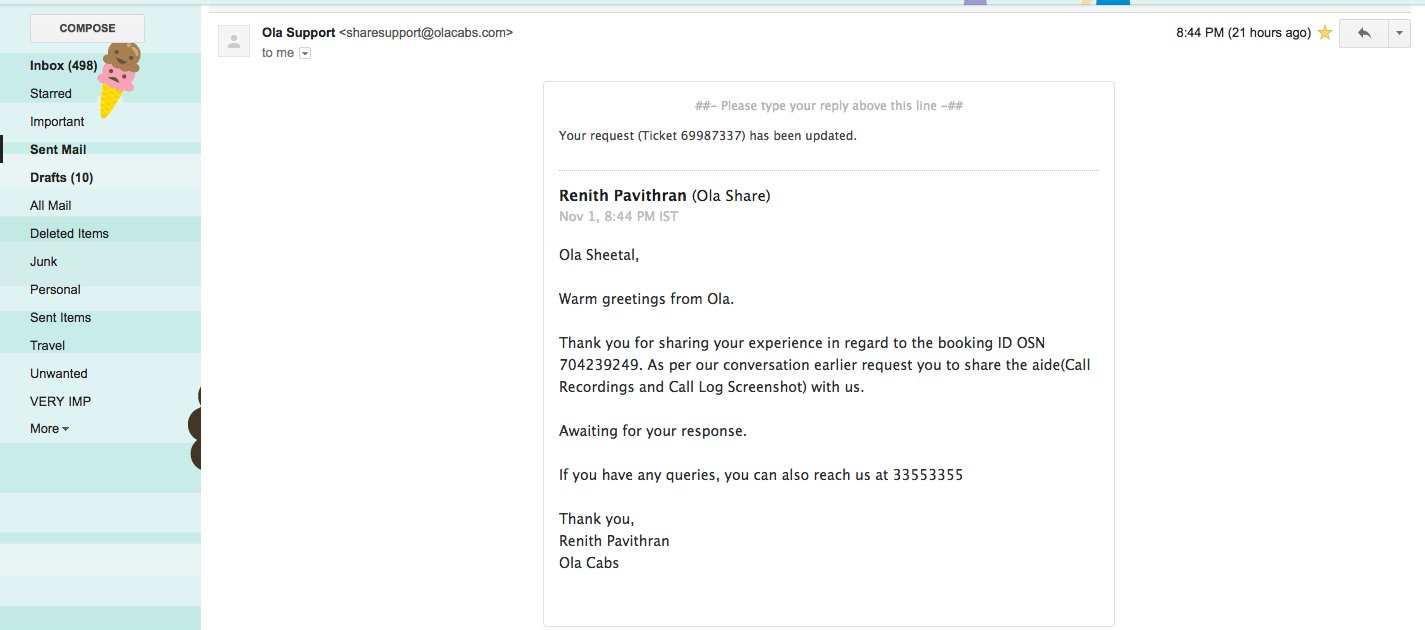 Harassment over the phone
On Wednesday, the driver called Sheetal multiple times on her number to verbally abuse her. She called him back on his number to record the conversation. (ScoopWhoop News is in possession of the audio clips of the recorded conversations, as claimed by Sheetal). When she told him that she would report the matter to police, the driver threatened her instead.
Here is a sample of what he said over the phone:
"Main tera ashiq bol raha hun. Tere office mein kaam karta hun. Agar tujhe police mein complaint karna hai toh karde. Meri police mein achi jaan pehchaan hai. ( I am your lover. I work in your office. I don't care if you file a police complaint as I have good contacts there) 
Late response from Ola Cabs
However, after she put up a post on Facebook, an official from Ola cabs called her to inform that the driver has been dismissed from his service. He also assured her that the company will fully cooperate in the investigation if there is a police complaint. But she says that the company didn't provide her any proof about his termination.   
Although Sheetal was earlier reluctant to file a police complaint but on Thursday, she got a call from the Mumbai Police. They have asked her to register an FIR in the case.  Sheetal says she will file the complaint in a day or two.