There couldn't have been a more befitting tribute to the departed soul of Padma Bhushan awardee Mrinalini Sarabhai, than by doing what she dedicated her entire life doing – Indian classical dance. And who else than her own daughter could understand this better.   
Well-known artist and daughter of the late danseuse, Mallika Sarabhai bid an emotional farewell to her mother Mrinalini Sarabhai through a graceful dance, as her body lay on the dance floor of the Darpana Academy which she founded in 1949.
Amma, as she was popularly called, Mrinalini Sarabhai was one of the greatest classical dancers of India, who is credited to reinventing the Indian classical dance form. It was a very emotional moment when Mallika Sarabhai performed Krishna Nee Begane Baro, a popular Carnatic composition in praise of Lord Krishna, leaving many with moist eyes.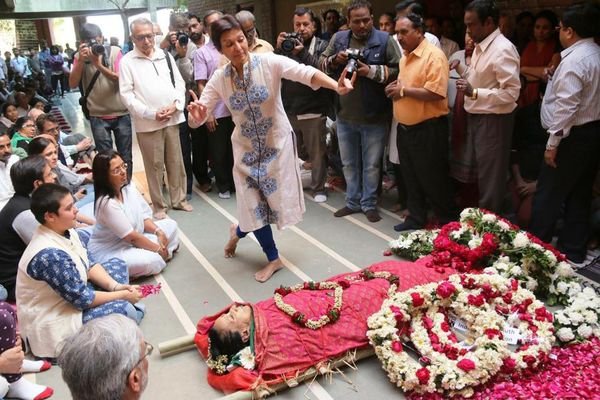 Earlier, breaking the news of her mother's death, Mallika Sarabhai had written in a Facebook post: 
My mother just left for her eternal dance.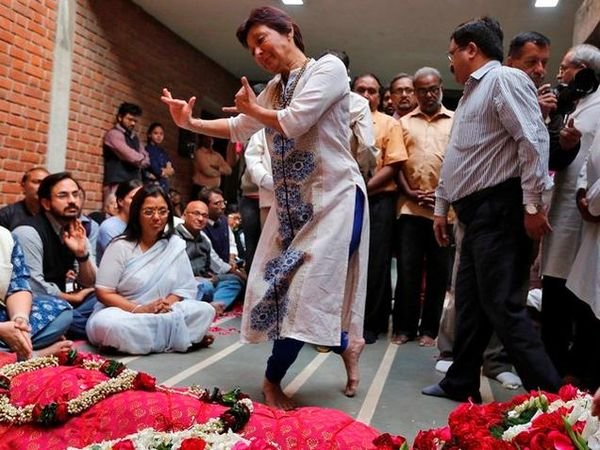 Mrinalini Sarabhai's body was draped in a red saree, with a black strapped large-dial watch on the left wrist, a large bindi on the forehead, and ghungroo on her feet — all her signatures, as reported by The Indian Express. It was indeed a befitting tribute from a daughter to her mother, who gave all her life in promoting classical dance. 
And as Mallika Sarabhai lit the pyre of the legendary dancer, along with her borther Kartikeya, all a daughter could utter was- I'm sorry Amma.