After Supreme Court ordered Karnataka to release Cauvery water to Tamil Nadu, protests have broken out in Karnataka. 
The Karnataka government has pulled off 700 buses that run from Bengaluru and Mysuru to Tamil Nadu and Kerala on Tuesday. A shutdown has been called in Mandya in southern Karnataka where farmers protesting against the court order.  Schools and colleges in the district have been closed, reports NDTV. 
Farmers and pro-Kannada outfit activists protested in various parts of Karnataka on Monday against the Supreme Court direction to release Cauvery water to Tamil Nadu while Chief Minister Siddaramaiah convened a meeting of legislature leaders and MPs in Bengaluru for Tuesday to discuss the issue.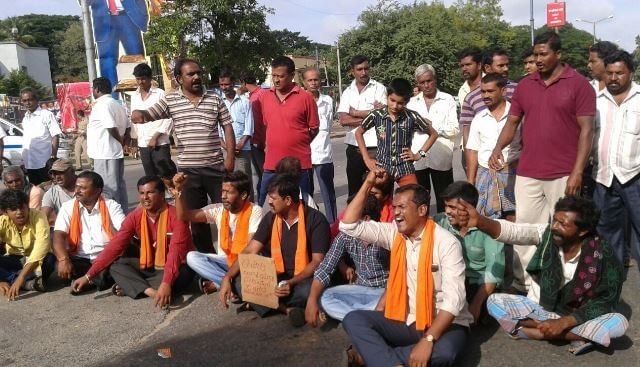 Siddaramaiah, whose government has been expressing its inability to release water to Tamil Nadu citing poor storage, would hold a meeting with floor leaders of all parties in the state legislature, MPs and district-in charge ministers tomorrow evening to take stock of the situation, an official release said tonight.
"We have decided to call for Mandya bandh tomorrow to protest against the court direction to release cauvery water to Tamil Nadu when there is hardly any water left at our side of the river," Samithi President and former MP G Made Gowda told reporters at Mandya on Monday. Gowda also urged the government to file a review petition in the apex court.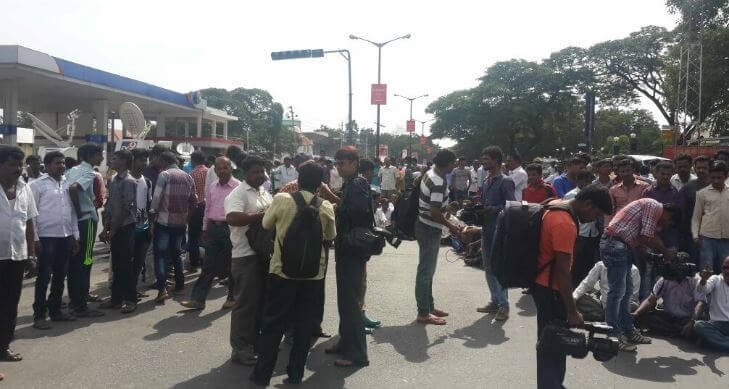 He said he had spoken to state Water Resources Minister M B Patil over phone and urged him to safeguard the interest of Karnataka farmers. The farmers' leader also warned the government that it would face a strong agitation if water was released to Tamil Nadu.
Protests broke out in other parts of the state including Chamrajnagar, Mysuru and Hubballi with farmers and pro-Kannada activists demonstrating against the Supreme Court order and urging the Siddaramaiah government to protect interests of Karnataka farmers and not release water to Tamil Nadu.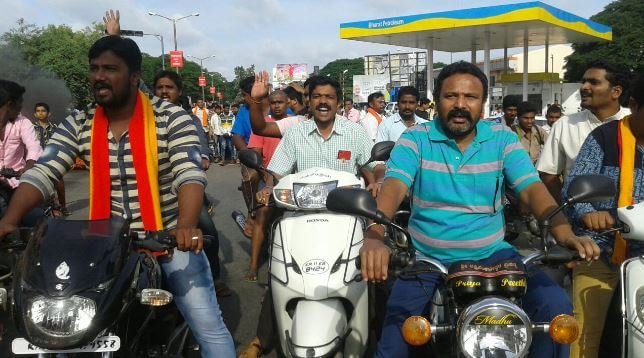 Police said effigies and posters of Tamil Nadu Chief Minister J Jayalalithaa were burnt in some places in these districts. A group of farmers tried to enter the KRS Reservoir in Mysuru protesting the court direction, but police prevented them.
'Karnataka Okkuta', led by Vatal Nagaraj, called for a 'Karnataka bandh' on September 9. Workers of the pro-Kannada outfit held a protest here, bringing traffic to a halt in the heart of the city.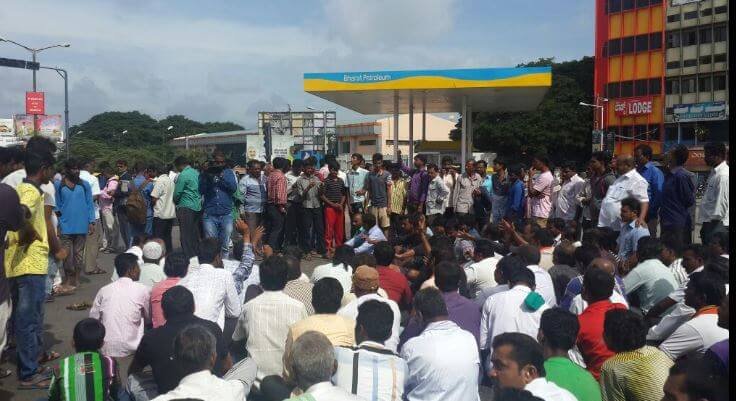 "There is no water in Bengaluru, Mysuru, Mandya and Chamrajnagar, and that is the truth. We have called for Karnataka Bandh on September 9 to protest against the injustice meted out to farmers here," Nagaraj told reporters. Passing orders on a petition by Tamil Nadu, the Supreme Court noted that damage would be caused to samba crops in the neighbouring state and directed Karnataka to release water.
(With inputs from PTI) 
(Feature image source: Twitter| Eesanje News)