Five people were killed and 27 others injured in violence at Churachandpur town in Manipur during a 12- hour bandh called by tribal student organisations in protest against three bills passed by the Assembly even as curfew remained in force on Tuesday, September 1, amid reports of outbreak of fresh violence.
While three bullet-riddled bodies were found in Churachandpur town on Monday, August 31, a charred body was recovered from under the debris at the residence of Henglep MLA Manga Vaiphei this morning in the town, a police officer said, adding that another body was also found.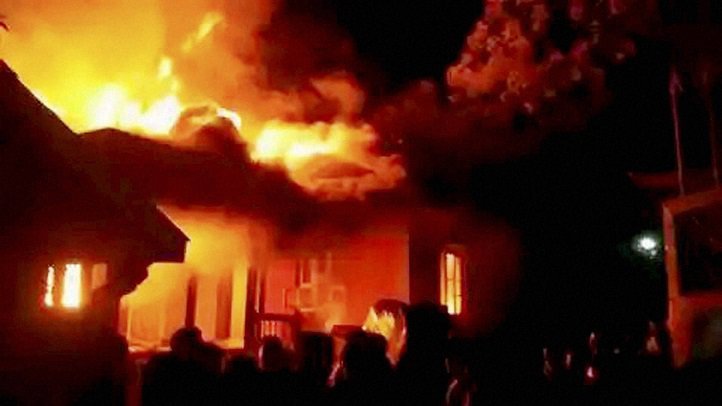 Curfew, imposed on Monday, continued in the violence-hit town amid reports of outbreak of fresh violence.
According to the police, the houses of MP of Outer Manipur Lok Sabha seat Thangso Baite, Manipur Minister-in-charge of Family Welfare Phungzaphang Tonsimg, and that of five MLAs, including Manga Vaiphei and Vungzagin Valte of Thanlom, were set on fire in the Churachandpur town during the band called last evening.
The activists of the student organisations were protesting against the passage of three bills to protect the indigenous people of Manipur in the Assembly on Monday.
Churachandpur district hospital authorities said 20 people were admitted to the hospital on Monday, of which seven were discharged after first-aid.
In view of the situation, the administration had imposed indefinite curfew in Churachandpur town since late Monday evening.
The three bills passed in the Assembly were Protection of Manipur People Bill, 2015, Manipur Land Revenue and Land Reforms (Seventh amendment) Bill, 2015, and Manipur Shops and Establishments (Second Amendment) Bill, 2015.