We celebrate the 11th anniversary of RTI on 12th October. ScoopWhoop News approached OnlineRTI, a Bangalore-based start-up helping citizens file RTI requests, to help us understand how India is making use of this fundamental right. An analysis of more than 2.3 lakh RTI queries received by the site has thrown up some interesting results. This infographics tells us what India really wants to know through RTIs.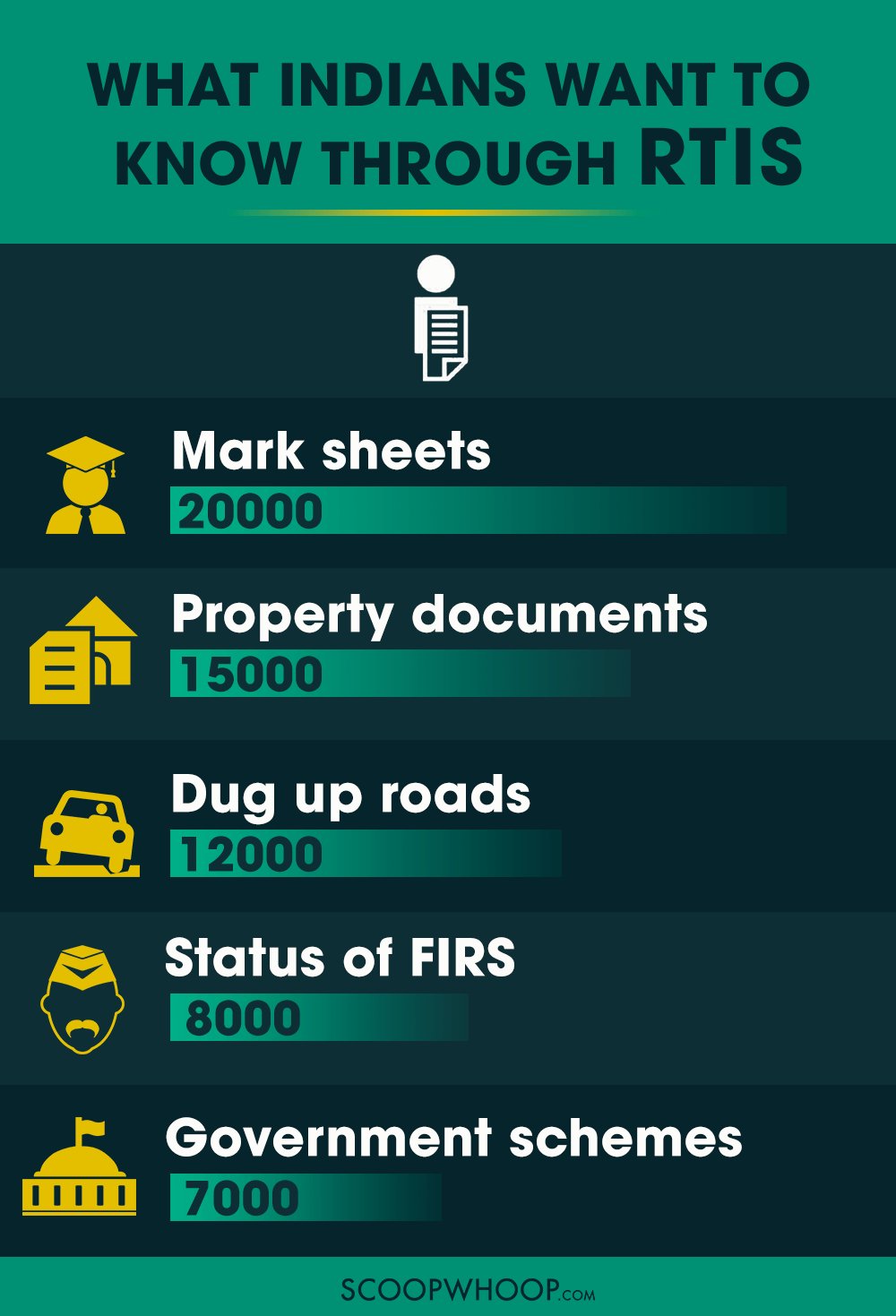 Copies of marks and answer sheet 
No Indian parent is ever happy with his ward's marksheet. Which explains why so many Indian students who filed their RTIs through OnlineRTI.com wanted to verify the authenticity of the marks sheet issued by their college. However, there  are often cases of fraud universities too and students are left to wonder whether the transcripts and degree they received hold any value. RTI is their answer too all that. 
A Supreme Court order ensured students' right to access evaluated copy of their answer sheets. You could also receive OMR Sheets, Cutoff Marks and other information regarding the exam. Not just competitive exams, even students of secondary school wanted copies of their answer sheet.
Property Documents
Let's face it, we are willing to spar with our own flesh and blood when it comes to that perfect little flat in Bandra. We save money scrupulously to buy that plot of land in Dehradun.  We Indians love our property and we don't want any kind of confusion when it comes to legalities associated with it. According to Online RTI, a whole lot of people want to know about property documents 15,000 people have sought information about their property and land through them. 
Dug-Up Roads 
Quick question, what binds most of India together? Apart from cricket. if there is anything in common between a Delhiite and a Guwahati resident, its our disdain for bad roads. In most of India, roads are dug and promptly forgotten. Then they are relaid and then they are again dug up. We really, really want to know what is the logic behind this. More than 12000 people wanted to know about road works in their area.
Status Of FIRs
It's not for nothing that the police in our country receives such a lot of bad press. According to this study ,8000 RTIs for FIR status have been filed at this portal. This kind of nudge makes the police swing into action and take your FIR seriously.
Government Schemes
 Ever wonder what happens to all the grand schemes the government keeps advertising about?  Using RTI, you can know if your locally elected leader is actually working as much as he claims to be. And it's not even tough to do this. More than 7000 RTI applications were about utilization of funds at the Gram Panchayat and town level.
Feature image source: CSLRA