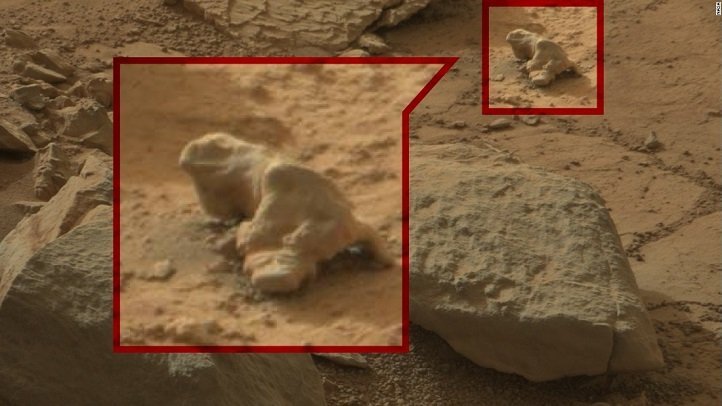 This photo, which CNN has mentioned in its report, was released by NASA's Curiosity Rover. It does not appear to be simple glimpses of rocks, but it shows signs of life in the scientifically imaginative minds.
Previously, after thorough research conspiracy theorists had many conclusions. They believed that they spotted a Pyramid, and reportedly even human skulls, as mentioned in a report of Mirror .
The latest theories have also predicted that there may have been a spaceship which landed on Mars, UFO Sighting Daily released an image on its website.
"I found this anomaly in the latest Curiosity Rover photo. The black object looks like a crashed UFO. The craft is only about 2.5-3 meters across, so it probably only held a few passengers. Since many of the figures we found on Mars are about 5-8 cm tall, then we can conclude that his ship could carry about 20-40 passengers," Scott C Waring told UFO Sighting Daily.
"We have color HD cameras on this rover that far exceed anything ever sent to the planet before, and yet in order to find these things that kind of trick your brain into thinking it's a mermaid or whatever, you do have to zoom in where it's kind of a fuzzy shadow at that point," Ashwin Vasavada, a scientist who works on the Mars rover project told CNN.
"We have no evidence of Martian iguanas or rats at this time. One of the best things we found is that Mars could support life, (but) if anything we think it's microbial life that's possible at this time. Things like rats and iguanas would be way further up the food chain that we think Mars may have ever gotten to," he added.
Speculations over photos of Mars have not all been fruitless. It is really strange that how the weird photos clicked by Curiosity did not turn out to be weird topics of discussions at the end of the day.
Read more: