Bharatiya Janata Party and Peoples Democratic Party coalition government in Jammu and Kashmir has slapped a fresh Public Safety Act (PSA) on pro-Pakistan separatist leader Masarat Alam Bhat after he was arrested on April 17 for "waving Pakistani flags and shouting Pro-Pakistan slogans" at a rally in Srinagar.
Alam, who was released in March after spending more than four years in prison, has been shifted to high security Kot Bhalwal jail in Jammu.
The PSA has come a day after Chief Judicial Magistrate (CJM) Budgam withheld its orders on the bail plea of Masarat for April 25.
Public Safety Act, which allows a District Magistrate to keep a person in his district under preventive custody for up to two years without trial, has been criticized by various international human rights groups, who have termed it as a "draconian and a lawless law."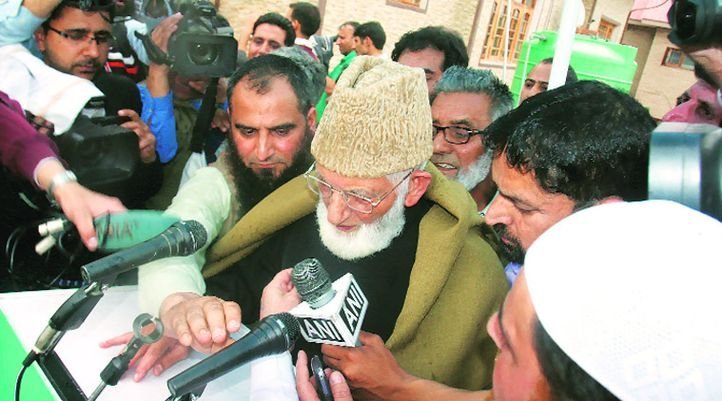 Alam, who, among many other offences, has been charged with sedition and waging war against the state, is facing PSA for the 26th time. Filing a bail application of Alam before the CJM Budgam, the defense lawyers had challenged the booking of Alam under sedition and waging war against the state as the charges were added much later to the FIR. During the hearing, Alam's legal counsel also referred to a High Court judgement passed in 1983 by a state judge ruling that "unfurling Pakistan flag is not criminal." Alam was arrested on April 17 amid cries for his detention by BJP and sections of Indian media after he led a home welcome rally in Srinagar for senior Hurriyat chairman Syed Ali Shah Geelani on his arrival from New Delhi on April 15.
"I want to assure the people of this nation that those involved in treason will not be spared," India's home minister Rajnath Singh said while commenting on the arrest of separatists.
While Geelani and Alam were booked under Unlawful Activities (Prevention) Act for "waving Pakistani flags and shouting Pro-Pakistan slogans" in the rally, the charges of 121 (sedition) and 124 (A) (waging war against the state), were pressed on later.
Apart from Geelani and Alam, several other Hurriyat leaders were also booked but only Alam, widely famous among the youth for his hardcore attitude towards the Indian rule in the state and considered to be the architect of the 2010 mass uprising, has been detained under PSA.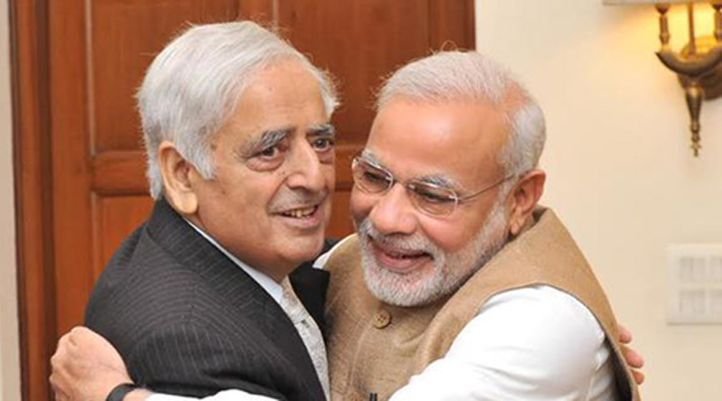 Incidentally, Alam's release by court in March, had coincided with the first days of Mufti Mohammad Sayeed's role as chief minister of the state. Post Alam's release, the visible fissures in the BJP-PDP coalition government in the state had triggered a string of harsh reactions from New Delhi and BJP top leadership, reaching even the parliament. Political pundits had equated the release of Alam with Mufti's attempt of gaining credibility and proving his so-called 'soft-separatist' image in the valley. However, with the recent detention of Alam, much alike the way previous government led by Omar Abdullah had acted against separatists, and which was vehemently criticized by Mufti's PDP as an opposition then, has revealed the line of direction followed by pro-India political parties in Jammu and Kashmir. Mufti's much-touted framework of "battle of ideas" to fight the pro-freedom sentiment on a contradictory ideological base has squeezed him between his clearly antithetical coalition partner BJP on one side and the separatists on the other. With the arrest of Alam, it has become more than apparent that Mufti has only two ways to go – either upset his coalition partner and act on his own, which obviously will put his CM-ship in peril or go with what BJP asks him to do. As of now, 79-year-old Mufti doesn't look like in the mood for upsetting two legs of his chair.
Read more: