The posters and trailers of Mastizaade left you with little doubt about what to expect and it doesn't attempt to surprise you in any way. 
The film is essentially a tale about two ad film makers Aditya Chotia (Vir Das) and Sunny Gele (Tusshar Kapoor) who take advice right at the beginning of the film from their friend Deep (Riteish Deshmukh) to become 'Mastizaade'. What this means is they sleep around with a lot of women, become sex addicts and develop "Chicks-Ray" vision. So they now know exactly what underwear every clothed woman is wearing.
Then turns up Sunny Leone who plays twin sisters Lily and Laila Lele. Laila is bold, proven by a two-minute walk in the nude with strategically placed objects ensuring no censor board cuts, while Laila is an innocent, stammering model. Both heroes fall for them and lose their "Chicks-Ray" vision which is how they know its true love. A number of cleavage, skits, songs and gags later, the film ends, as expected, with both heroes in bed with the two avatars of Sunny Leone.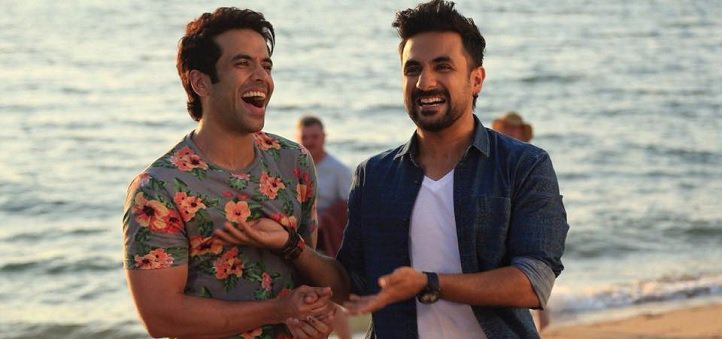 In the course of this 'story' you are subjected to jokes like "Before Rab ne bana di jodi, uske pehle chad jaa ek aur ghodi" and other one-liners that are squeezed into EVERY dialogue. It's almost like no one can even ask for a glass of water without throwing a double meaning joke into it. The jokes are mostly flat and of the sort where one character introduces himself as 'Sandas' because he's the son of another character and his name is Das. A lot of the jokes in the trailer also evidently haven't made it past the censors. 
Tusshar Kapoor seems the most at home playing the sort of role he plays in such films. Vir Das tries to lend some serious comedy cred but is forgettable. Sunny Leone strips down to her underwear and dances multiple times (not just for the songs), and alternates between being bold and flirtatious. In the two-hour-long film she reinforces why she's the go-to star for every director making adult comedies. 

As for the support cast, Asrani gets some laughs playing the father and Shaad Randhawa plays a handicapped fiancée who mimics multiple actors to get laughs. Suresh Memon plays the stock gay man that every Bollywood adult comedy can't do without and Riteish Deshmukh wisely only makes a brief appearance.
Director Milap Zaveri perhaps made this film to cater to those who want to see a lot of Sunny Leone while they laugh at the adult jokes thrown their way. But with double meaning dialogues that mostly aren't funny and skits that don't hold the film together, the laughs are mostly few and far between. This is schoolboy humour at its worst. Go only if you think ogling at Sunny Leone on a big screen in various dresses and avatars makes for two hours worth of entertainment.