So who exactly is 'Muni Tarun Sagar Ji Maharaj,' the man who was invited by the Haryana Assembly to give a sermon. The event has already attracted a fair bit of controversy.
Here's what we know so far:
Like all Digambar Jain monks, Tarun Sagar has given up on all worldly possessions including clothes which explains why he walks around in the nude. 
Despite being a religious saint, he has strong political views, given how he gave a speech in the assembly on subjects concerning girl education, India's performance at Rio and Pakistan. 
He surely wields influence, going by how Arvind Kejriwal promptly distanced himself from comments made by one of AAP's biggest celebrity faces – Vishal Dadlani, who mocked the monk for his nudity.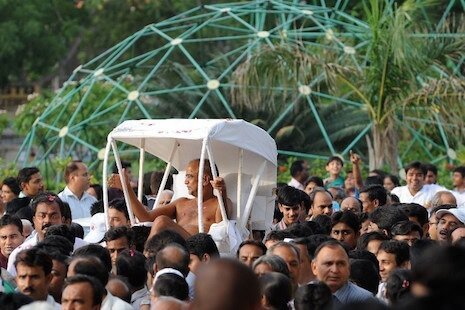 Here are a few lesser known facts about the 49-year-old monk, a native of Madhya Pradesh, who is revered in the community as not just a monk, but a social revolutionary. 
He released a book in 2013 which holds the Limca record for being India's biggest book!
The monk has written a book titled 'Kadve Pravachan' (bitter teachings), published by Diamond publishers. In 2013, he released a version of it which weighed a mind-boggling 2,000 kg! A News18 report said about 1,500 kg of iron and 100 litres of colour were used for the book by ten workers. The book, is of course, available as normal paperback.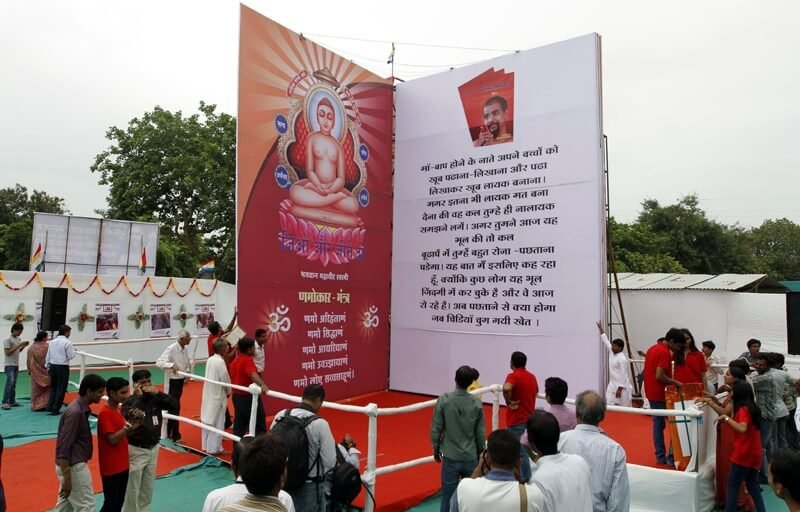 About its title, he told DNA, "I spoke very sweet(ly) for first 10 years of sainthood. Then one day, I felt that I got a message from Mahavir, who is within me, that people I'm speaking to are deaf and blind…The next day, I spoke bitter…Now, I speak harsh (ly) and the whole society listens – Jains are hardly 10% of this crowd."
Muni Tarun Sagar is known as a

krantikari

or revolutionary saint
Unlike the usual monks, Tarun Sagar asks "Lord Mahavir to be freed from the temples". In his own words, his words left the community shaken. "I was pressurised to take my words back and asked to assure that I would in the future not speak against tradition. I refused to take my words back," he said in the interview to DNA, adding, "We have imprisoned great personalities in temples. Stories of the lives of Ram, Krishna, Mahavir and Buddha, and their messages are for everybody."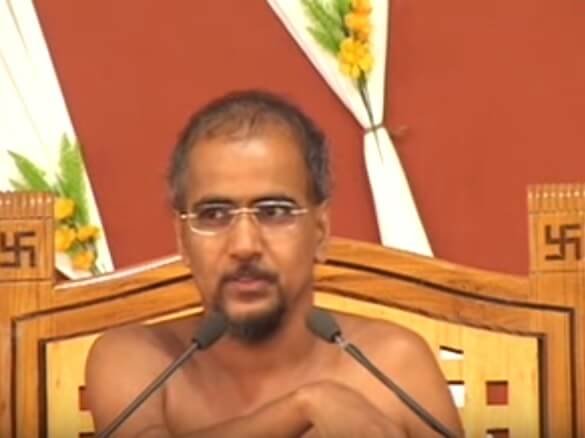 This, and the fact that he actively expresses his views on subjects political, has earned him this title.
He made the RSS give up leather belts from uniform
The monk has started a movement called Ahimsa Mahakumbh for stopping the export of meat and leather from India. It was at his behest that the RSS dropped leather belts from its uniform in 2010 and replaced it with canvas ones. The monk was of the opinion that using leather belts did not reflect non-violence.
He actively opposed Rajasthan high court's order of banning Santhara
In August 2015, the Rajasthan high court banned Santhara, a Jain ritual of voluntary and systematic fasting to death, making it punishable under section 306 (abetment of suicide) of the Indian Penal Code. Tarun Sagar strongly opposed it, saying, "This decision one of the slave decisions of the Free India." The ban was later lifted by the Supreme Court.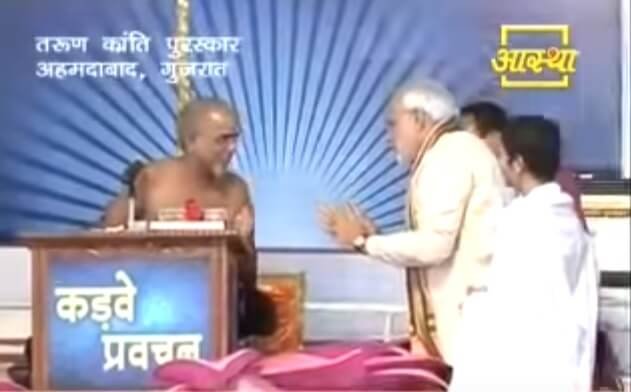 The monk gave an award to Baba Ramdev in a ceremony attended by Modi
The monk has constituted a national award called Tarun Kranti Puruskar. In 2012, in a function attended by then Gujarat chief minister Narendra Modi, he gave the award to Baba Ramdev, Vijay Darda of Lokmat Patrika group and Jain International Trade Organization (JITO).