What most history books agree on is that a heavily-outnumbered Maharana Pratap, a powerful Rajput ruler of Mewar, fought a nearly four-hour-long battle against the Mughal king Akbar in Haldighati in 1576.
What historians, however, don't agree on, is who won the battle.
While some including the locals believe it was the Maharana, some believe it ended in a "draw", historians have largely believed that it was Akbar who emerged as the winner of Haldighati war.
But if Rajasthan University officials agree, students of undergraduate courses will soon be learning that it was Maharana Pratap who won the historic battle. The basis of this new declaration lies in a book that came out in 2007.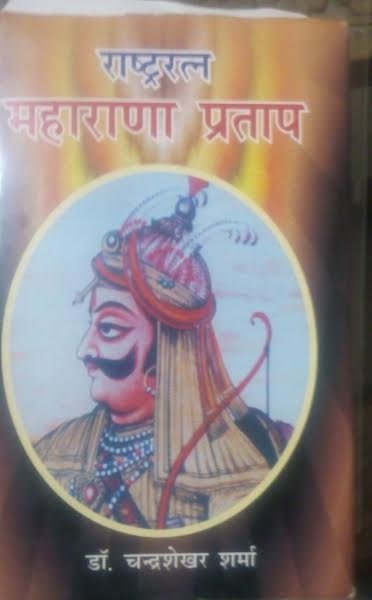 Titled 'Rastra Ratan Maharana Pratap', the book was published by Delhi's Aryavrat Sanskriti Sansthan. It was on the basis of this work  that the proposal to change the content in university books was made by BJP MLA Mohanlal Gupta. The book has already been added to the list of reference books for the university's undergraduate students, and officials now have to decide if it merits a modification in the syllabus to include it.
The book's author Dr Chandra Shekhar Sharma, who teaches at Udaipur's Government Meera Kanya Mahavidyalaya, worked on the book for his PhD from city's Janardan Rai Nagar Rajasthan Vidhyapeeth University.
Sharma told Scoopwhoop News that most works he studied concluded the battle as "drawn". 
"I started my work from here," he said.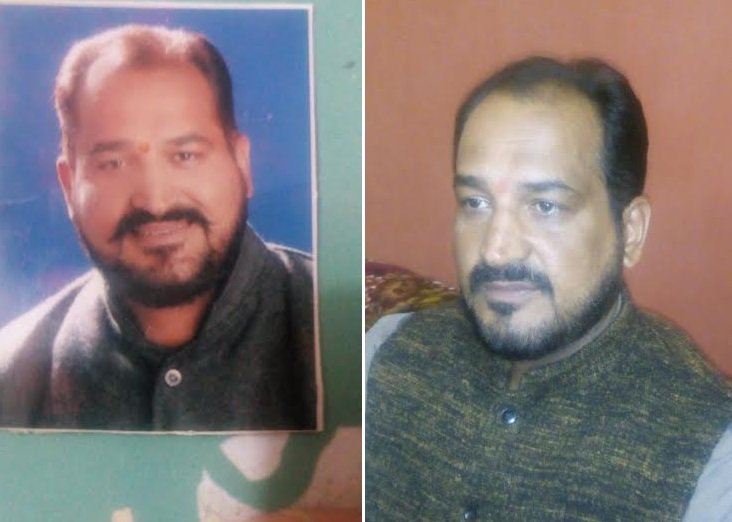 Here are the reasons, in brief, why Sharma believes that the Maharana was the winner:
'Pratap's objective was served'
Purely on the basis of `objective', Pratap defeated Akbar, says Sharma. While Pratap's objective was to defend his motherland, Akbar's was to kill or arrest Pratap and take over his kingdom, he says. 
Sharma says it is recorded that Akbar couldn't fulfill any of his aims. He said that Akbar did not even allow his generals Man Singh and Asif Khan to enter his 'darbar' for six months. 
"If Akbar had won the war, why did he punish them like this?" says Sharma.
'Pratap issued land grants inscripted on Copper Plates'
Sharma says that in those days, the right to issue land grants inscribed on copper plates (taamra patra) rested only with the king. He says that as per evidence he collected, Pratap has been found to have issued land deeds in villages around Haldighati for a year, which wouldn't have been the case had Mughals won the battle.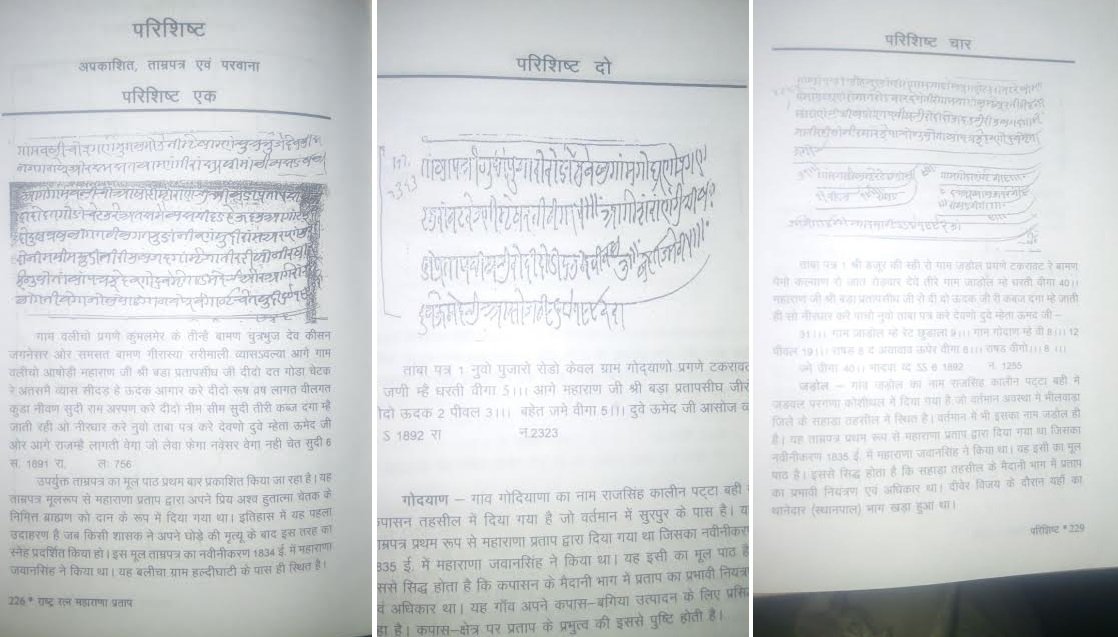 Sharma collected the land documents from the erstwhile noble Rajput families and farmers from villages like Godayants, Jadol and Sanchola which are published in the book, and concludes that the administrative system of Pratap was not disturbed after the Haldighati battle. The land grants points to Pratap's effective control over significant hilly regions of Mewar along with the present Bhilwara plains, he says.
Sharma said that the oldest 'renewed' land deed issued by Maharana Jawan Singh for Chetak's Samadhi in 1834 was found to refer to the original grant by Pratap after 1576. 
"This shows that Pratap definitely had control over the hilly tracks," he said.
'Pratap fought Guerilla warfare, verdict should be seen in that light'
Sharma said that a lot of sources cite Pratap's retreat in Raktalai, after his horse Chetak was injured, as the reason for his "defeat". "But this is wrong, he says. Pratap used the technique of guerrilla warfare in this battle and the retreat was strategic. 
"This form of warfare is neither territory nor time-bound," he said.
Sharma said he has also quoted the literary works of Indian and Persian origin, in addition to archaeological evidences, to prove that the battle lasted from sunrise to sunset. This is contrary to the popular belief that the battle lasted just four hours. 
Sharma says the first phase began with the attack by Pratap in Haldighati, where he forced the Mughal army to flee towards the banks of river Banas, and the second phase was fought in Raktalai, which is about seven kilometres from Haldighati.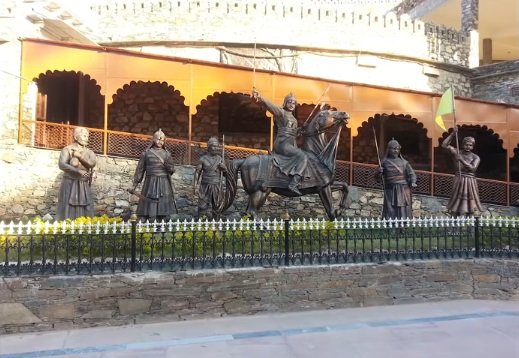 A proud Rajasthani, Sharma is fascinated by folklore
Sharma says he is a proud Rajasthani and loves the folklore around Maharana. He said that the locals have always believed that their hero, Pratap, defeated Akbar and to them, it has never mattered what history books say.
"It is said that Akbar's only achievement in the battle was seizing Pratap's prized elephant Ram Prasad. At that time, the Mughal army went from village to village with Ram Prasad telling residents that they have defeated the Maharana. But no one believed him and even till this day, folklore suggests that people mocked Akbar for the false claim at that time," he says.
But Sharma insists that he isn't pushing any ideology and is a scholar.
"I carried out my research without any hypothesis," he said, adding that his discovery of the 'taamra patras' formed the core of his work.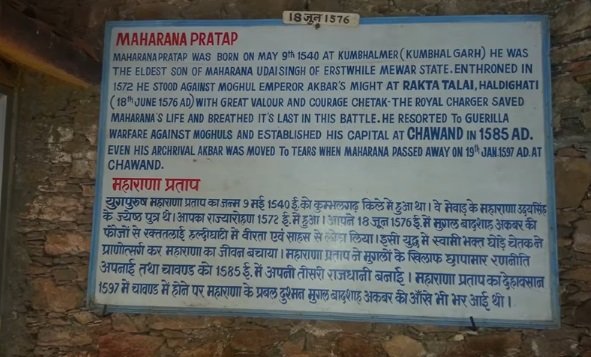 Will his work change history?
Sharma said he has been approached not only by Rajasthan University officials after the MLA's suggestion, but also senior education ministry officials from Haryana. 
He recalled how in 2008, the then vice-president of India Bharion Singh Shekawat invited him to speak on Maharana Pratap in New Delhi. 
Sharma believes that books must modify to accommodate fresh research works.
When asked about the change being  an example of the alleged saffronisation of education, Sharma said it was a political debate and as a scholar, he wasn't concerned with it. 
He said that he is willing to debate with any scholar about the outcome of the war if required. And he's pretty confident of victory.