To the cries of "Cuba Libre!" and "Freedom! Freedom!" Cuban-Americans poured into the streets of Miami early Saturday to celebrate the death of their nemesis Fidel Castro.
Revelers, many of whom were exiled by Cuba's communist regime, honked car horns, banged on pots and drums, and danced, cried, and waved Cuban flags in a wave of communal euphoria.
Castro died late Friday in Havana, Cuban President Raul Castro announced on national television around midnight local time.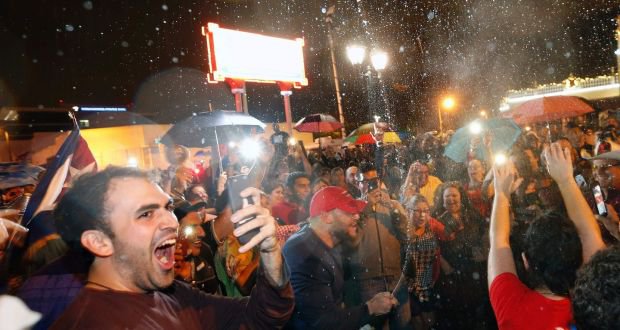 While news was just getting around in Cuba, in Miami — home to the largest concentration of Cuban-Americans in the United States — the news spread like wildfire.
"It's sad that one finds joy in the death of a person — but that person should never have been born," said Pablo Arencibia, 67, a teacher who fled Cuba 20 years ago.
"Satan is now the one who has to worry," because "Fidel is heading there and is going to try to get his job," joked Arecibia, who could barely be heard over the din of honking horns and banging pots.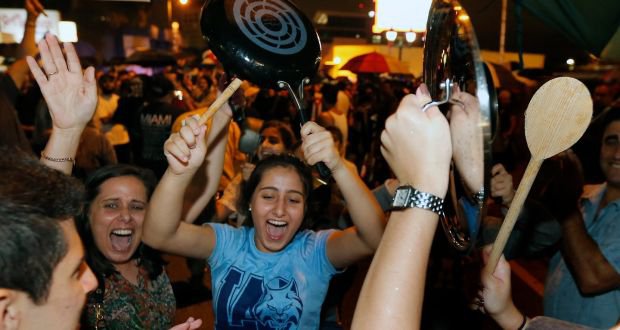 Thick crowds poured into the streets of Little Havana and Hialeah — the Miami neighborhoods where many Cuban exiles settled — to dance, hug, and exchange comments like "it took so long," and "now only Raul is missing."
Some sang the Cuban national anthem. Others shook up bottles of champagne and sprayed the fizz onto the crowd of revelers.
The late-breaking news roused some people out of bed, who joined the street party half-dressed in pajamas.
"Cuba Libre" — Free Cuba — has been a rallying cry for the exile community ever since the Castro brothers took over Cuba in 1959. The rum and Coke drink of the same name, however predates the Castro regime.
(Feature image source: Reuters)