In one of the biggest catches in recent months, a top Hizbul Mujahideen militant Tariq Pandit, a close aide of the terror group's poster boy Burhan Wani, was today arrested after he surrendered to police in Pulwama.
Considered as a category "A" militant, Pandit figured prominently with Burhan in various pictures and videos that were posted by the terror group last year. Pandit carried a cash reward of Rs three lakh for information leading to his arrest.
There were conflicting reports as senior police officials of Pulwama district in South Kashmir said that Pandit had surrendered but the army maintained that he had been apprehended.
A senior police official said that he was put under arrest after he surrendered to the army unit in Pulwama. A defence spokesman issued a statement saying that a "major blow" had been dealt to the banned Hizbul Mujahideen with the arrest of Pandit in a "well coordinated swift operation" today on Newa-Pinglana road in the district.
He said based on specific intelligence input regarding the movement of a Hizb militant near Karimabad, a joint mobile vehicle check post was established by Army and police in the morning hours.
"The movement of the terrorist was kept under constant surveillance. As the terrorist closed in, he was apprehended by the team of Rashtriya Rifle battalion, along with one 9 mm pistol, two Chinese grenades and other war like stores were recovered from him," the spokesman said.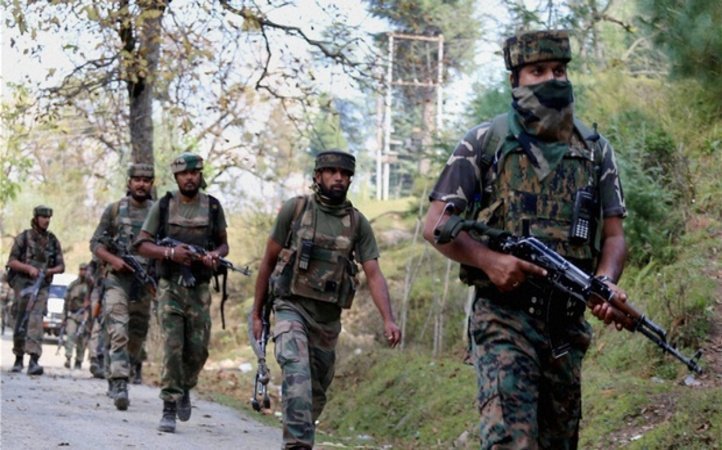 He said the militant was involved in many terror-related incidents in the district. However, police officials said that Pandit had joined the terror group along with his cousin Naseer Pandit, a cop- turned-terrorist, early last year.
After Naseer was gunned down by army in Shopian during an encounter in April this year, Pandit started sending feelers to the authorities for surrender, the officials said.
An FIR has been registered and the apprehended terrorist has been handed over to the local Police Station, Pulwama, the defence spokesman added. He was among the 11 Hizb militants who, defying the convention, posted their photographs on social media networks.
"Pandit was a self-styled area commander and is a very important catch. His interrogation should definitely lead us to the Hizb Mujahideen network in south Kashmir," the officials said.
The Hizbul group, led by Burhan, continues to give worries to the security agencies as the officials feel the militants' bravado of hogging the limelight on social networking sites was to attract more youths to join militant ranks.