Prime Minister Narendra Modi was conferred with the Global Goalkeeper Award by the Bill and Melinda Gates Foundation, for the 'Swachh Bharat Abhiyan launched by the Indian government.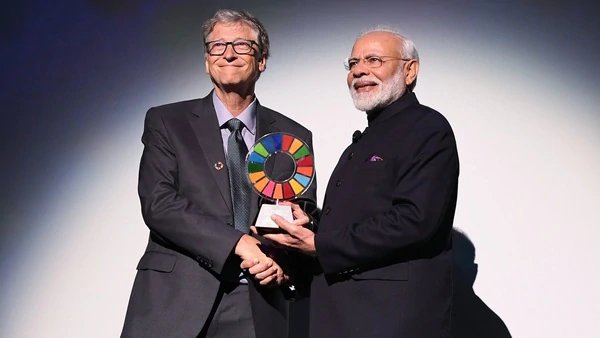 Swachh Bharat Abhiyan was one of the first few ambitious projects that PM Modi launched in his first term at the Centre in 2014. 
Prime Minister Narendra Modi received the Global Goalkeeper Award at tonight's Goalkeepers Global Goals Awards. This award recognizes the progress India has made in providing safe sanitation under his leadership. pic.twitter.com/QSMD4UqxiU

— Gates Foundation (@gatesfoundation) September 25, 2019
In a series of tweets, Modi thanked the countrymen for contributing to the grand success of the campaign. 
I dedicate the Global Goalkeeper Award, conferred by the @gatesfoundation, to the 130 crore people of India and the collective endeavours of our nation to improve cleanliness.

It makes me most happy that India's successes in sanitation have helped women and children the most. pic.twitter.com/Va4QKMY3tv

— Narendra Modi (@narendramodi) September 25, 2019
No such campaign was seen or heard about in any other country in the recent past. It might have been launched by our government, but people took control of it. The poor people and the women of India were benefitted the most by it.
According to Modi, the highlight of the Swachh Bharat Abhiyan was the 11 crore toilets that were constructed in rural areas benefitting rural sanitation. He also added that the due to lack of toilets, a number of girls had to drop out of schools. They had to abandon their education mid-way and sit at home.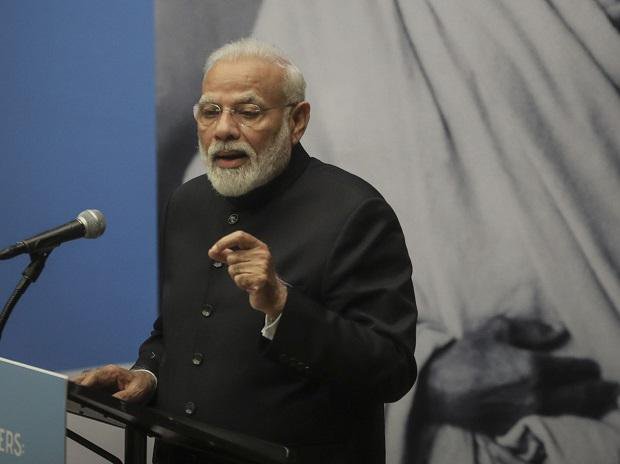 Modi also said this campaign fulfilled Gandhi's dream of cleanliness in the country . Even the Bill and Melinda Gates Foundation reported a a decline in heart problems among children and improvement in the Body Mass Index (BMI) among women. 
Although Modi was celebrating this Award, Twitter had divided reactions to the same.
An un-extinguishing fire breaks out among inc leaders 'cos they can't digest it easily the pride that the present PM brings to India. So please slowly and gradually post the moment of pride so that to let that fire goes on firing!

A great honor for India!

— Sadashiva K (@KSadashiva) September 25, 2019
So proud of my PM. His endless endeavors for our country are never ending. Thank you for giving the basic things which everyone takes for granted. Unifying our country .

— Mannv (@MannV29) September 25, 2019
A small group of South Asians assembled outside the Lincoln Centre in NYC last night where Modi received his award from @gatesfoundation and was lauded by some of the UN and development world elite.

Some really solid, brave folks out there. Salute. pic.twitter.com/vE4TxXwugf

— Azad Essa (@azadessa) September 25, 2019
Tonight @gatesfoundation will honor Modi in NYC.

Human rights defenders, philanthropists, development experts, Nobel laureates & 100,000+ voices of conscience all asked for the award to be rescinded.

History will remember those who stood up to fascism & those who celebrated it.

— Arjun Sethi (@arjunsethi81) September 24, 2019
1 Delhi Staffer quits over decision to award Modi

4+ letters of protest from Gates Indian team to HQ

60+ Gates Cambridge scholars + 300 academics +100,000 signatures of protest from across the planet hand delivered

Something desperate about this award.pic.twitter.com/9gJLkEllum

— Azad Essa (@azadessa) September 25, 2019
Just days prior, the news of the conferment of the Award on Modi was met with strong opposition from Nobel laureates who demanded that the award be withdrawn owing to the Kashmir controversy. One Gates' Foundation staffer even quit over this issue.
The campaign was acknowleged by The World Health Organisation (WHO) saying that the government's effort in this and the Swachh Bharat Abhiyan has created a possibility to save 3 lakh lives.