Prime Minister Narendra Modi on Thursday arrived in London on his much-anticipated maiden visit to the UK that will see him holding talks with top British leadership including his counterpart David Cameron.
The Prime Minister flew into the British capital on his three-day visit with a hectic schedule aimed at boosting Indo-UK economic ties.
Welcoming Modi, Cameron tweeted: "Welcome to the UK @narendramodi from Britain's Indian community #ModiInUK."
Modi was received at the Heathrow Airport by British Indian MP Priti Patel; Hugo Swire, Minister of State at the Foreign and Commonwealth Office; and James Bevan, British High Commissioner to India.
The Indian Prime Minister will be greeted by Cameron with a Guard of Honour at the Treasury Quadrangle near 10 Downing Street this afternoon before the two leaders head in to the world's most famous political office for nearly a 90-minute dialogue.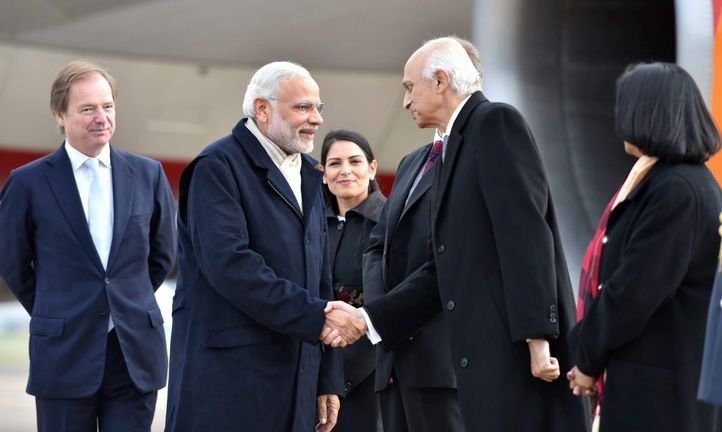 Source: PTI
After the talks, Modi will address a joint press conference at the Foreign and Commonwealth Office (FCO).
A brief stop to pay tributes at the Mahatma Gandhi statue in Parliament Square will be followed by speeches at the Houses of Parliament and then at the Guildhall in the financial hub of London.
His talks with Cameron will carry on at the British Prime Minister's country residence of Chequers in Buckinghamshire, where he is being hosted overnight.
Coinciding with his arrival, a number of groups have announced a "day of protest", including a campaign called 'Modi Not Welcome' by The Awaaz Network that works to monitor and combat religious hatred in South Asia and the UK. The group had projected a swastika on the Palace of Westminster, home of the UK Parliament, on Sunday night.
Tomorrow, Modi returns to London for a CEOs round-table which is likely to include representatives from major British companies like Rolls-Royce and Vodafone.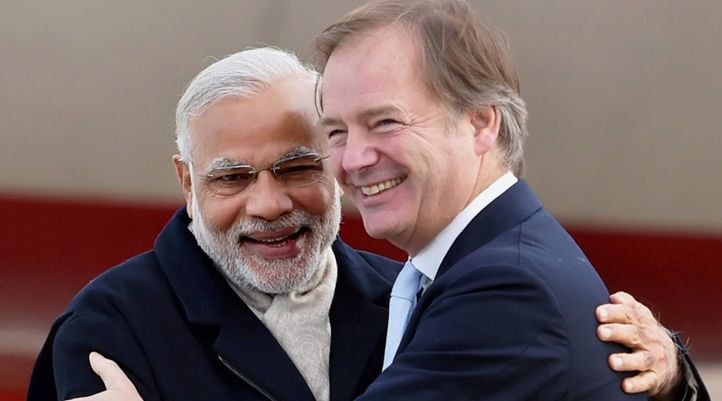 Source: PTI
The pomp and ceremony attached to the visit is expected to include a special tricolour flypast by the Red Arrows Royal Air Force (RAF) Aerobatic Team over House of Commons before the Prime Minister sits down for lunch with Queen Elizabeth II ahead of his mega diaspora address at the iconic Wembley Stadium in north London.
Modi heads to Ankara to attend the G20 summit on Saturday after inaugurating a new statue of 12th Century philosopher Basaveshwara as well as a new Ambedkar memorial in London.
A visit to the Tata Motors' owned Jaguar Land Rover (JLR) factory in Solihull, in the West Midlands region of England, will be the last item on his UK agenda.
The UK ranks 18th in the list of India's top 25 trading partners and two-way trade in 2014-15 stood at USD 14.34 billion.
Britain is the third largest inward investor in India, after Mauritius and Singapore, with a cumulative equity investment of USD 22.26 billion between 2000-2015.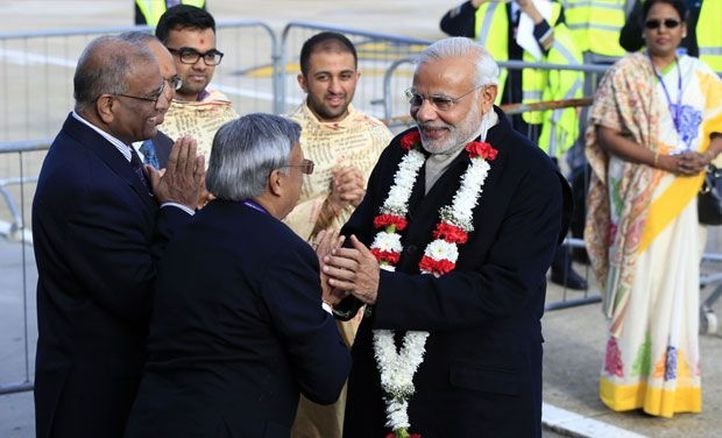 Source: PTI
The UK ranks first among the G20 and India undertook 122 FDI projects in the country in 2014-15.
In fact, the UK attracts more Indian investment than the rest of the European Union put together.
Indian businesses in the UK employ around 110,000 people, 65,000 of whom work for the Tata Group.
"It's an opportunity for two countries, tied by history, people and values, to work together to overcome the biggest challenges of our age," Cameron said earlier.
Cameron described the visit as "extraordinary", which is not simply about celebrating the economic ties but "actually building a thoroughly modern partnership between our two great countries."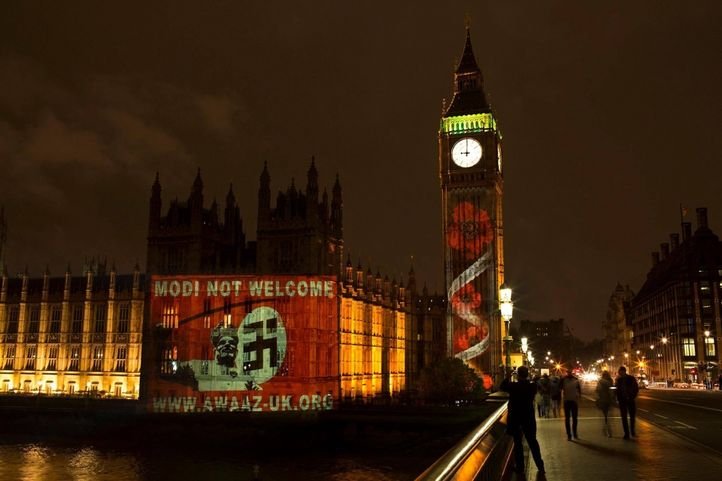 Source: Awaaz Network
The 'Modi Not Welcome' campaign by the Awaaz Network as well as a protest organised by CasteWatchUK will assemble outside Downing Street and then move on to Parliament Square.
"We regard Modi's planned inauguration of Ambedkar House as a cynical PR exercise which aims merely to show the world that he cares about the Dalit community.
"However, it is also an insult to the memory of Ambedkar," CasteWatchUK said in a statement.
"There is a danger that the continued hero worship of Prime Minister Modi will move the country down a slippery slope towards dictatorship and fascism," it added.
Another group of protesters are expected to assemble outside Wembley Stadium, demanding that the Indian government lift the ban on the documentary 'India's Daughter' by British filmmaker Leslie Udwin.
"An appropriate policing plan is in place. We are in dialogue with various protest groups to facilitate their requests. No restrictions have been placed on the route," a Metropolitan Police statement said.
Read more:
Feature image source: PTI