Prime Minister Narendra Modi has cautioned judges not to allow influence of "five-star activists" to shadow the process of dispensing justice. Modi made the comment while addressing a joint conference of Supreme Court Judges, Chief Justices from all states and chief ministers in New Delhi on Sunday.
Noting that judiciary was considered "divine", the prime minister urged judiciary to introspect whether "five-star activists" were driving it. "It must be pondered over whether five-star activists are driving the judiciary today… if havoc is created to drive the judiciary. It has become difficult to deliver justice in an atmosphere of perception," Modi said according to a report in The Indian Express .
Modi also said that judges are luckier than politicians, who face constant scrutiny. Modi asserted that "if you (judiciary) commit a mistake, then everything will end," an NDTV report reads.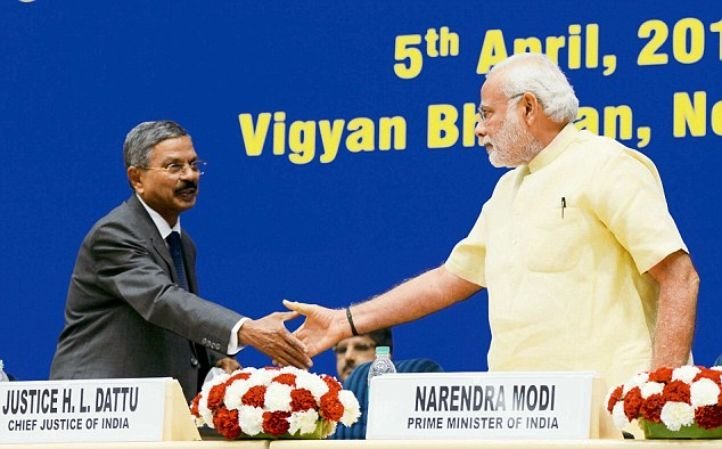 Modi's speech comes in the backdrop of Chief Justice H L Dattu's decision to take off two judges – Justice S J Mukhopadhaya and Justice N V Ramana – in the funds embezzlement case against civil rights activist and lawyer Teesta Setalvad.
Setalvad has been a vocal critic of the Prime Minister Modi since his days as the Gujarat chief minister. Her counsel had argued that the judges in question were close to Modi as they had invited him for their children's wedding, says a Times of India report.
His statements also come at a time when the Supreme Court is examining the constitutionality of the National Judicial Appointments Commission (NJAC), a proposed body responsible for the appointment and transfer of judges to the higher judiciary in India.
Chief Justice of India H L Dattu however didn't seem to agree with PM. In his speech, which he delivered after Modi, the CJI said, "Judges today are as fearless as they ever were."
Activists angry with PM's comment
A day after his remark, lawyers and activists have snubbed the PM's comments as "unacceptable" a Times of India report notes .
Prashant Bhushan, who is a senior activist and lawyer, slammed the PM saying, "It is a bit rich for a PM who gets Rs 6,000 crore loans for his crony Adani (industrialist Gautam Adani) to call us five-star activists."
On the other hand, RTI activist Shailesh Gandhi believes the 'five-star activist' remark by PM automatically presumed that activists were not a legitimate voice.