Addressing the last of BJP's Parivartan rallies in the election-bound Bihar on Tuesday, September 1, before the poll schedule is announced, Prime Minister Narendra Modi launched a blistering attack on his RJD-JD(U) rivals. He charged them with spreading the "poison of casteism and communalism" during their 25-year rule.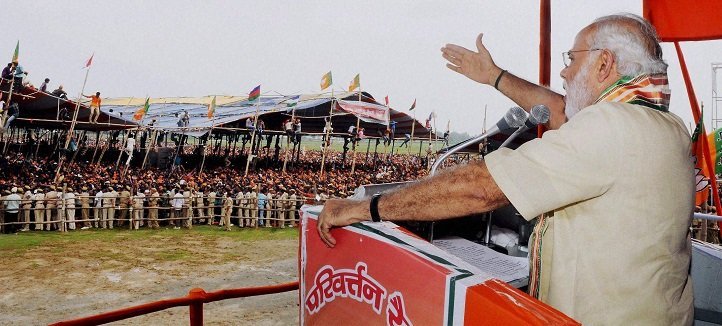 Prime Minister Narendra Modi addressing a public meeting at Hawai Adda Maidan in Bhagalpur on Tuesday, September 1
In the rally, billed as the BJP's counter to the impressive Swabhiman rally of the newly formed 'Grand Secular Alliance', which was attended by Sonia Gandhi, besides Kumar, Lalu and Samajwadi Party chief Mulayam Singh Yadav's brother Shivpal, Modi claimed credit for making development an agenda in the state elections for the first time.
"After 25 years, people of Bihar have decided to vote for development and form a government for development. Nobody can stop this (NDA's) victory march irrespective of how many parties and leaders come together against us. Two days back there was a sacrificial meeting in Gandhi Maidan in which JP, Lohia and Karpuri Thakur were sacrificed. Lohia fought against Congress but his disciples have now betrayed him for their lust for power. They have joined hands with those (Congress) who put JP in jail," Modi said, asking people to 'sacrifice' such people by voting them out.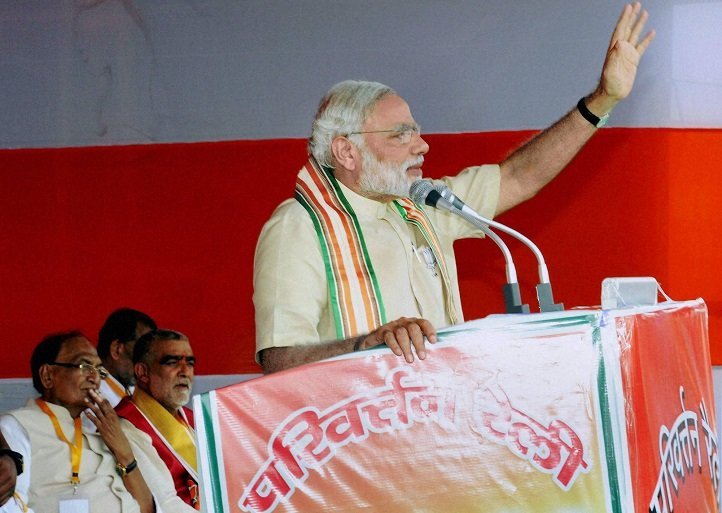 Modi addressing the public meeting
Modi, facing sustained criticism by Kumar and Lalu for his DNA dig at the Bihar chief minister, lavished praise on the people of the state, saying the "most intelligent people live in Bihar". The PM, who had earlier announced a Rs 1.25 lakh crore package for the state, referred to Kumar's sop of Rs 2.7 lakh crore, and claimed that the Bihar CM was forced to do so after he made development a major poll plank. "They ridiculed my package but realised in two-three days that people have seen through their game. So they were forced to announce their own development package. I am very happy that development has become a poll issue in Bihar," he said.