On the eve of NDA government's one year completion in the office, PM Narendra Modi addressed a rally in Mathura's Chandrabhan village which is the birth place of Jan Sangh's ideologue Deen Dayal Upadhyay.
He started off his speech by paying tribute to Pundit Deen Dayal Upadhyay. He also presented a report card of one year and contended that the country has been freed from those who brought ' bure din' for the country.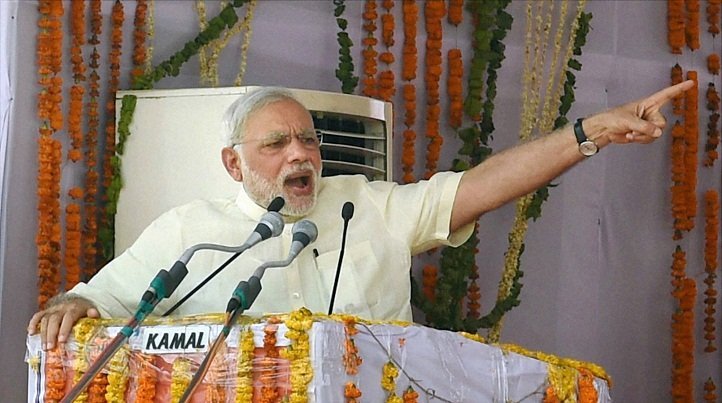 Mathura, the model village
PM Modi praised Mathura and said that it is not only the birth place of Deen Dayal Upadhyay but it also sets an example for women empowerment and rural education.
"If anybody wants to know more about rural development, environment, how to empower women, focus on education, they should come here (Mathura)."
He added,"It is my privilege that I am able to come to this sacred place (Mathura) and offer my tributes."
The attack on UPA
Attacking the previous UPA government, Modi said one more year to that government would have "sunk" the country and that now there were no stories of a scam involving "son-in-law or a son" of a political leader happening.
"Some people are very troubled these days. Their trouble is with the fact that 'achhe din' has come to all people but 'bure din' for them. They are shouting now because for 60 years, in Delhi's political corridors, only their voice was heard and the country was run as they wished, I did not give guarantee of 'achhe din' for those who looted the nation for years. We will run the country in a way that there will be more 'bure din' for them and their troubles will increase. Your money can't be looted by anyone."
The rhetoric
"The poor were not given the opportunity to enter the banks for so many years," said PM Narendra Modi. The bragging was not only about opening new bank accounts for the poor but also employing 12 crore people and the seamless railway and roadways ministries.
Source: PTI
Modi said that within one year of his government coming to power, 29 out of 200 coal mines were auctioned, which fetched 3 lakh crore to the treasury.
Missed out on what?
There are 200 public rallies planned by BJP across the country to mark the first year of NDA government. However, Modi, who made a very pro-farmer and pro-poor pitch during his hour-long speech, did not mention the contentious Land Acquisition Bill, on which his government is facing tough opposition even from NDA allies.
Whether the opposition will see 'bure din' or not, the citizen should be able to witness those achhe din that PM Modi has promised. It's not the revenge against the previous government that Indian citizens are looking for, but the change in their respective lives by good governance and development in true terms. Only time can tell how rhetoric transforms into reality.
Feature image source: PTI