The Internet is abuzz with prime minister Narendra Modi's farewell speech for outgoing Vice-President Hamid Ansari delivered in the Upper House on Thursday. 
That's because many believe that Modi flung a lot of barbs at the two-time VP in the short parting message that must have surely left a bad taste in Ansari's mouth.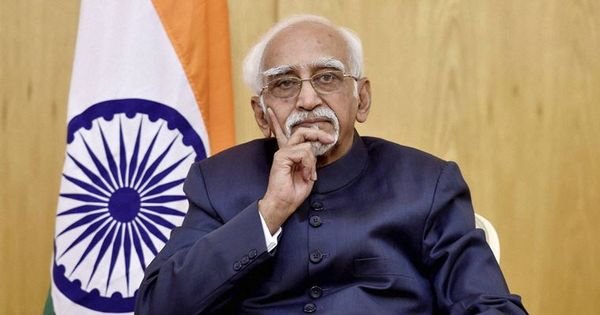 The PM's sarcasm was so smooth that you would have to listen to the speech multiple times to make sense of the veiled attack. 
'Association with Congress'
Modi started by talking about the family legacy of Hamid that actually was a reminder of his dynastic past, his long-standing connection with the Congress party and also his family's association with Khilafat Movement (a 1919-24 agitation by Indian Muslims following World War I in order to pressure the British government to preserve the authority of the Ottoman Sultan as Caliph of Islam after the breakup of the Ottoman Empire at the end of the war).
'Fundamental belief'
Modi then proceeded to remark how Ansari must have been restrained by the Constitution, as it demanded him to play an apolitical role being the Vice President.
"In last 10 years your responsibility changed considerably and you had to confine yourself strictly to Constitution. You may have been internally agitated by this, but from today can speak will have the freedom to speak your mind and to think, speak and act according to your core set of beliefs."
But what he is believed to have meant is that now Ansari can start expressing himself freely as a representative of the Muslims, not bound by a post that expects him to speak as a voice of all Indians. Notice the emphasis on "core beliefs". Yes yes, we are sure that has everything to do with Hamid's final interview as VP for the Rajya Sabha channel.
'Certain circles'
Modi then took a jibe at Hamid's diplomatic career, saying that his beliefs must have been shaped and influenced by the time he spent in the 'Middle East'. 
"You have held responsibilities and been associated with a certain 'circle' because of which you have certain opinions and perception," Modi said.
Make no mistake, 'Certain circles' refers to his association with Aligarh Muslim University as vice-chancellor and Minority Welfare Commission as the chairman. 
This is seemingly a reply to the 'insecure Muslims' remark that Ansari made in his interview to journalist Karan Thapar on Wednesday: that there is a feeling of unease and insecurity among the Muslims in the country and the "ambience of acceptance" was under threat.
On Hamid's insight
What perhaps was his most brutal attack was when Modi shared his personal rapport with Ansari. Modi said, "I haven't had the opportunity of interacting with you much. But whenever I did, I noticed the insight you gave in various matters. It helped me realise that things are not always what they seem to be."
BJP supporters couldn't help but gush at the sarcasm-loaded speech by Modi:
Many also thought that the speech was disgraceful for a PM. Some others expressed in jest how they would dread such a farewell for themselves.
Dying wish: to not be given a send-off speech like this one. Barbs wrapped in silk. This is an emperor troll at work https://t.co/JBHL4FgjEf

— Anand Ranganathan (@ARanganathan72) August 10, 2017
.