You might find Mizanur Rahman on Facebook, but chances are that he won't be able to accept your friend request. Within a span of a week, Rahman, a humble school teacher from Airkata village of Assam, received over 5000 friend requests. 
And the reason behind this newfound fame – a Facebook post that he put on August 15 which went viral and got more than 1 lakh shares.
On Independence Day this year, Rahman shared a picture of flag hoisting organised in his school in Naskara LP in Fakirganj. The photograph was clicked by his friend Joydev Roy. It showed two teachers as well as two class 3 students saluting the national flag despite being in knee-deep water in a flood-hit school. The striking picture went viral on social media and many media organisations reported about it.
But Rahman still has no clue how the picture became so popular.
"My phone got switched off as there was no electricity at our place. But my friend told me that the post had gone viral. I immediately logged in from his phone and was surprised when I found out. What followed next were innumerable messages and friend requests," he told ScoopWhoop News.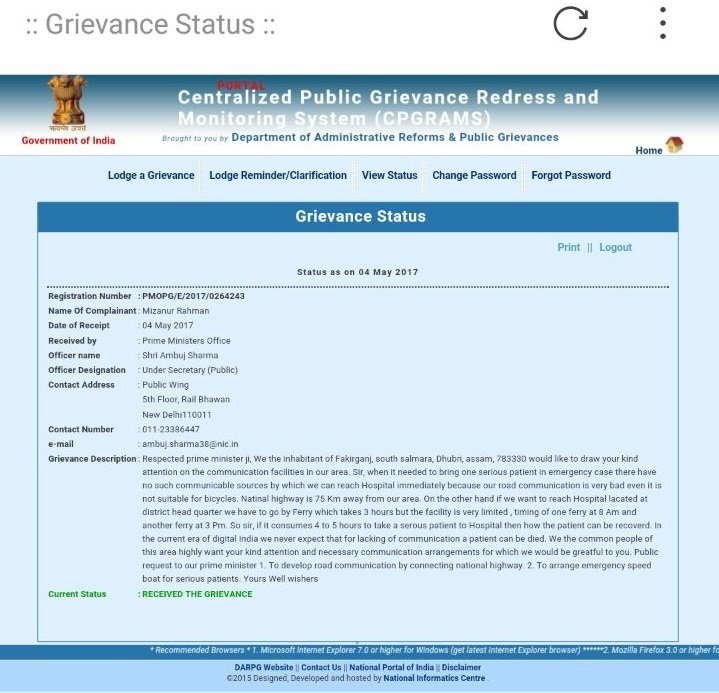 Incidentally, Rahman had also written a letter to Prime Minister Narendra Modi in May this year complaining about the poor condition of roads and ferry services in his village.
"There is no proper road to take a patient to a hospital. The 75km road that connects us with National Highway 31 is in a pitiable condition. If we want to take a patient to the district headquarters (Dhubri) by ferry over the Brahmaputra, it takes more than three hours. But there are only two ferries – one at 8am and another at 3pm. So, sometimes we waste four to five hours to take a patient to hospital. How can we expect the patient to survive? In the age of digital India, we don't expect a patient to die for lack of a proper road. Therefore, we request your help to develop road communication and arrange emergency speedboats for critical patients," the letter wrote.
But he is yet to get any response.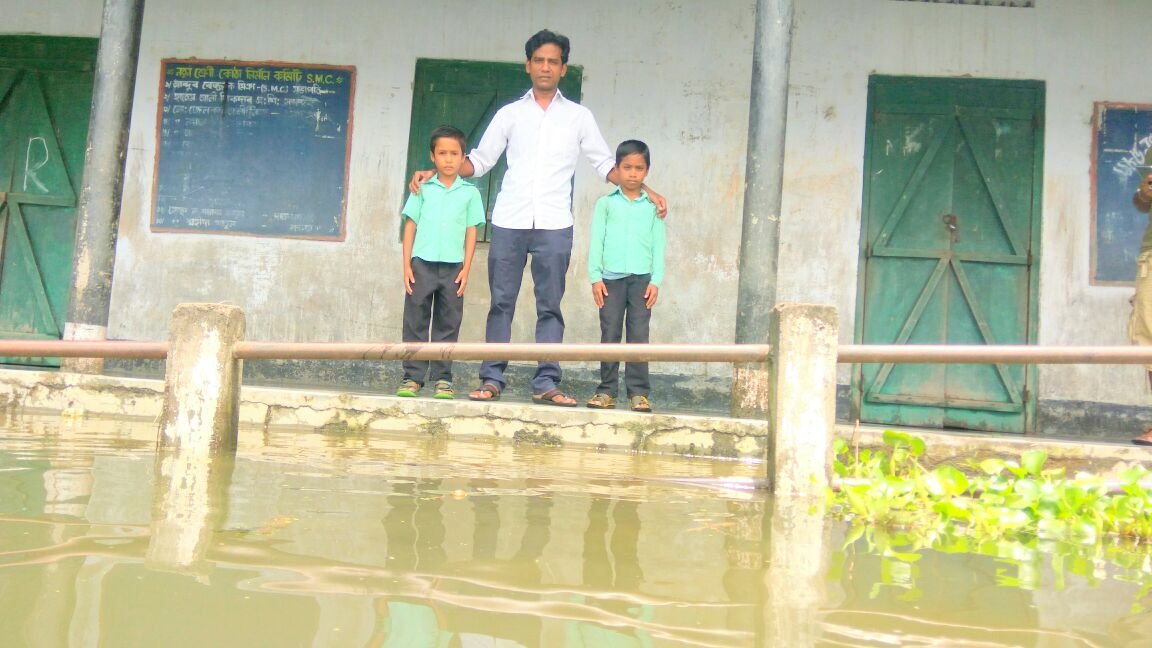 Rahman said that floods are an annual affair in his region and every year his school gets flooded during the monsoons. "All this is nothing new for us. But yes, hoisting the flag in knee-deep water was the first such instance," he said.
He went on to explain that flag hoisting on Independence Day would have been anway carried out. "We were determined to do it despite the floods. Not just our school, many other schools in the region did it," he added.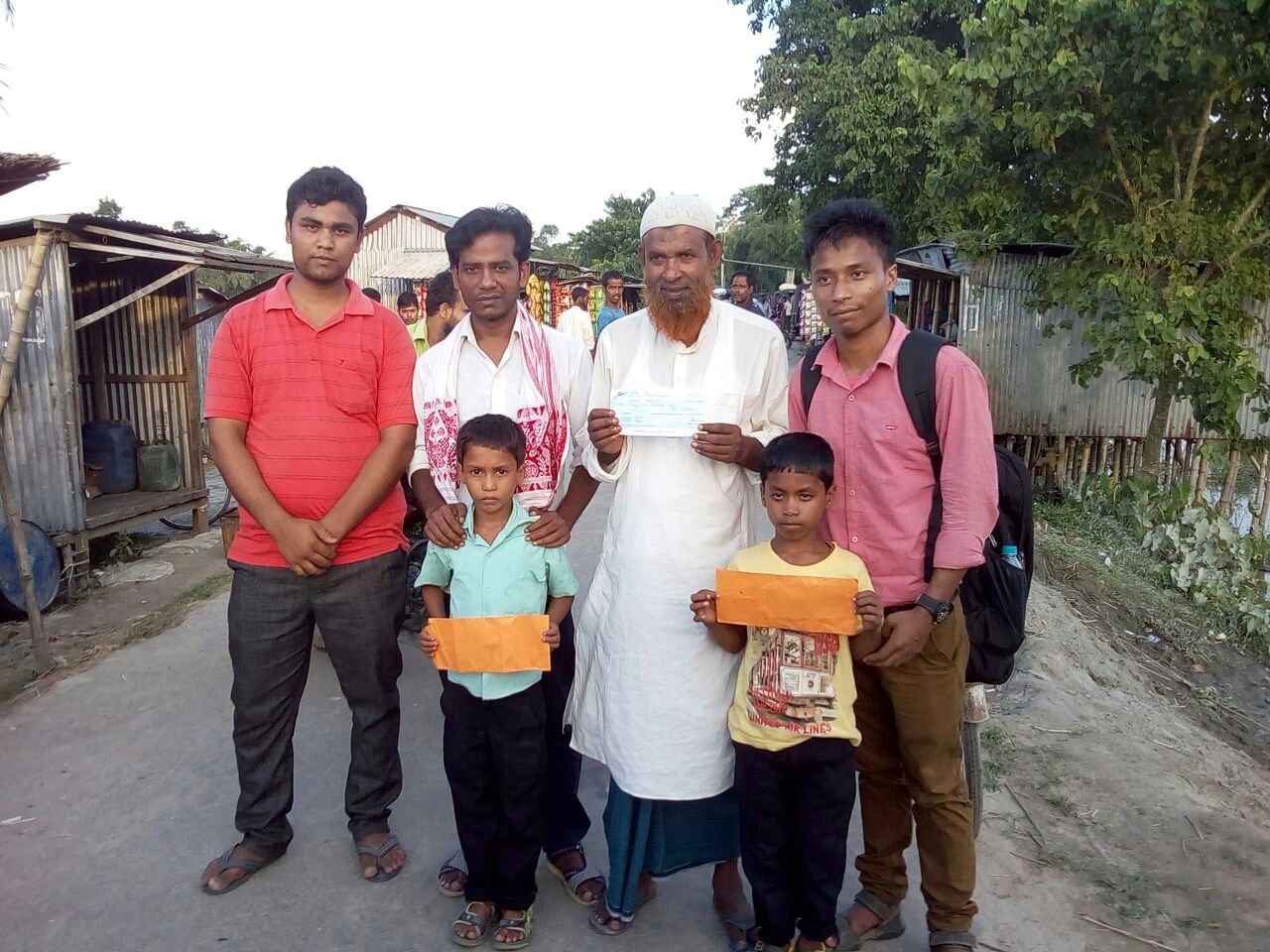 When the picture went viral, questions were raised against the relevance of hoisting the flag when the school is in knee-deep water. Many also raised concerns about the safety of the two kids seen in the picture.  
"We did not force them to participate in the event. I had specifically told them not to come. But they were so enthusiastic that they didn't listen to me," he said.  
He also brushed aside safety concerns as he said that they are excellent swimmers. 
"Since floods here are an annual affair, kids start swimming at a very young age," he said.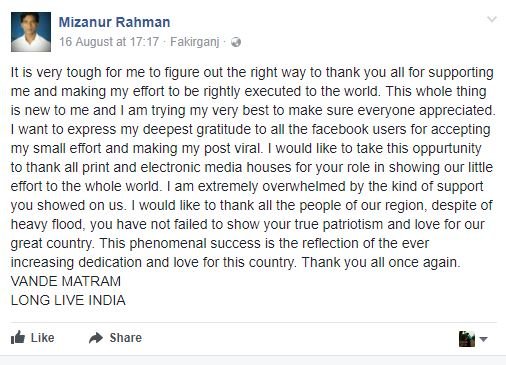 Even though the picture got appreciation from all quarters and presented an alarming picture of the Assam floods, not many came forward for help apart from the district's parliamentarian. Dhubri MP Badruddin Ajmal gave a cheque of Rs 25,000 to the headmaster and Rs 10,000 cheque each to the teachers. He also gave a cash prize of Rs 10,000 each to the kids.
There has been no specific response from either the state or the central government.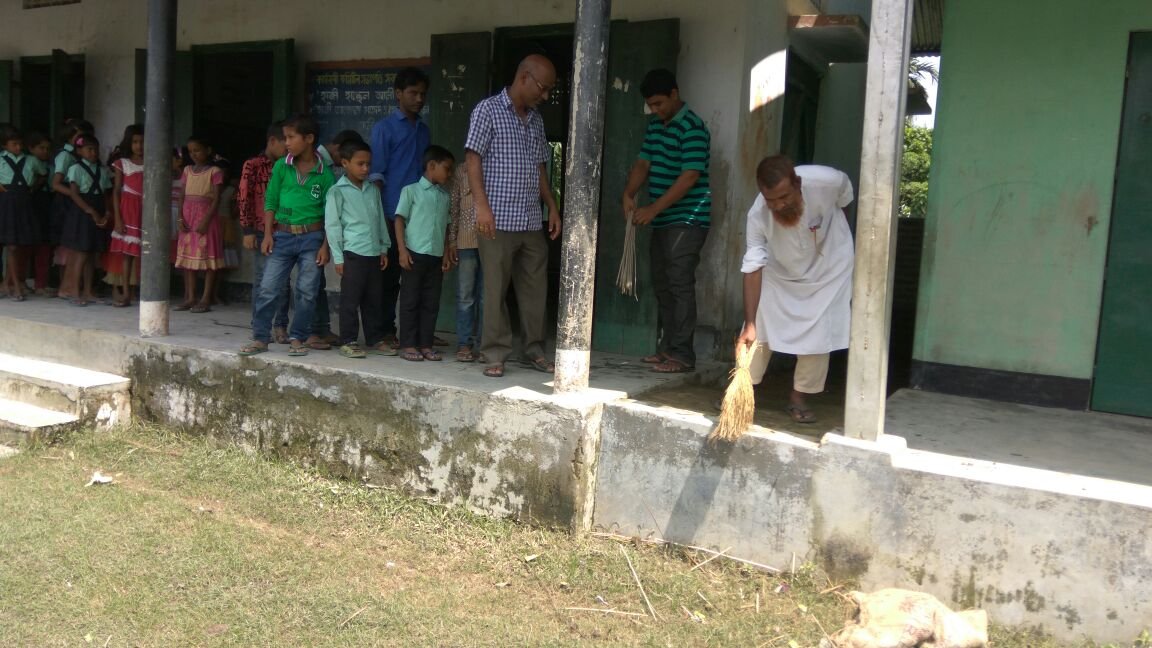 Mizanur said that the flood situation has now improved in the school. He said that his school will nevertheless continue hoisting the flag every year come what may.
"What we did is nothing compared to the soldiers who are manning our country's borders in extreme conditions. They are the real patriots," he said. 
(All images sourced from Mizanur Rahman)