Rating: ** and a half
Cast: Ajay Devgn, Tabu, Shriya Saran, Rajat Kapoor
Director: Nishikant Kamat
Drishyam is a suspense thriller about a family that unwillingly gets caught up in a murder and in attempting to save the family from getting arrested it turns into a rat-chase play with the cops. It is a remake of Jeethu Joseph's Malayalam film Drishyam.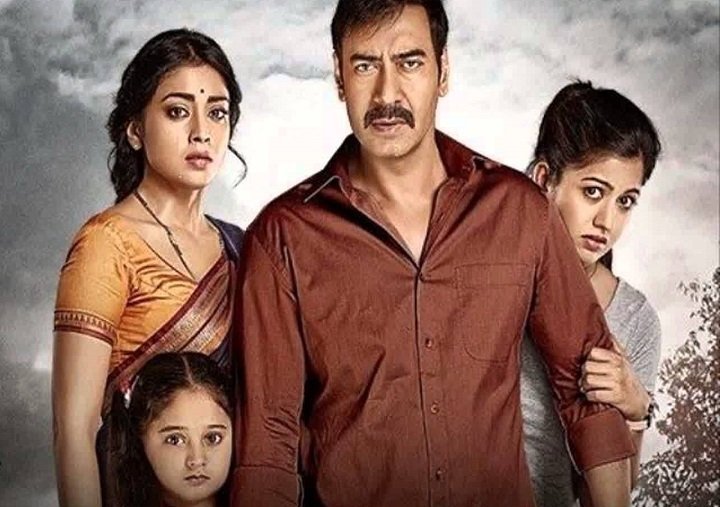 The acting is average, specifically Shriya Saran's, who plays Devgn's beautiful, very young wife. Devgn does well as the family man Vijay Salgaonkar who is "class 4 pass uneducated aam aadmi ", as is repeated countless times in the movie. He learns everythng from his love and addiction for the movies. He could have done better.
Tabu aka Meera Deshmukh – the cop whose son goes missing is the one to watch out for. She makes for a very solid, towering cop who-must-not-be-messed-with. Her entry is very 80s Amitabh Bachchan starrer movie-like. Her cold stares do give you the heebijeebies at times.
Drishyam as the name suggests plays with appearances. The idea is a good one, the execution is very weak. It could have made for a far more fantastic thriller mystery movie that involves power corruption, better conclusions leading from what has been established earlier, considering there are very few suspense movies that emerge from Bollywood. A corrupt cop Gaitonde, played by Kamlesh Sawant is convincing in his role.
Watch the original Malayalam movie that features Mohanlal or the Tamil version Papanasam with Kamal Haasan as the father. Both should be better than this version of the movie.
(Any opinions expressed here are those of the author and not necessarily of ScoopWhoop)