Did you know you could have a full meal, including mutton curry, crispy fish fry, roti and boiled vegetables for Rs 50 in Delhi's prestigious Lutyens' Delhi. All you have to do is get elected as a member of parliament (MP). That's right, being an MP has more perks than you believed. Not only are you involved in the intricate process of formulating laws, but you also get to enjoy exceptionally cheap food inside the parliament. The reason for this is because all food inside parliament is highly subsidised.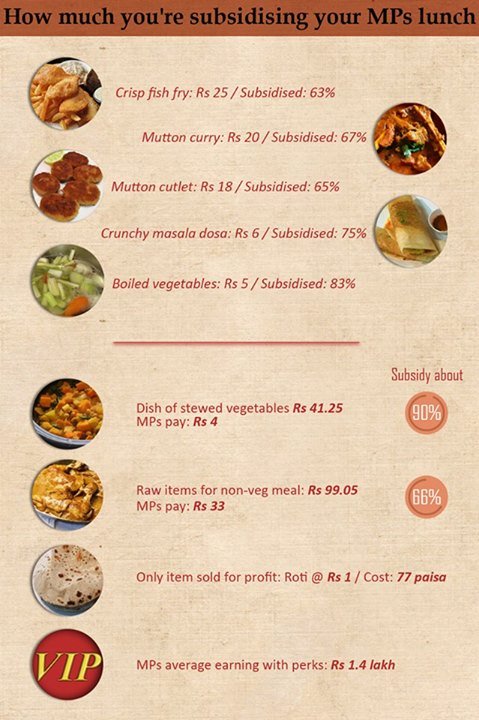 Now this is information almost everyone in India is aware of. Unless, of course, you have been living under a rock. Anyway, here is what you need to know:
The parliament canteens are managed by the Northern Railway, and the day-to-day activities are monitored by a joint committee on food management in Parliament House Complex. The money used to run these canteens comes from the budget grant of the Lok Sabha Secretariat.
This information was provided by the Lok Sabha Secretariat after an RTI request by Subhash Chandra Agrawal alleged that food prices in these canteens had only been updated twice since independence.
The RTI documents also showed that the canteens have run up a subsidy of a whopping Rs 14 crore in just one year between 2013-14, said the Indian Express.
At the end of the day there is only one question worth asking about this? Will the money saved on reducing the subsidies in the parliament canteen go towards the welfare of Indians? If not, then the call for its end is redundant.