According to India Today, an IAS officer faced serious backlash after posting a tweet allegedly glorifying Nathuram Godse.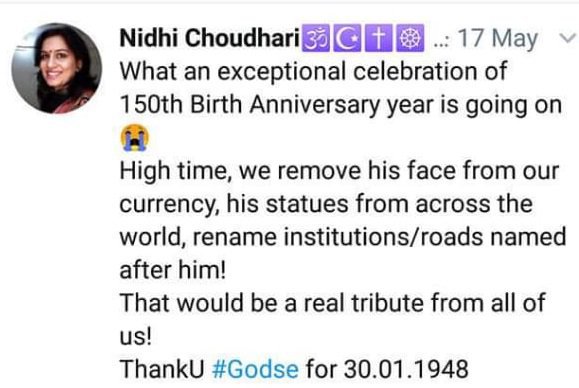 Though she claimed to have meant it in a sarcastic manner, she was still criticised for making such controversial statements, especially since she's an IAS officer.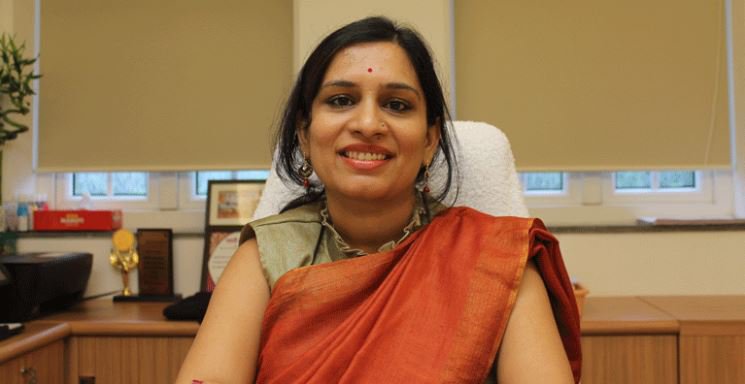 Nidhi Choudhari, posted as a joint commissioner of the Brihanmumbai Municipal corporation (BMC), in a deleted tweet dating 17 May, had said: 
What an exceptional celebration of 150th birth anniversary year is going on. High time, we remove his face from our currency, his statues from across the world, rename institutions/roads named after him. That would be real tribute from all of us ThankU #Godse from 30.01.1948.
A damage-control tweet from Nidhi Choudhari soon followed the deleted one. 
I have deleted my tweet of 17.05.2019 w.r.t. GandhiJi because some people misunderstood it
If only they had followed my timeline since 2011 they would've understood that I would NEVER even dream of insulting GandhiJi
I bow before him with deepest regard & will do till last breath pic.twitter.com/CSjaKHF9BJ

— Nidhi Choudhari🕉☪️✝️☸️ (@nidhichoudhari) May 31, 2019
Posting a series of tweets highlighting her love for Gandhi, she reassured people that it was no disrespect but a tweet taken in the wrong sense. 
Once again a few more tweets from past few months, plz read them. I have not created them now or deleted them. You may check today itself & understand how I feel for GandhiJi
My favorite book is My Experiments with Gandhi, my favourite movie is GANDHI
Deeply saddened today😭 pic.twitter.com/OIaxQYcQuI

— Nidhi Choudhari🕉☪️✝️☸️ (@nidhichoudhari) June 1, 2019
Please read my entire timeline before jumping to conclusions
That was a sarcastic comment not intended to insult GandhiJi
I cannot insult him under any circumstances pic.twitter.com/0Xj0fhqVXG

— Nidhi Choudhari🕉☪️✝️☸️ (@nidhichoudhari) June 1, 2019
Here are a few glimpses of my earlier tweets of past few months.
Kindly read and understand how I feel for GandhiJi
I am a devout follower of GandhiJi and would NEVER insult him
The tweet which has been misinterpreted was a sarcasm and not intended to hurt anyone's sentiments pic.twitter.com/YNMeW6xQYf

— Nidhi Choudhari🕉☪️✝️☸️ (@nidhichoudhari) June 1, 2019
Though not everyone was buying her explanations. 
Suspend Nidhi Choudhari, IAS officer from service who made derogatory remarks against father of nation Mahatma Gandhi by tweet. pic.twitter.com/9aA2Ubk0hM

— Babasaheb Kale (@babasahebkale3) June 2, 2019
I demand immediate suspension of IAS officer Nidhi Choudhari for her derogatory tweet against Mahatma Gandhi. She gloried Nathuram Godse, this should not be tolerated.
(Pic of tweet by IAS Nidhi Choudhari on May17, she later deleted the tweet)
New India.#SundayThoughts #Super30 pic.twitter.com/enJqRlCb30

— Qamar Sheikh Ahsan (@BeingQSAtweets) June 2, 2019
According to The Hindu, NCP president Sharad Pawar requested the Maharashtra CM to look into the incident demanding 'exemplary action' against Nidhi. 
The BMC is still to decide whether to take any action against her.