As the hostilities between India and Pakistan continue on the border and other political turfs, Taxi Fabric, along with a Pakistani graphic designer and illustrator Samia Arif, tried to portray a message of peace and underscore the similarities between the two countries through their unique art.
To remind both the countries that apart from wars there is also love that can be shared mutually, Taxi Fabric, as the designers call their group, commemorated Pakistan and India's Independence days (August 14 and August, 15 respectively) with a politically-inspired taxi cab makeover, Quartz India reported.
We used a yummy orange rexine to go with @sam_kulavoor's #taxifabric. We are all about adding details and craft to the designer's imagination. #rexine #fabric #interiors #taxi #Mumbai #seatcovers #illustration #designer #process Photograph by @jimeetpawaskar
As a symbol of peace between the two countries with a long history of conflict, the team announced on August 14 its partnership with a young Pakistani designer Samia Arif to create a special design to remind the people of the two countries of something they have forgotten over the years.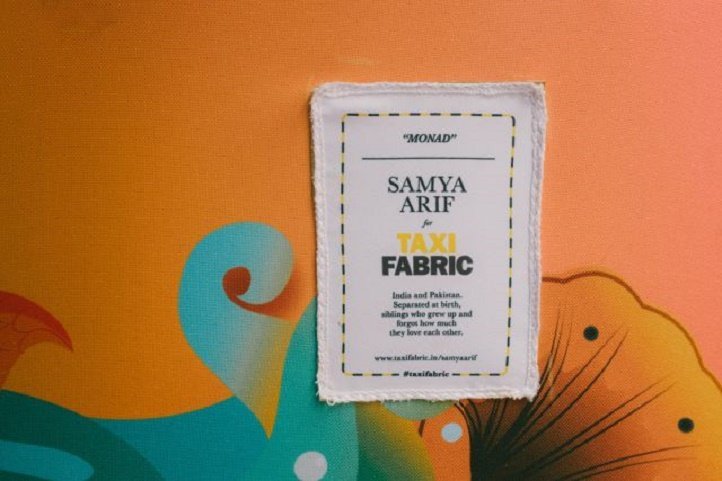 Source: taxifabric.org
"India and Pakistan—separated at birth, siblings who grew up and forgot how much they love each other," Arif said in an interview on Taxi Fabric's blog. Called Monad , Arif's concept features hand gestures and geometric patterns that bridge both cultures and religions, such as a dua and namaste .
"I based my designs on the idea that Indians and Pakistanis are essentially the same people, coming from similar roots and focusing on our commonalities and unique characteristics at the same time," she said in the interview.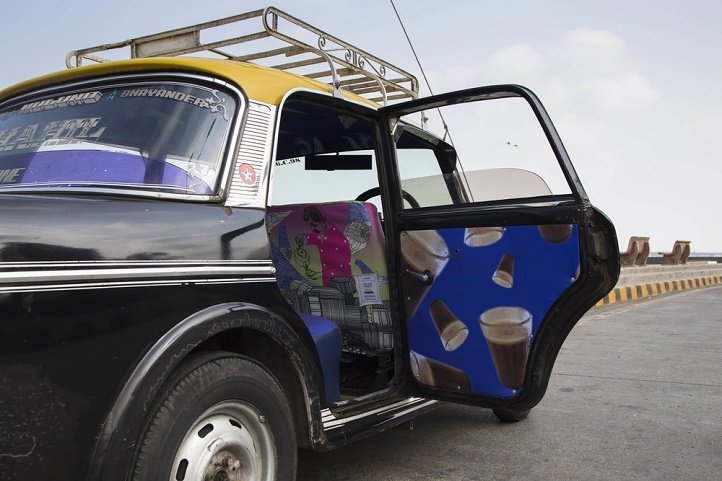 The design is sort of a moving storybook with the elements as the characters of the story and the cab driver | Source: taxifabric.org
As with the previous taxi cab makeovers, Arif's illustration was reproduced on a large format digital printer, then transferred to a durable polyester-based fabric. The bolts of fabric for Taxi Fabric's designs are then taken to a tailor who makes the custom-fit coverings for the upholstery of the lucky taxi cab. This process can be laborious—entailing precise measurement, fittings, and adjustments so the placement of design motifs match what the designer intended.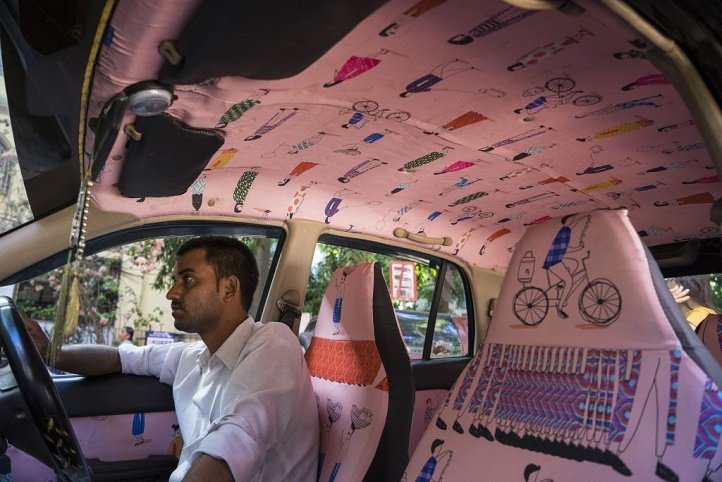 Pranita Kocharekar's delightful pink confection is a tribute to the diversity of Mumbai's population. She says, everyone from a businessman to a vegetable vendor is busy living their dream, everything happens in fast forward here | Source: taxifabric.org
Bolstered by a successful kickstarter campaign that raised a little over £11,000 ($17,200), Sanket Avlani, one of Taxi Fabric's founders, told Quartz that since 2013, the group worked to design 10 taxi cabs in Mumbai.
The initial intent of the project was to find a unique space for young graphic designers to showcase of talent outside of a student exhibition or a gallery. A special cloth label bearing information about the designer allows passengers to learn about the person behind the creation and possibly hire them directly for a commission.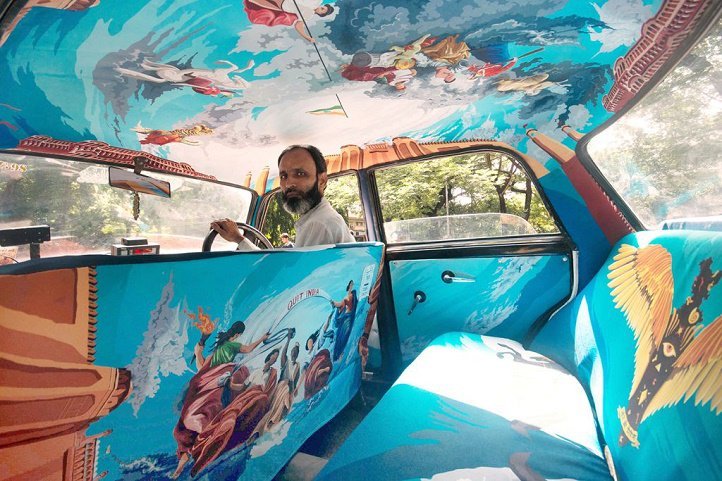 Kunel Gaur calls his bold vision 'A Century of Revolt' | Source: taxifabric.org
Taxi Fabric also considers the project a tool to educate the public about what designers do. "Design, as a profession or even simply something studied at school, is unfortunately not widely recognised in India, Taxi Fabric's founders explained about the project. "Older generations don't understand it, or recognise it as a proper profession or something worth studying."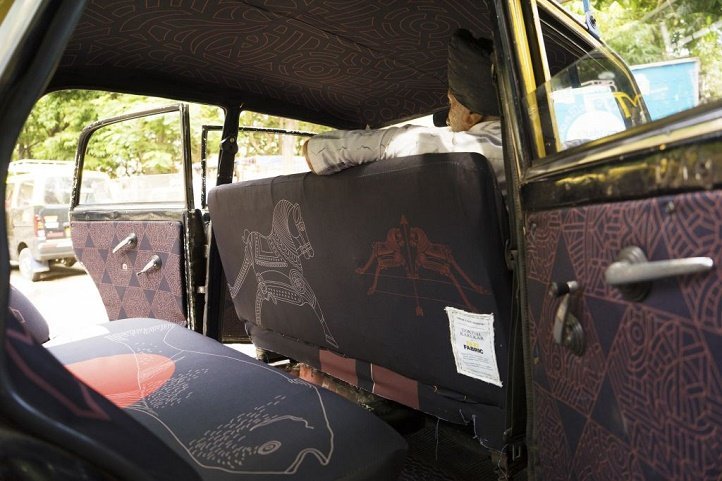 Lokesh Karekar's taxi design is dapper and retro. The Fiat Padmini Premier's iconic quality of the eighties was one of the inspirations for the style of illustration | Source: taxifabric.org
Designing one's cab to attract customers is a common marketing ploy for cab drivers not only in India, but in other parts of the world as well. "The designs that cover the taxi seats are often dull and forgettable," the team noted in a reported press release. "With the design talent Mumbai has to offer, this shouldn't be the case."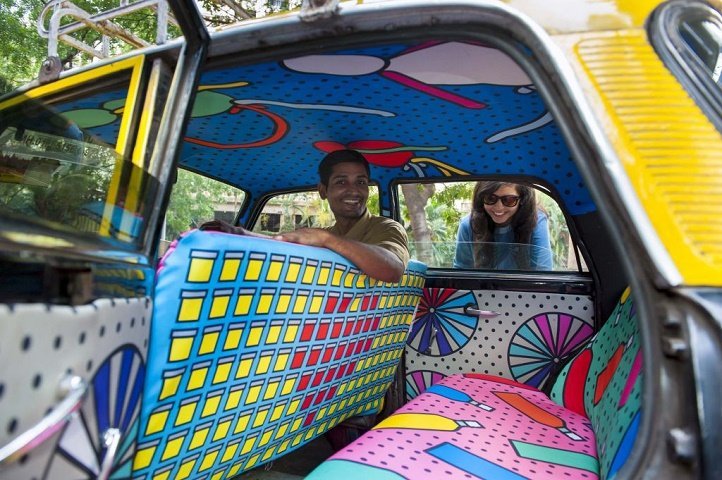 Shweta Malhotra's playful design called 'Chowpatty' was inspired by the lively beaches of Bombay where she grew up | Sour ce: ink361.com
Alvani said that some designers go so far as to 'brainstorm with the taxi drivers. Even Samya considered her taxi drivers' likes and dislikes before she began designing her fabric.' As a result, cab drivers are able to share in the pride about their spiffed up vehicles.
This is really a nice way to remind the people who are busy sharing hatred that basically they have common roots.