A Mumbai-based man has claimed that he was threatened by four men – including an auto-driver – for using a bag made of "cow leather". Barun Kashyap, 24, first recounted the horrible incident on Facebook, then filed a complaint in the police station.
This is what the post by Barun, who lives in Andheri West and works as a creative director with a production house in Mumbai, claims: 
On Friday, Barun was sitting in an auto when the driver asked him where he hailed from. When Barun replied 'Assam', the driver identified it as the state near Bangladesh. The driver then declared the bag Barun was using was made of cow hide, which Barun denied, saying it was camel leather.  However, the driver was unconvinced, and he stopped the vehicle at a temple and signalled at three men sporting tilak, who came over, checked the bag and asked Barun for his full name. After learning he had a Brahmin-sounding name, he was allowed to go. The auto driver's parting remark to him was  -'Aaj to bach gaye'. 
Read the full post here: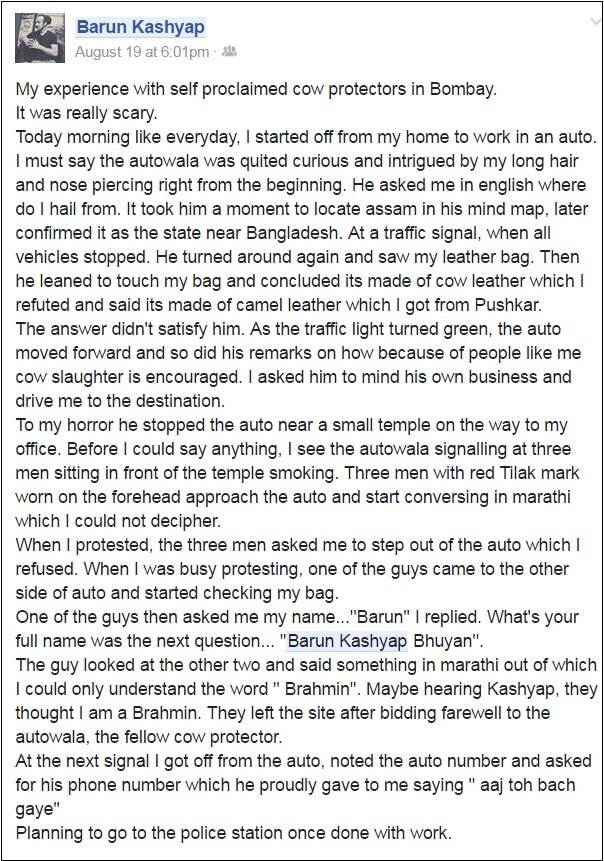 Barun told The Times of India that the police on Saturday filed a non-cognizable complaint (NC), but not an FIR because the cops told him "there was no physical harm done to Kashyap". Barun also gave the auto's number to the cops, he told CNN-News 18.
The post, as expected, has gone viral, but Barun changed his Facebook account settings on Sunday so that the public can't view it anymore. He told CNN-News18 that he did so because he was getting threats over the post. 
"I had been receiving messages that I should be shot or chucked out of Mumbai. I changed my account settings so only friends of friends can view my post, just to avoid negativity," he told the news channel.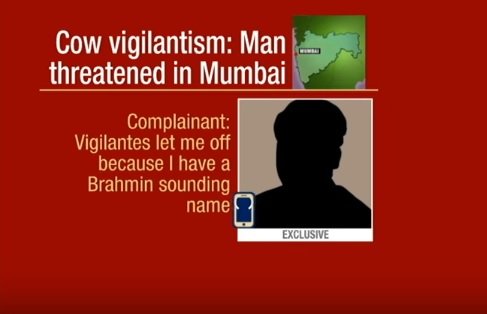 ScoopWhoop News tried to contact Barun for comment, but he hasn't yet replied to our message.
Meanwhile, the police is hunting for the auto. District Commissioner of Police (Zone 4), Ashok Dudhe, told Mumbai Mirror that the cops had begun an inquiry to identify those involved in the incident. "We will begin our investigation immediately after the approval of the Honourable Metropolitan Magistrate," he told Mirror.