In the wake of reports showing human-animal conflicts around the world resulting in tragic deaths of animals in captivity, an endearing case of a saint's attachment to a black buck has surfaced from Ujjain, Madhya Pradesh.
A Naga Sadhu has moved court to be allowed to keep a black buck with himself until the animal is released in the very forest he rescued it from. Keeping a black buck is illegal and can invite a jail term.
How can I desert blackbuck, neither of us will survive: Naga sadhu's pleahttps://t.co/xKpJs6h5cZ pic.twitter.com/hcsGv2xuTm

— The Indian Express (@IndianExpress) June 1, 2016
The sadhu, Neel Giri Maharaj, has said in his plea that both him and the black buck cannot survive without each other. The two remained quite an attraction during the month-long Ujjain's Simhastha Kumbh that concluded on May 23, The Indian Express reported.
The saint says he saved the antelope from dogs in a forest area in Maharashtra some six months ago, The Indian Express reported. 
The black buck was just four days' old at the time, and the sadhu took care of the injured animal with herbal medicines, Patrika reported.  
For Kumbh, the sadhu took the animal, who he named 'Santosh Giri', along to Ujjain and took the same route passing through the Aurangabad forests
During Kumbh, people thronged the 23-year-old Sadhu's tent where his bond with the animal was on full display.
But this very bonding invited the ire of forest officials because keeping a black buck is illegal, but they stayed away fearing a backlash from sadhus.
However, two days after the Kumbh got over on May 23, they stopped Neel Giri's vehicle 110 kms from Ujjain to take custody of the animal when he was headed back to Grishneshwar temple near Aurangabad.
But Neel Giri was unrelenting, and sat on protest at the Regal Square in Indore with other Naga Sadhus. He later headed to Ralamandal forest in the state, where forest officials have released the black buck. The saint later broke his fast after feeding the antelope and regularly visits it at the sanctuary.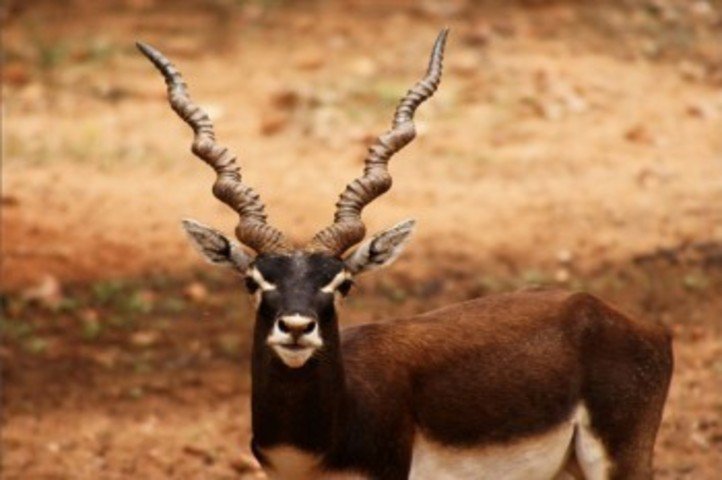 Now, Neel Giri is demanding that the antelope be allowed to stay with him until he gets back to Aurangabad and releases it there, he told The Indian Express.
"They told me I could escape legal action if I handed over the black buck. How could I? It did not desert me when lakhs visited Ujjain or when I took deeksha. It was never tied. I can't be so insensitive as to release it anywhere and let it die because neither of us would be able to survive without each other. It trusted me and I can't betray it," he told the paper.
 He also told The Times of India, "I will fight till my last breath to get him back. I saved his life and he is more than a family to me. I have never kept him in captivity."