Veteran actor Naseeruddin Shah, who attended the book launch function of former Pakistan Foreign Minister Ahmed Kasuri's book 'Neither a Hawk, Nor a Dove' in Mumbai on Monday, October 12, was trolled on Twitter for his statement that good things about Pakistan must be appreciated by India.
Naseeruddin Shah responds
The actor in an interview to TV news channel India Today on Wednesday, October 14 said he was being targeted for his statement only because he is a Muslim and he has never ever been aware of his identity until now.
"My name is Naseeruddin Shah and I believe that's why I was targeted. It really pains me to say this. I have never ever been aware of my identity until now. Four generations of my family have lived in India. I am proud to be an Indian and I will not allow anybody to question my patriotism," Shah told India Today consulting editor Rajdeep Sardesai.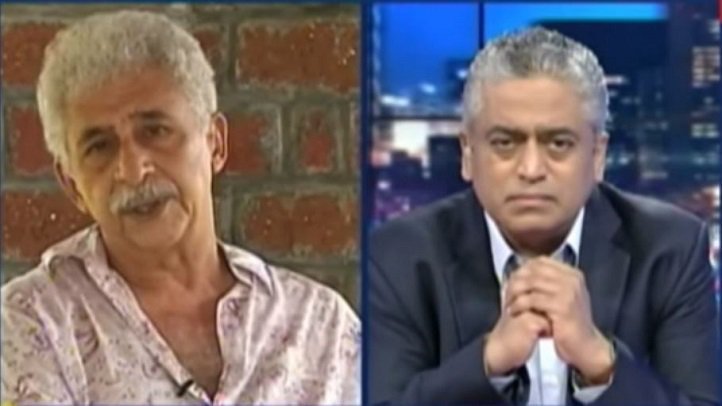 Source: YouTube Screenshot
He also questioned what was so "anti-Indian" in praising the good things about Pakistan. "If I say Imran Khan is great, does that make Sunil Gavaskar any less a cricketer?" he asked.
Referring to the protests and blackening of the face of Sudheendra Kulkarni by Shiv Sena activist over the launch of book, Shah said "hate mongers are having a field day in India today."
He, however, took a different take on the recent spate of over 40 writer returning their awards in protest against the lynching of a Muslim man in Dadri and murder of writers and rationalists. While disapproving their actions, he said "I wish those writers, instead of returning their awards, had written more strongly on what is happening to India in protest."
A recipient of many awards including Padma Bhushan and Sangeet Natak Akademi, the 66-year-old actor also said "awards mean nothing to me and therefore I won't bother returning them."
Watch the full interview here:
Feature image source: PTI