In a deeply embarrassing moment for Jammu and Kashmir Chief Minister Mehbooba Mufti, the national tricolor fell off the post as she hoisted it at Bakshi stadium in Srinagar where the main Independence Day function of the state was held. 
Mehbooba, who was hoisting the national flag as Chief Minister for the first time, pulled the string attached to the post only to see the tricolor fall from the post and land on the ground.
Amid the embarrassing situation, two personnel from the security detail of the Chief Minister held the flag in their hands till Mehbooba gave the ceremonial salute to the flag.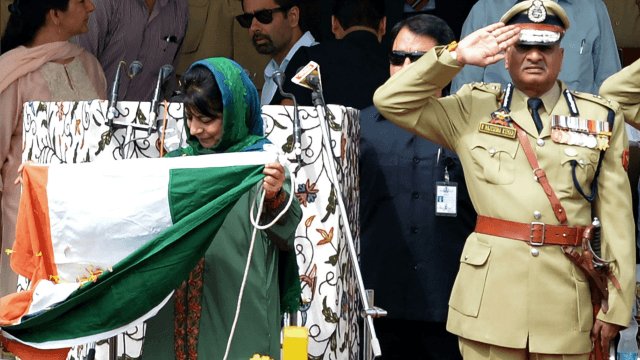 As Mehbooba left the stage for inspecting the contingents of the police and paramilitary forces, the security staff at the Bakshi Stadium hurriedly set the flag right and hoisted it atop the post.
In her maiden Independence Day address as Chief Minister, Mehbooba Mufti made an emotional appeal to agitating youth not to be misled by vested interests who want to keep the valley burning and maintained that dialogue is the only way to resolve issues.
She cautioned that Kashmir should not be allowed to become another Syria or Afghanistan where there is instability and absence of safety of life.
She blamed the successive central leaderships, starting from Jawaharlal Nehru, for the problems of Kashmir and hoped Prime Minister Narendra Modi will address the issues, completing the process started by Atal Bihari Vajpayee.
(Feature Image Source: Twitter/@DunyaNews)