The National Disaster Response Force (NDRF) on Monday, April 27, said conducting salvage operations in the earthquake-hit Himalayan country is becoming a "time consuming" affair. This is because the collapse pattern of buildings in Nepal differs a great deal from what the force has become accustomed to.
NDRF Director General, OP Singh, has been camping in Kathmandu since Sunday, April 26, to help coordinate efforts between Indian rescuers and those from the Nepalese side. He said the operations in Kathmandu are tougher than last year's flood-hit areas of Kashmir.
"The retrieval of the alive or dead is a difficult task in Nepal and it is taking time. This is because the collapse of the standing structures and buildings is different from what we have seen in India. The buildings have gone down badly and we have to drill holes in maximum number of cases to go through concrete slabs or walls and get inside the rubble," Singh said.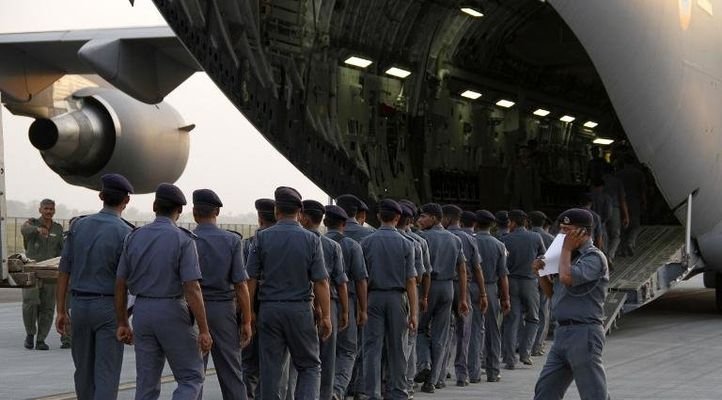 Meanwhile, NDRF personnel retrieved 11 people alive and sixty bodies from the debris in Kathmandu. A total ten NDRF teams, with 45 personnel in each, are now in the quake-struck nation to undertake rescue operations. Six more teams are scheduled to reach Kathmandu soon.
"I would say this assignment is more tougher than what we did in Kashmir. Why I say this is because the roads are blocked at many places and we are taking time even to reach the affected spot," Singh said.
Singh, who went to a number of locations in the Kathmandu Valley and at the Tribhuvan International Airport, said "people were very scared" as there continued to be aftershocks and intermittent rain clouds.
"We propose to go to more areas. But that is only possible when our teams get air-borne which is not possible as of now"
"We have begun day and night operations now. I hope the weather helps us and we can do as much as we can," he said.
A control room has also been activated by the force in coordination with other agencies like the Indian Air Force (IAF) and Army at the airport to get in touch with their bases in New Delhi and other places.
"A contingent of the force has also been based at the airport to help stranded Indians undertake a quick air evacuation," he said.