Nearly 3 lakh people, led by Ramdev, turned up at GMDC ground in Ahmedabad on the International Yoga Day to perform asanas, which the yoga guru claimed is a world record.
BJP president Amit Shah, Gujarat chief minister Vijay Rupani, deputy chief minister Nitin Patel, former chief minister Anandiben Patel, several other political leaders, IPS and IAS officers, high court judges and dignitaries were also present at the venue.
The third edition of the International Yoga Day was held under the guidance of Ramdev, who made the participants stretch their muscles in various yogic postures amid the early morning drizzle at the ground.
Religious leaders of different faiths were specially invited by the state government as well as Ramdev's Patanjali Yogpeeth to watch the mega-event.
After the one-and-a-half hour long session, Ramdev claimed that the event has made it to the Guinness World Records book with nearly 3 lakh people performing yoga at one place.
The previous record was made in Delhi on June 21, 2015, when 35,985 people did yoga at Rajpath with Prime Minister Narendra Modi.
"Today is the most important day for me, as more than 3 lakh people performed yoga at one place to set a new world record. We have broken the previous world record, which was set in the presence of our PM, by a huge margin," Ramdev told reporters after the event.
He said that officials of the Guinness World Records book were also present at the event.
Ramdev said the officials will declare the final figure of the participants after tabulating the data based on the bar code tag given to each person at the entry gates.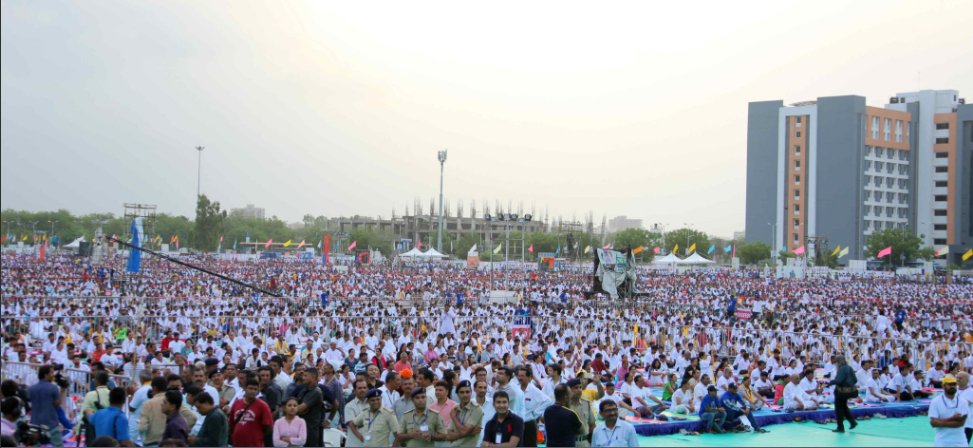 While guiding the participants during the event, Ramdev invited Shah and Rupani to join him on the dais and follow his yogic postures.
In his address after the event, Shah thanked Modi for making yoga popular across the globe.
"Though India was trying hard to make yoga popular across the globe since 2011, we got success after the United Nations accepted Modiji's proposal in 2014 and declared June 21 as the World Yoga Day. Since then, the popularity of yoga is increasing across the world rapidly," Shah said.
Apart from the GMDC ground, yoga day was celebrated at all the district headquarters by the Gujarat government.
In Rajkot, as many as 792 women took part in an 'aqua yoga' event, wherein they performed asanas in different swimming pools, an official of the city civic body said.