As the government of India declassified files relating to  Netaji Subhash Chandra Bose on Saturday, Januray 23, a new controversy is now doing the rounds about a supposed letter written allegedly by Jawaharlal Nehru which called Netaji a 'war criminal'.
The news has resulted in a war of words between the government and the opposition with both the BJP and the Congress fighting it out on all mediums. The Congress has accused the government of misleading the nation by circulating the 'fake' letter thus maligning the party.
Here is the 'letter':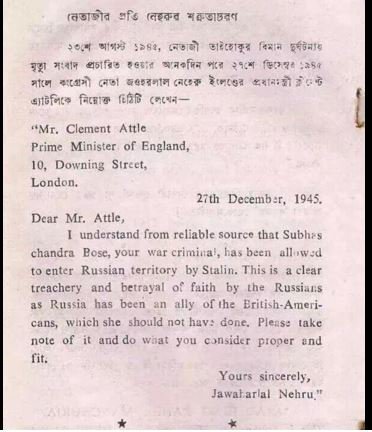 "It's a deliberately created controversy to mislead people and try to belittle the great achievements of stalwarts of the Indian freedom struggle," said senior Congress leader Anand Sharma as per a report by The Times of India. 
Historian Ramachandra Guha has outright rejected the letter's authenticity and has called it fake.
To those who asked, the letter allegedly written by Nehru to Attlee about Bose is completely inauthentic.

— Ramachandra Guha (@Ram_Guha) January 23, 2016
The controversy will continue as yet another political slug-fest between the parties. However, twitterati is having a gala time. Here are some of the reactions:
Anyway, who knows what happened. Maybe Nehru never wrote to Attlee. Maybe he just tweeted to a guy called @Lee.

— Ramesh Srivats (@rameshsrivats) January 24, 2016
Imagine, 100 years from now, historians may be debating the authenticity of tweets & posts referring to Pappus & Fekus.

— Ramesh Srivats (@rameshsrivats) January 24, 2016
When you look at the kind of stuff our leaders call each other nowadays, "war criminal" sounds quite cuddly.

— Ramesh Srivats (@rameshsrivats) January 24, 2016
(Feature image source: Twitter)