US sports equipment giant Nike on Wednesday axed Manny Pacquiao after he described gay couples as "worse than animals", slamming the Filipino boxer's remarks as "abhorrent."
A Nike statement said the company had severed its ties with Pacquiao, who triggered a firestorm of controversy with his comments to a Filipino broadcaster earlier this week.
"We find Manny Pacquiao's comments abhorrent," a Nike statement said.
"Nike strongly opposes discrimination of any kind and has a long history of supporting and standing up for the rights of the LGBT community… we no longer have a relationship with Manny Pacquiao."
Nike's move was welcomed by gay rights campaigners in the Philippines Thursday.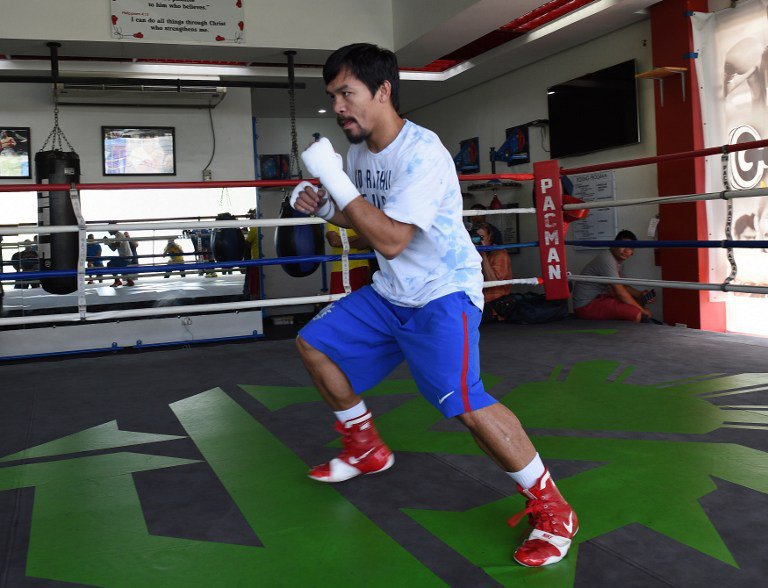 "Philippine LGBT (lesbian, gay, bisexual and transgender)and allied groups plus Nike's enlightened stand has struck down the fundamentalist posturing of a bigot who wants to be a senator of the land," said Danton Remoto, head of Ang Ladlad (the Unfurled), a gay rights political party.
Devout Christian Pacquiao, 37, who is running for a seat in his country's Senate, had issued an apology soon after the controversy erupted.
"I'm sorry for comparing homosexuals to animals. Please forgive me for those I've hurt," Pacquiao said in a video post on Instagram, his arms crossed.
Pacquiao said he was not condemning homosexuals but was standing by his conservative Christian faith.
"I love you all with the love of the Lord. I am praying for you."
Pacquiao told television station TV5 earlier this week: "It's common sense. Do you see animals mating with the same sex? Animals are better because they can distinguish male from female."
"If men mate with men and women mate with women, they are worse than animals."
Pacquiao's comments were greeted with revulsion in the United States, where same-sex marriage is enshrined in law following a historic Supreme Court ruling.
Jason Collins, the first openly gay athlete in the NBA, dismissed Pacquiao as "bigoted."
"I lost all respect for you," Collins wrote on Twitter. "Bigoted people like you (& yes you are one) should never hold an office in politics."
Pacquiao's long-time rival Floyd Mayweather — who outclassed the Filipino in their money-spinning mega-fight last year — also took aim at the remarks.
"We should let people live their lives the way they want to live their lives. To each his own," Mayweather was quoted by TMZ Sports as saying.
While homosexuality is not criminalized in the Philippines, gay marriage is outlawed due to strong opposition from the Catholic Church and 80 percent of the country's 100 million people subscribe to the faith.
But Pacquiao's remarks angered some of his compatriots.
Singer Aiza Seguerra, who recently married her actress-girlfriend in the US, called on Filipino voters to boycott Pacquiao, who is preparing for his last boxing fight with Timothy Bradley in April, calling him an "ignorant, bigoted hypocrite".
"You just showed the whole country why we shouldn't vote for you," Seguerra said in a post on Instagram.
Filipino sports analyst Ronnie Nathanielsz told AFP there was a genuine risk Pacquiao would lose other international endorsement deals following Nike's action.
"It will hit him in the pocket for sure," Nathanielsz said.
The Nike endorsement, whose terms were not disclosed, was Pacquiao's most prominent sponsorship deal.
Forbes.com magazine put his earnings for 2015 at $160 million including $12 million from endorsements.
Feature image source: AFP