The internet is bedazzled by this Hermès Himalaya Birkin Bag. Nita Ambani was seen carrying it on a London outing with Karisma Kapoor and Kareena Kapoor Khan.
This Hermès bag has 240 diamonds encrusted on its 18-karat-gold hardware.
 I can physically feel my eyes being bedazzled. 
According to Christies.com, this handbag is considered the 'Holy Grail in a Handbag' collection. This white Himalaya crocodile diamond style bag attracted some sweet $379,261 at auction with Christie's. It was claimed that this bag became the 'most expensive bag ever sold'.
Some of the netizens called out Nita Ambani for carrying this crocodile-skin bag-
and so called vegetarian owns a crocodile skin bag !!
Rs 2 Crore! Nita Ambani owns second most expensive handbag in the world https://t.co/cBNkWgl3MJ

— Sonty Bajaj 🇮🇳 🏳️‍🌈 (@sontybajaj) June 26, 2019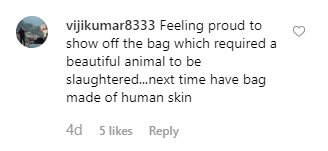 According to christies.com, the Himalaya Birkin is made from Nile crocodile hide.