Ever since American economist Richard Thaler was awarded the Nobel Prize for Economics this year, Indians have been fighting on social media whether he supported India's currency demonetisation or not.
Desperate to get some positive endorsement for Modi's controversial note-ban move, many leaders and supporters of the BJP started sharing the Nobel laureate's old tweet from 2016 where he had purportedly "supported" PM Modi's move towards a cashless economy.
BJP's IT cell head Amit Malviya wasted no time in reminding people about the "benefits" of demonetisation: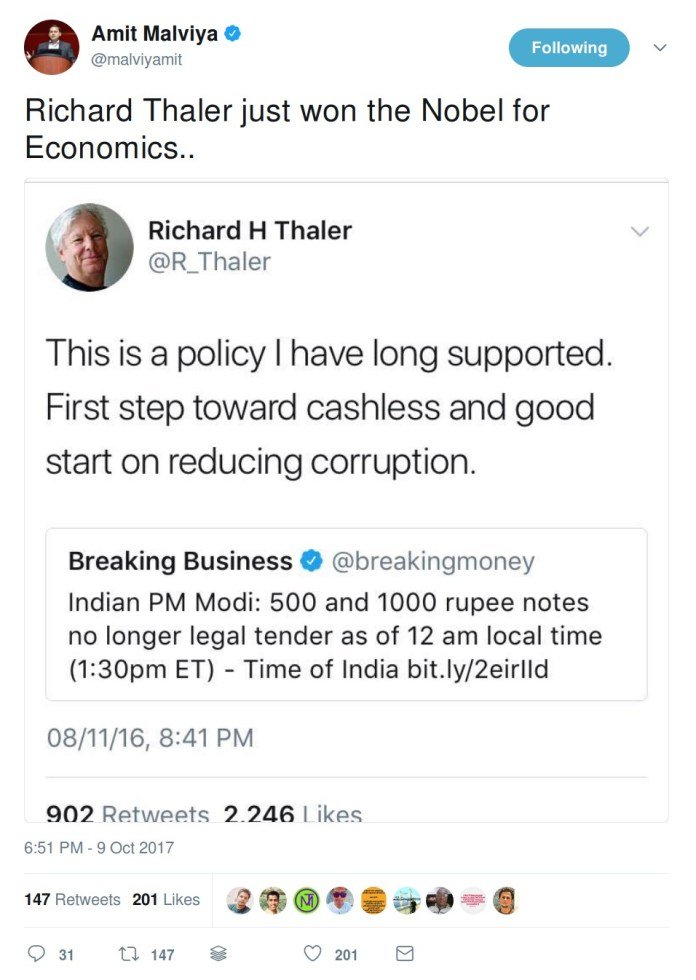 In fact, Uttar Pradesh Chief Minister Yogi Adityanath at a rally in Amethi last month said, "The Nobel Prize for Economics was awarded to the economist who was the first one to welcome demonetisation."
Media houses followed suit, with headlines such as, "Richard Thaler, 2017 Economics Nobel Prize winner, supported demonetisation."
It is another matter that all of them missed Thaler's next tweet. When he was told about the Rs 2000 note being introduced in the place of the discontinued Rs 500 and Rs. 1000 notes, his reaction was: "Really? Damn."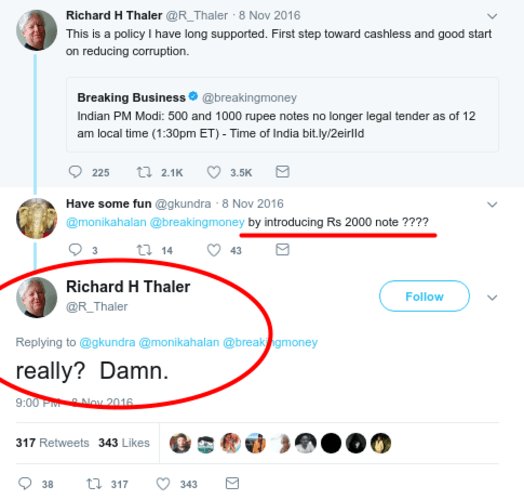 All this speculation has been put to rest now as Thaler clarified his stance on demonetisation, saying the way it was done by PM Narendra Modi was "deeply flawed".
Thaler clarified his stance to his student Swaraj Kumar in an email exchange, which both of them tweeted.
Swaraj asked Thaler, "After the announcement of Nobel committee, your tweet on India's demonetisation got a lot of attention and many people are quoting it to support the whole exercise. I know that you have suggested in the past to demonetize higher denomination to reduce corruption and to move towards a cashless society. But I was wondering what's your thoughts on the execution like demonetizing 86% of the notes in circulation and only 50 days for the note exchange?"
Professor Thaler replied, "The concept was good as a move to a cashless society to impede corruption but the rollout was deeply flawed and the introduction of the Rs 2000 note makes the motivation for the entire exercise puzzling."
A Twitter user brought this to the attention of Twitter users. The tweet was retweeted by Professor Thaler.
Well, looks like the matter has been laid to rest now. BJP's IT cell could do well to follow that old adage: Look before you leap…err…tweet.