Rafael Nadal will miss Wimbledon after failing to recover from the wrist injury which also forced his early withdrawal from the French Open, the Spanish star announced on his Facebook page.
"Hi everybody. I'm sad to announce that after talking to my doctors, and receiving the results of my last medical revision, I won't be able to play at Wimbledon this year," wrote the 30-year-old.
"As you can all imagine, it's a very tough decision, but the injury I suffered at Roland Garros needs time to heal."
The 14-time Grand Slam title winner was Wimbledon champion in 2008 and 2010.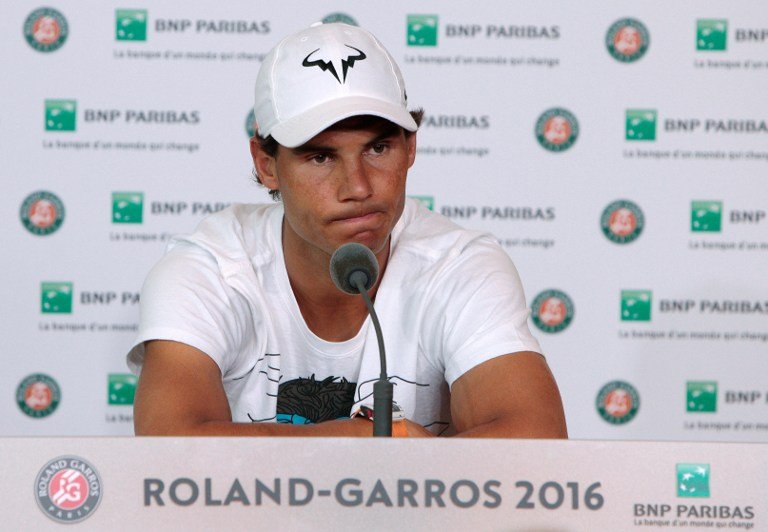 He pulled out of the French Open, where he has been champion on nine occasions, after injuring a tendon in his left wrist after just two rounds.
Nadal, whose career has been plagued by a succession of injuries, especially with his knees, has endured a roller-coaster relationship with Wimbledon.
He missed the 2004 and 2009 events through injury while his last four visits saw him suffer a second round exit in 2012, first round loss in 2013, a last-16 run in 2014 while he was knocked out in the second round last year.
On Wednesday, his uncle Toni, who is also his long-time coach, admitted that there had been no time set for his nephew's return to the tour.
"We don't want to put in danger his participation in the Olympic Games," said Toni Nadal.
"(Rafa) will return when the doctors are convinced that all is going well. He won't play unless he's 100 percent."
Wimbledon, the season's third Grand Slam event, gets under way at the All England Club on June 27.
A statement on Thursday from Nadal's agent Benito Perez-Barbadillo read: "Rafa's left wrist will continue (to be) immobilised for a maximum of two weeks. After that the player will start an anti-inflammatory rehabilitation and physiotherapy-based treatment once the cast is removed."
Feature image source: AFP