While the battle between Amazon and Flipkart's been making headlines, the most profitable among the e-commerce websites may be a rather unlikely one: it's Indian Railway Catering and Tourism Limited (IRCTC).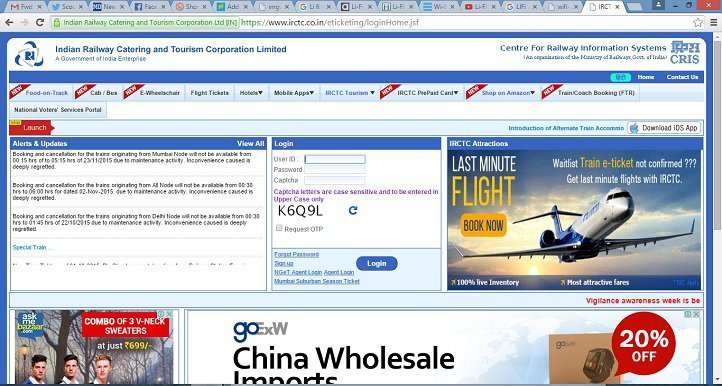 Screenshot of the IRCTC website
According to a report in the Economic Times , IRCTC generated Rs 20,620 crore, or nearly $3 billion, through online ticket sales in the last financial year , up 34 per cent from a year ago when it sold tickets worth Rs 15,410 crore. This is nearly double the turnover of India's largest online retailer Flipkart.
But unlike loss-making marketplaces, IRCTC also posted profit after tax of Rs 130 crore, up from Rs 72 crore in the previous year.
"Bulk of the sales may be attributed to IRCTC's rapid growth in e-ticketing which has been due to its interface and setting up of a very robust process. Capacity enhancement was done to book 7,200 tickets per minute as against 2,000 tickets per minute in the existing system," said Sandip Dutta, public relations manager at IRCTC told Economic Times.
The government's focus on developing and reforming the Indian Railways will help the national transporter emerge as the next growth engine for the country's economy over the next decade, a report had noted in January .
It should be noted that Prime Minister Narendra Modi-led government had chosen the Railways as a big driver for country's growth with a capital investment of Rs 8.5 trillion over next five years, which is 3.3 times over the previous five years.