The weather gods were kind to Delhi this Wednesday, but there were storms brewing in the hearts of many at the iconic Jantar Mantar. There were songs in their lips and fire in in the eyes of hundreds who were present at the venue. The idea was to register their solidarity against the rising trend of mob lynching and vigilantism across the country. But primarily, this was a spontaneous civic gathering  made possible almost exclusively through social media 
Called as 'Not In My Name', the protest was organised after Gurgaon-based independent filmmaker put up a Facebook post appealing people to come out and protest last week. The trigger for the protest was the lynching of  a 15-year-old, Junaid, in Ballabgarh. This was the latest among a series of shocking lynching incidents across India in the last few years.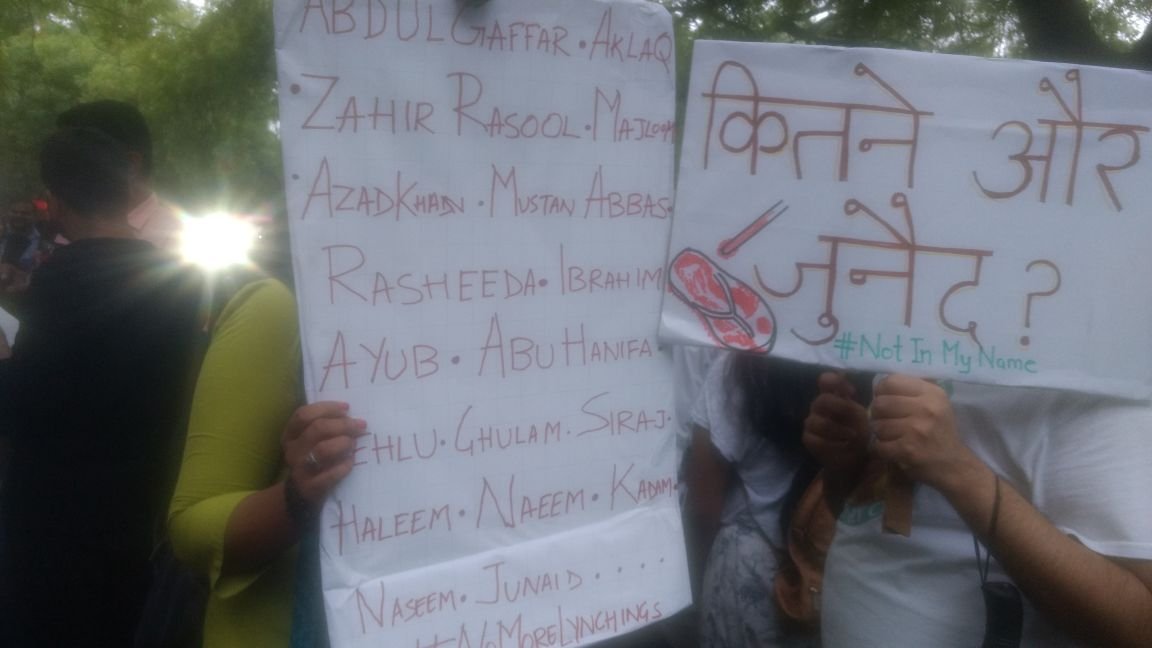 Placards and posters which read 'Not in my name', 'Stop the lynching', 'Stop the killing', 'Not a part of lynchistan' etc were seen at the venue.  Artists, writers activists, politicians, filmmakers as well as general public were seen participating in the event with great enthusiasm. Similar protests were held at Kolkata, Mumbai, Hyderabad, Thiruvananthapuram, Bhopal and Bengaluru.
However, the Not In My Name campaign has attracted it's own share of criticism for being too "myopic" and "narrow". Critics have pointed out that instead of speaking against the structural oppression and violence, this campaign allow self-righteous individuals to give themselves a clean chit.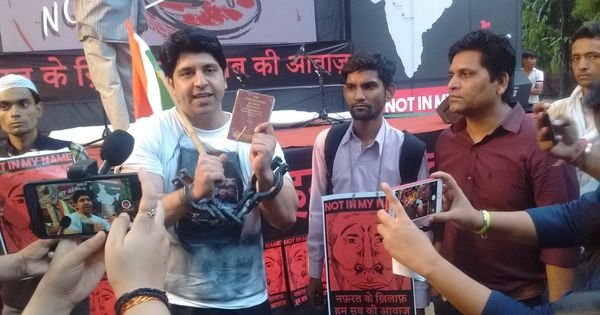 Social activist Shabnam Hashmi, who returned her National Minority Rights Award a day before the protest, said the event was important was important even if it is a symbolic gesture.
"The government has failed in providing dignity and security to the minorities. The message is simple that people of the country are not going accept the violence in their name. Basically, religion is being used to indulge in cow vigilantism or any other kind of violence. There is a strong signal from 16 cities across India as well as other parts of the world which says such kind of killings is not acceptable," she said.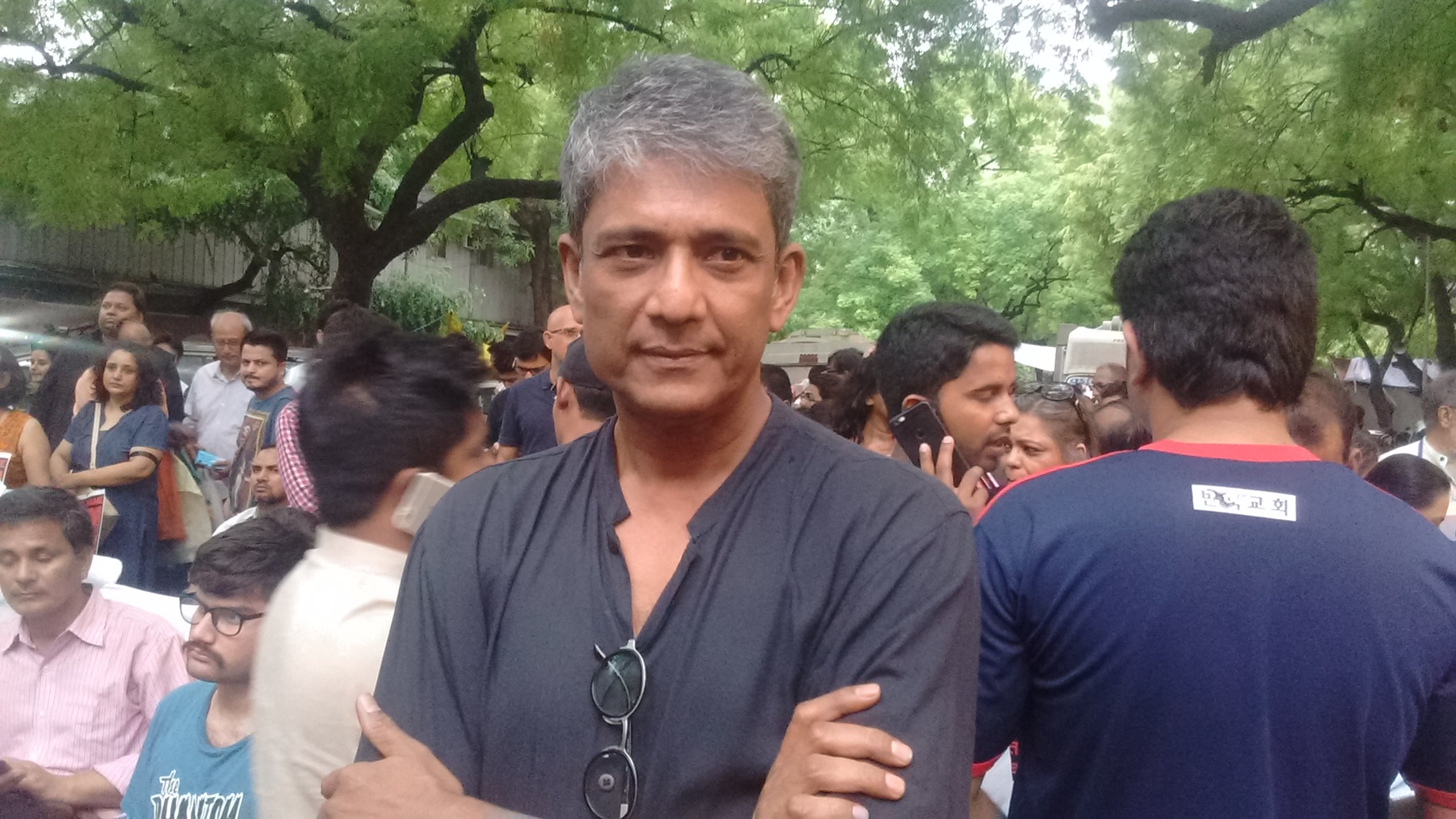 "It is very important to articulate the anguish of the society and rise up against the goondas whether in power or out of power. I never expected this event would have such a big turnout," GS Channi, a Chandigarh-based theatre personality said. 
Adil Hussain, a prominent film and theatre actor, made a pertinent point. "Isn't it a silent protest? Is there any need for me to say anything? I guess everything is out there for us to know what's happening," Hussain said.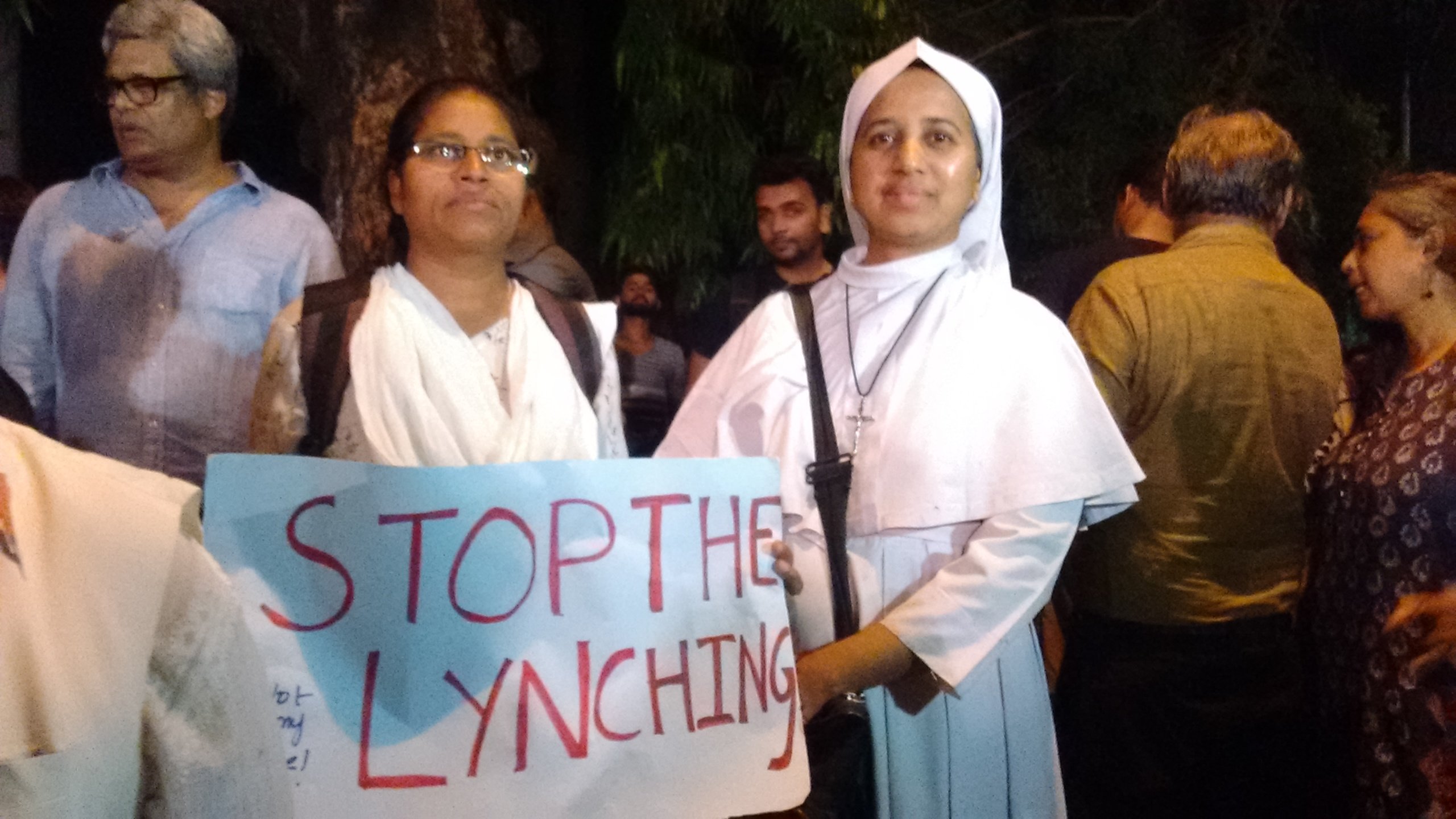 Apart from known public figures, general public also came out in large numbers to protest against the lynchings.
Rajiv Tyagi, who came all the way from Meerut said that lynchings are not random events and are being directed from somewhere which makes it very important to speak up against it.
"This India belongs to everyone, it is neither a Hindu India nor a Muslim India. It is time for our Pradhan Sevak to speak up and take stringent action against those involved," he said.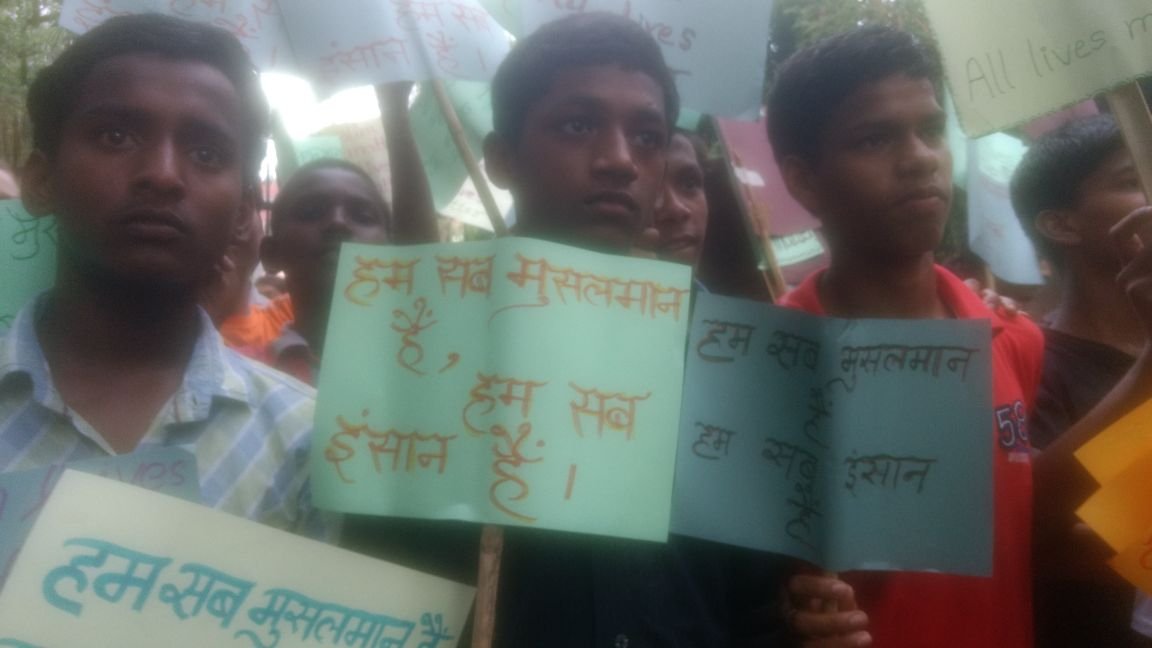 A group of school students from Mehrauli aged between 15-16 also joined the cause with a poster that read 'We all are Muslims, we all are humans'. Upon being asked why they support the cause, one of the boys said, "Junaid was like a brother to us. We have come here to condemn the violence."
"What were the 200 people doing when Junaid was being attacked by the mob? People could have intervened and saved his life," said another.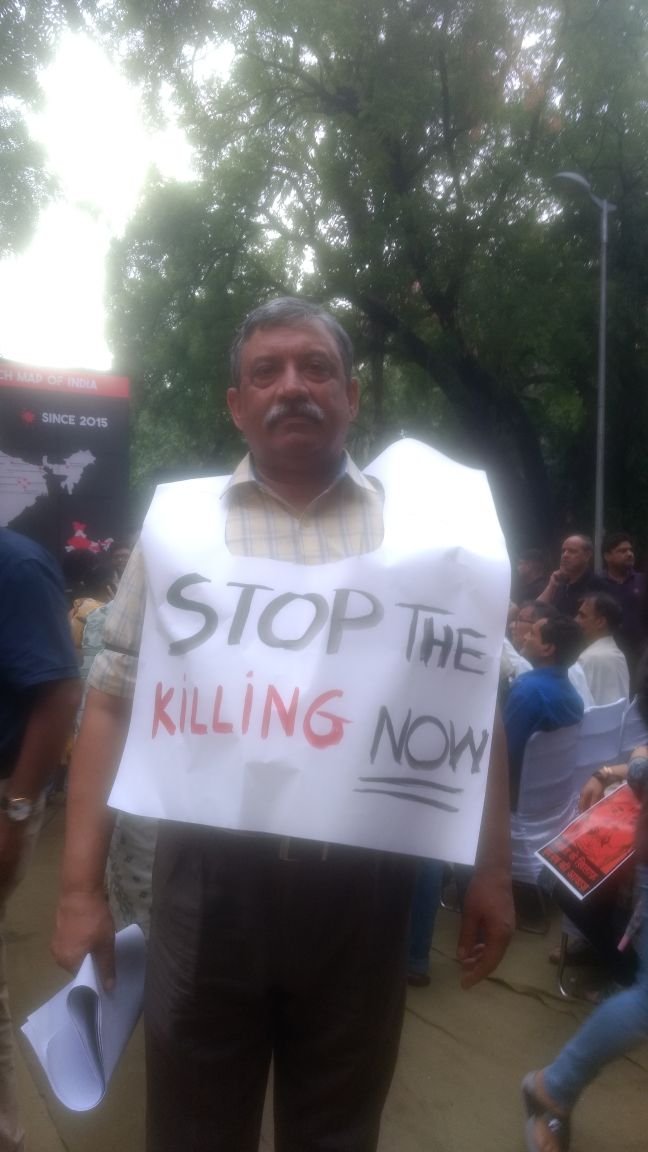 In Kolkata, nearly 2000 citizens  gathered under the Not in my Name banner. There were students, journalists, celebrities, academicians, lawyers, entrepreneurs, and many, many others from all walks of life. "We braving rain and a dodgy sound system. There was music, poetry, speech. There were placards. There were no cops. There were no politicians. We were all ordinary Indians," said Yajnaseni Chakraborty, a senior journalist from Kolkata.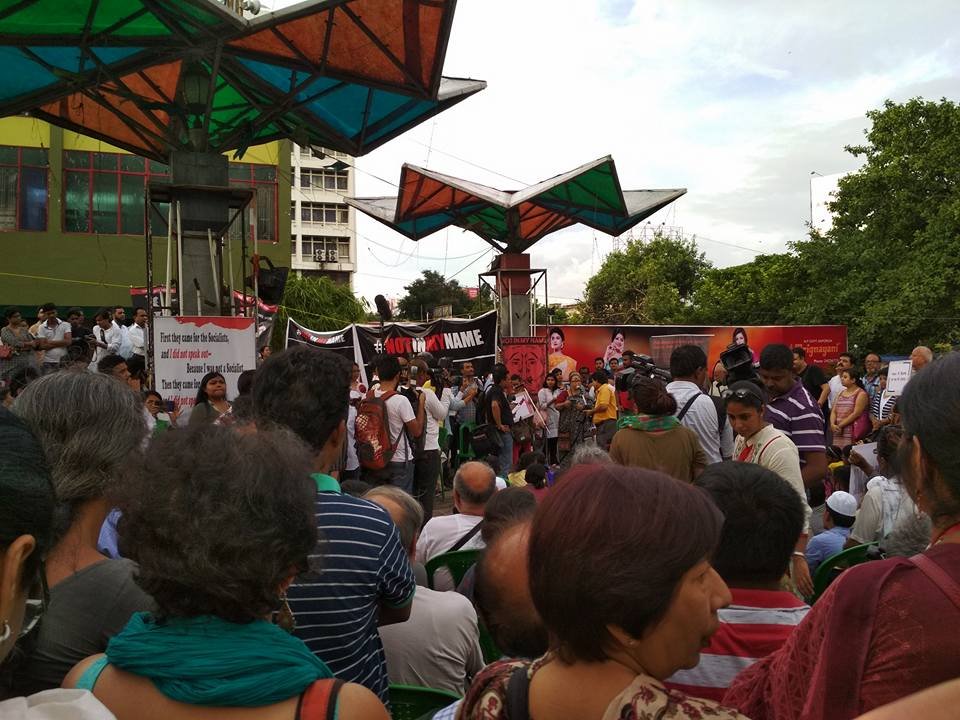 Many politicians from the Opposition parties also attended the protest. Aam Aadmi Party's Manish Sisodia and Ashutosh, Congress' Randeep Surjewala and Kiraln Walia and CPI(M) politburo member and former Kerala Minister,MA Baby, were some of the politicians to attend the event. Many senior journalists also showed up at the event and registered their support to the cause by wearing black bands. 
There were fiery speeches filled with poetry, songs and performances, all of which which were targeted at the rising violence in the name of religion.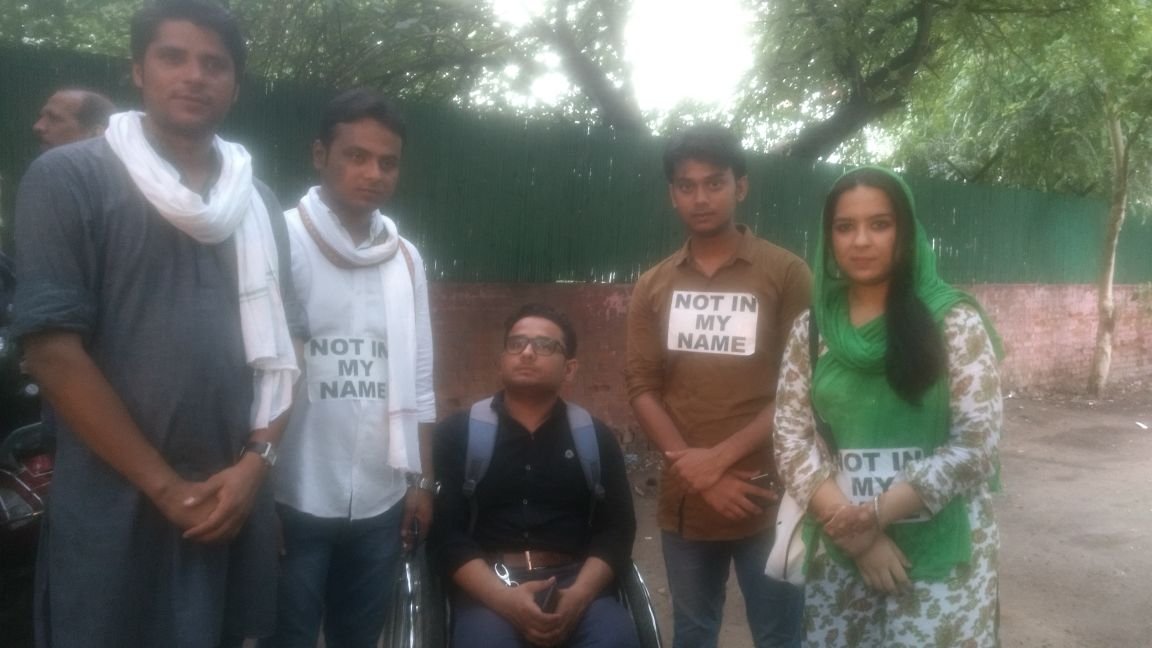 However, one of the most defining moments of the event was when 22-year-old Mohammad Assaruddin, who is Junaid's neighbour read out a poetry on the stage. The poem was called as 'Junaid's letter from heaven to his mother'.
Assaruddin later said that there is a security threat to family members of Junaid which is why they didn't turn up for the event. "I feel they should be given permanent security since they are the eye-witnesses of the case," he said.
Upon being asked about the response of the government he said, "The administration responded only after the incident sparked such an outrage. They should do everything to build the confidence of the minorities.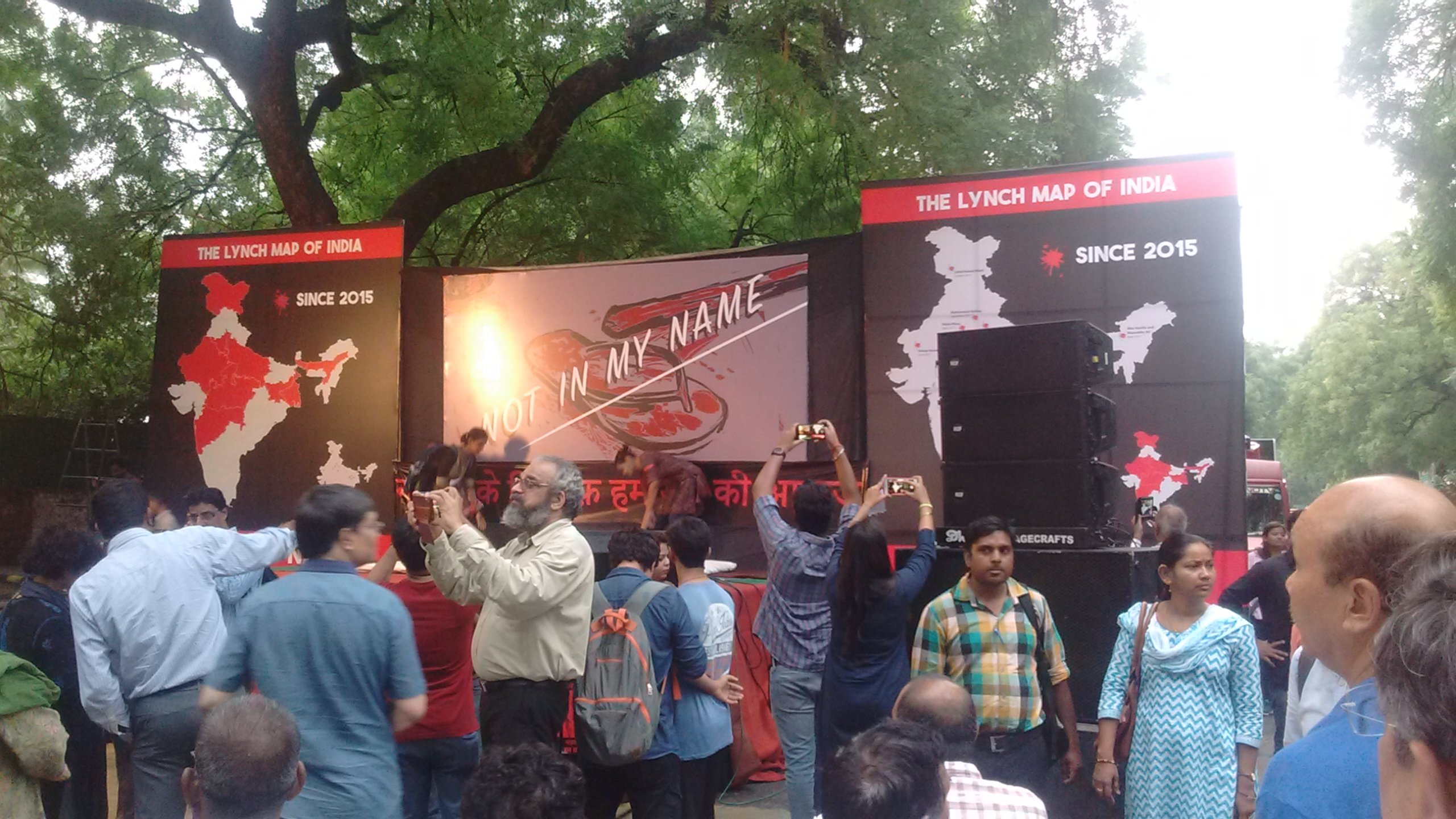 The following is an excerpt of the poem Assaruddin read out:
"I am in the heaven, my real home. I am wearing new clothes as you had wished. You had sent me to buy new clothes but my fate landed me in heaven. I am very happy here as now I don't fear any mob. Here there is no discrimination. But I miss you mother, I miss my brothers who got wounded in the attack."
(Reported by Sreeraj TK, Gaura Naithani, Premankur Biswas)
(Feature image source: Sahil Ali| ScoopWhoop )