Earlier this month, the Yogi Adityanath-led BJP government decided to propose to the railways that Mughalsarai station be renamed after Jan Sangh leader, Deendayal Upadhyaya. 
As per an Indian Express report, the proposal has been cleared by the UP cabinet. In fact, the cabinet has gone a step ahead and decided to rename not just the railway station but also the Mughalsarai Municipal Board after late Jan Sangh leader and BJP ideologue Deendayal Upadhyay. This means that Mughalsarai will now be known as 'Deendayal Nagar'.
Now, to the uninitiated, Yogi Adityanath has a penchant for renaming places, or let's say that renaming places is one of Adityanath's favourite pastimes.
During his tenure as the MP of Gorakhpur (since 1998), many places of the city were renamed.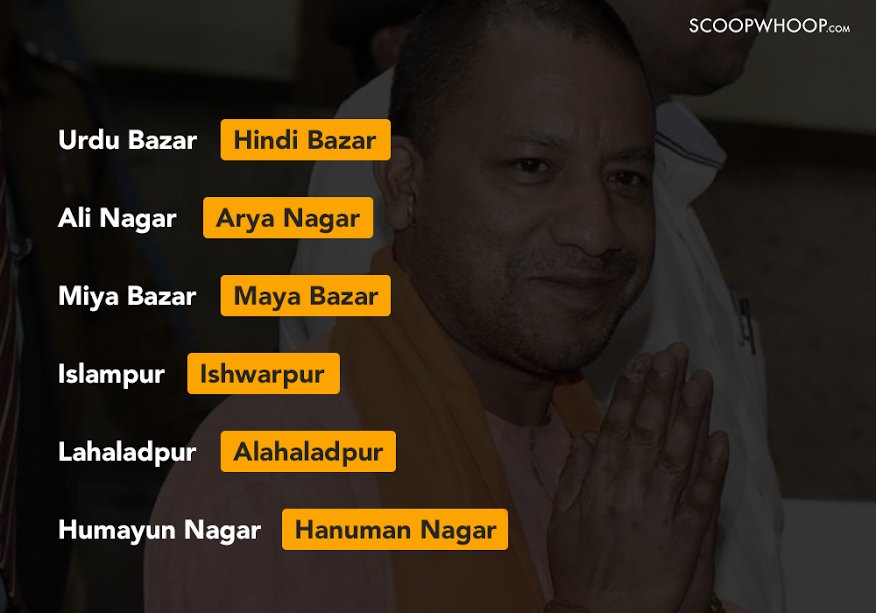 Most of these  renamings are based only on vocal assertions by Yogi Adityanath and most of them are still registered with their old names in official documents, reported Aaj Tak.
A day before Adityanath was named chief minister, he seemed to be in a mood to change many more names. 
"Abhi toh aur naam badalne hai," he had said in a TV interview, reported Economics times.
In an interview with India TV, Yogi has defended his act by arguing that these places were renamed only after invasion by Mughals and now it's the time to give them back to their original identity.
In the same interview he proclaimed that if required he will not hesitate to change "Taj Mahal" into "Ram Mahal".
Yogi has also proposed that Article 1 of the Constitution be amended to replace the word 'India' with 'Hindustan'.
The Hindu Yuva Vahini, a right-wing outfit floated by him has demanded that Azamgarh in eastern Uttar Pradesh should be renamed as Aryamgarh.
Uttar Pradesh is used to such name changes 
In 2012, the Samajwadi government changed the names of  eight districts which had been renamed by the previous Mayawati regime.
The names of Bheem Nagar, Prabuddha Nagar and Pancheel Nagar have been changed to Bahjoi, Shamli and Hapur respectively.
Similarly, names of Kanshiram Nagar, Mahamaya Nagar,chhatrapati Shahuji Maharaj Nagar,Rambai Nagar and JP Nagar have been changed to Kasganj, Hathras,Gauriganj,Kanpur dehat and Amroha respectively.
(Feature Image Source: ScoopWhoop)