That Prime Minister Narendra Modi follows some abusive Twitter handles who spew venom against minorities, allegedly issue threats of violence and rape to women journalists and others on social media is an open secret now in India.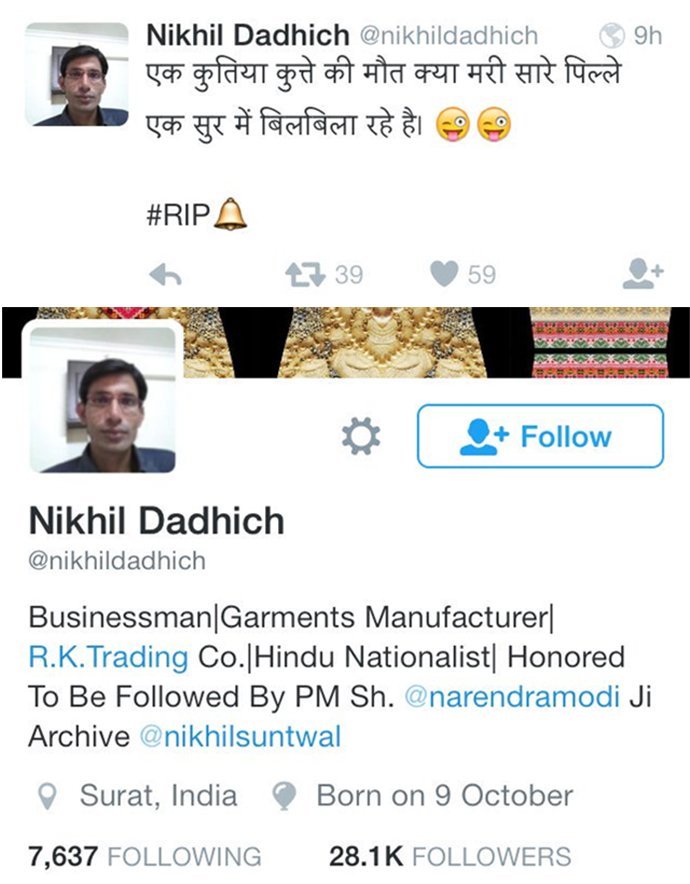 After the murder of senior journalist Gauri Lankesh outside her house in Bengaluru by unidentified assailants on September 5, there have been instances of people followed by Modi celebrating her death on Twitter. The debate over who the PM is following on Twitter, what he sees on his timeline – already a controversial subject in the past – has been further ignited.
However this time, this peculiar habit of the Indian prime minister hasn't gone unnoticed even in international media. Many global publications such as The Guardian and The New York Times have criticised Modi for his continued "support" – overt or covert – to abusive haters online.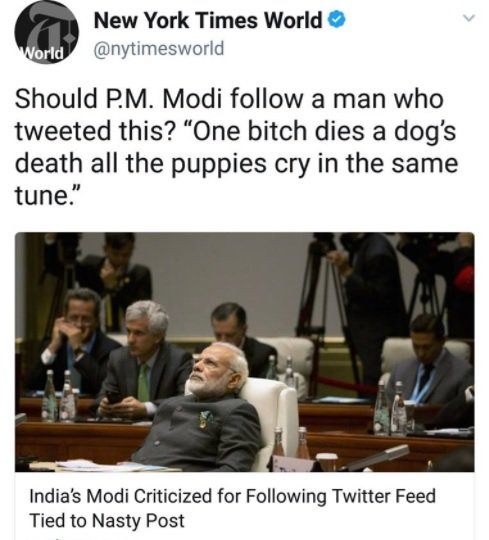 The New York Times states:  "…Prime Minister Narendra Modi, a hugely popular but divisive figure, was following the Twitter feed of a man who wrote the following this week, after a female journalist was shot to death: 'One bitch dies a dog's death all the puppies cry in the same tune.'
Further, the article notes that "the offending tweet was soon taken down, and so was a boast by Mr. Dadhich that he was followed by the prime minister (though Mr. Modi continues to follow him)."

The Guardian also reported Modi's dubious choice of who to follow on Twitter in the wake of Gauri Lankesh's murder.
The article (screenshot above) states: "India's ruling party has defended Narendra Modi's use of Twitter after a number of users followed by the Indian prime minister appeared to celebrate the fatal shooting of a journalist this week.
"Leaders from across Indian politics have condemned the murder of Gauri Lankesh, who was shot dead outside her home in Bengaluru on Tuesday, but a number of Modi supporters appeared to attempt to justify the killing.
"One commented: 'You reap what you sow.' Another wrote in Hindi: 'A bitch died a dog's death and all of her litter is crying in the same voice.'
"Modi, who operates his own Twitter account and follows 1,779 others, has been criticised for continuing to follow accounts that have levelled abuse at Lankesh. He has yet to comment on the killing."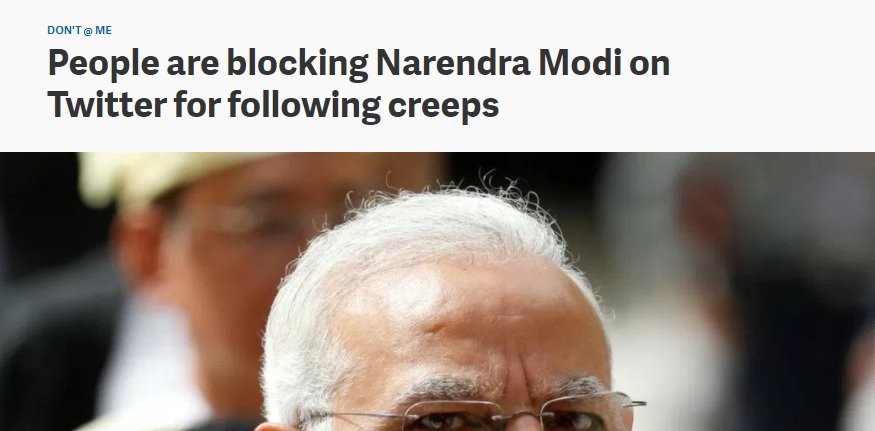 An article in Quartz, a website owned by American company Atlantic Media, is headlined "People are blocking India's Prime Minister on Twitter for following creeps", referring to the #BlockNarendraModi hashtag that was trending on Twitter on September 7.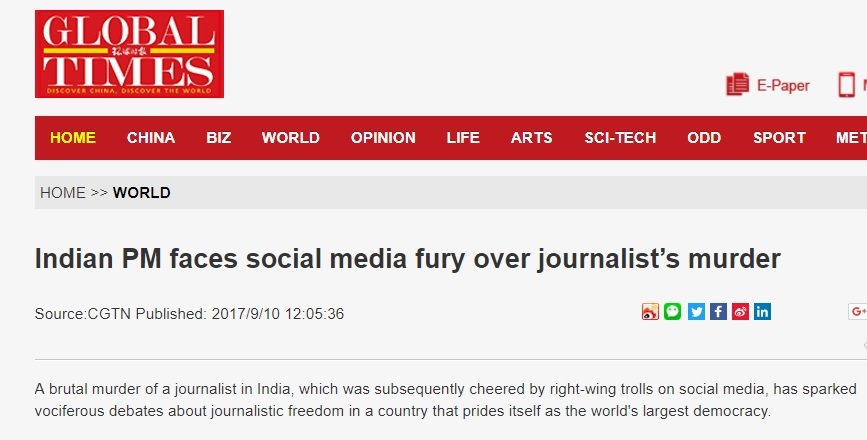 Even China's Global Times notes in its article titled "Indian PM faces social media fury over journalist's murder" that "If Modi doesn't condemn Lankesh's murder soon and speaks up on the threats that critics of the right-wing face in India, more journalists will live in fear of deadly retribution." 
Modi, who considers himself as a global leader, with his never-ending foreign tours, photo-ops and hugs with other international leaders, must surely be worried about his image – if not in India, maybe globally then, isn't it?