Sania Mirza and Martina Hingis beat Andrea Hlavackova and Lucie Hradecka 7-6 (7-1) 6-3 to win the Australian Open doubles crown on Friday. To many it was a forgone conclusion, because on current form, the only thing better than them is history. 
In the bigger picture too, it doesn't matter whether they become the first pair since 1990 to beat the record of 44 matches won in a row (held by Jana Novotna and Helena Sukova).
It doesn't matter — because, before the final, they were on a 35-match winning streak (now 36) and won six titles (now seven) in a row — records which ensured that they were already among the greatest women's doubles pairs tennis has witnessed.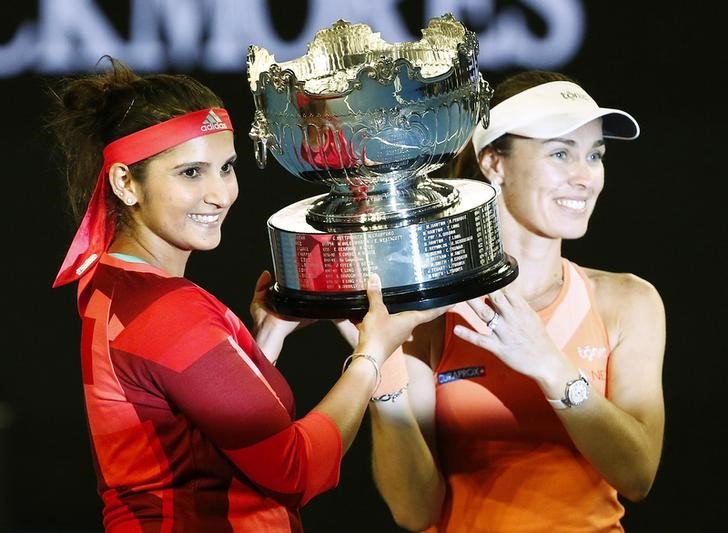 Yes, they're still light years away from achieving Martina Navratilova and Pam Shriver's astonishing record of 109 matches won in a row (and ten grand slams won in a row, twice, to make it 20 grand slams together) — and the old timer may think that this streak has gained more popularity because of social media and live television's power — but in an age where players tend to change partners so frequently, it's hard to see any other pair replicate this burst of success.
And it is that consistency in symphony that makes them an all-time great pair. Not just the numbers. Greatness in sport is not merely defined by statistics — it is defined by what a player or a team evokes in you. Sania and Martina are a medley that just doesn't bring in the trophies but shows the viewer what perfection in tennis looks like. It's also about the players involved. There is a certain romance in the Swiss Miss and India's greatest female tennis hope combining to dismantle opponents with ease is unparalleled.
A lot of the Sania-Martina (or Santina as they're fondly known as) fable is built around Hingis and her phenomenal early years in the sport. The youngest ever world No 1 and the youngest ever Grand Slam champion, she flitted in and out of tennis due to injuries and a suspension after testing positive for a metabolite of cocaine. However, she has time and again proven that she wasn't just an early bloomer, but someone whose pedigree has far exceeded expectations.
Sania's story is slightly different. After storming onto the scene as India's best hope of a strong presence in women's tennis, and peaking at world No 27, injuries and numerous early exits forced her to give up her singles career in 2013 — it's biggest highlight, as fate would have it, was beating Hingis in the 2006 Korea Open.
But credit to Sania for turning the injury and form crisis into a blessing in disguise. After initial success with Cara Black, the Indian has found the perfect partner in Hingis — nimble, clever, cunning and with a volley to die for. Combine this with her own powerful baseline game, and you have a pair which has won 43 of their last 46 matches (since the quarterfinal loss at the French Open).
It's almost impossible for Sania-Martina to match Navratilova-Shriver, but another slam will certainly finish the debate of which is the greatest pair in modern tennis. If there is one.