Daulatram Jogewat, an inspector with Madhya Pradesh police at whom columnist Shobhaa De had poked fun over his obese physical condition in a tweet early last week, has left for Mumbai to undergo a medical check-up.
Before leaving for Mumbai, Jogewat said that a "wrong" tweet by Shobhaa De has changed his life.
This is what she had tweeted: 
"I thank the media which took up the issue after the tweet by Shobhaa De. Hopefully, I will get a better life," Jogewat said before leaving for Mumbai last night.
Earlier on Saturday, a staffer of Mumbai-based Centre for Obesity and Digestive Surgery met Jogewat.
"After the tests, a medical expert will take a call whether he should be administered medicine or operated upon," the administrative director of the Centre Flyod D' Souza had said.
Jogewat left for Mumbai with D' Souza last night.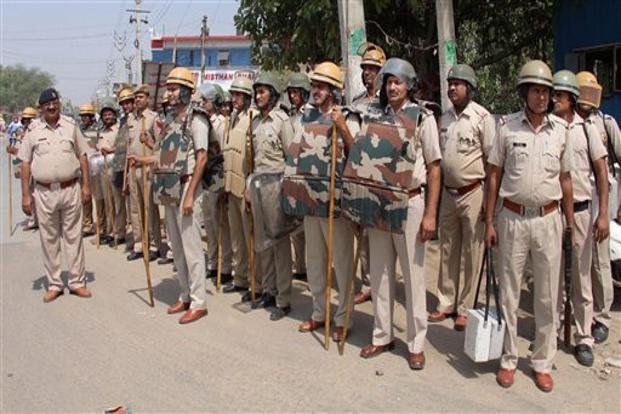 Following the controversy over De's tweet, several hospitals had offered free treatment to the inspector.
Earlier, last week poking fun at the police arrangements during Brihanmumbai Municipal Corporation (BMC) polls, the socialite had tweeted "Heavy police bandobast in Mumbai today," with an image in which she incorrectly identified Jogewat as a personnel of Mumbai Police.
While reacting to this tweet, Daulatram had expressed displeasure saying his obesity was a result of hormonal disorder.
"I am hurt with Shobhaa De's tweet poking fun at me. I have put on weight due to hormonal disorder following my gall bladder operation in 1993," Inspector Jogewat, who weighs around 180 kg had said.
As De's tweet went viral, she was trolled by netizens. Hitting back at her, the Mumbai Police had tweeted, "We love puns too Ms De but this one is totally misplaced.Uniform /official not ours. We expect better from responsible citizens like you."
However, in an attempt to make peace, De had on Saturday posted a fresh tweet: "Mumbai/ Maharashtra Police Pranaam. No offence intended. MP Police, Consult a dietician, if it's an asli, undoctored image doing the round."
Mumbai/Maharashtra Police, pranaam. No offence intended. M.P. police, consult a dietician,if it's an asli ,undoctored image doing the rounds

— Shobhaa De (@DeShobhaa) February 22, 2017
Jogewat said that he will be overwhelmed with joy if he sheds weight and is fit again. He said that a top police official has also advised him to get operated at Sri Aurobindo Hospital in Indore free of cost.
On the other hand, the district Superintendent of Police Manoj Kumar Singh said that the state government runs a police welfare board. If needed, the Board will make finance available for the Inspector's treatment.